Please visit Gibraltar Messenger's Brighteon Channel to watch documentaries produced by Muad'Dib/JAH.
DGTV – For people who want The Truth, NOT propaganda (Govt. lies)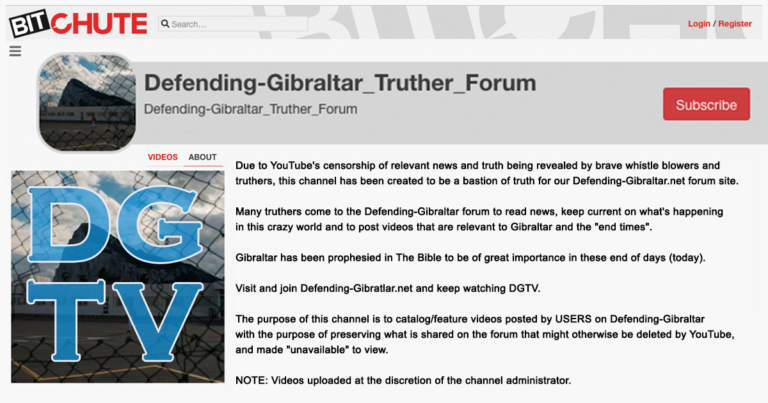 Since being created three weeks ago, DGTV has already surpassed 10,000 views.
Want to watch news or stories not necessarily featured on the controlled and censored GBC? Check out DGTV on Bitchute.
Defending-Gibraltar Truther Video Channel
Due to YouTube's censorship of relevant news and truth being revealed by brave whistle blowers and truthers, this channel was created to be a bastion of truth for our Defending-Gibraltar.net forum site.
This channel – now being dubbed DGTV – also contains videos that support posts featured on this Gibraltar Messenger website.
Truthers visit both Gibraltar Messenger (GM) and Defending-Gibraltar (DG) sites to find news, keep current on what's happening in this crazy world, and to share items relevant to Gibraltar and the prophetic "End Times".
The purpose of this channel is to catalogue/feature videos posted by users on Defending-Gibraltar, in order to preserve what is shared on the forum that might otherwise be deleted by YouTube, and made "unavailable" to view.
Note: Not all videos posted on DG will be featured on the channel. It is at the discretion of the channel administrator. Nor do all featured videos represent views or opinions of Gibraltar Messenger.
This is the original world-renowned documentary that explains what really happened in London on July 7, 2005.
It is this documentary that was sent to the courts as an amicus curiae brief to the judge and jury of the Kingston Crown Court, England, where three Muslim men (Waheed Ali, Sadeer Saleem and Mohammed Shakil) were standing trial for the second time in 2009, for allegedly helping the original alleged four bombers of the 2005 London bombings on July 7.
Producer Muad'Dib/JAH was arrested for allegedly attempting to pervert the course of justice with his amicus curiae brief, of which he was found not guilty in 2011.