Gibraltar is an United Kingdom territory at the Southern end of the Iberian Peninsula. It is an unique place with Spiritual significance, which is why Lucifer (aka Satan) put his claws in it a long time ago, trying to subvert prophecy – which he has never succeeded at doing.

The ugly truth is that Gibraltar is wallowing in evil. From an economy based on fraud, deception, technology and favoritism to the Government of Gibraltar (GoG), marching to the tune of Satan's drum – which has for many years come in the form of legislating directives mandated by the European Union.
Like the rest of the world, Gibraltar is held captive by the globalists with their evil agendas. Their puppet politicians; chief executives; and high-power individuals see themselves as clever overlords, initiating protocols handed down to them by the New World Order and its organs, namely the United Nations, World Economic Forum, and, until Brexit, the European Union.
Gibraltar is not legally free from the EU, because much of its existing legislation has EU origins.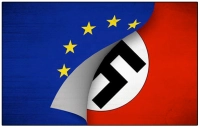 Unbeknown to many Europeans, including Gibraltarians, is the fact that the EU is the Fourth Reich – the Nazis didn't really lose WW2, the Germans did. Through subversion and infiltration, they emerged as the feet of the fourth kingdom referred by Daniel – iron mingled with clay. Marxist ideology of communism mingled with Christian nations formed by God. They don't mix – which is why we must endure all the infighting. And while some of it is just for show (bad cop/good cop or left/right politics), the only way to keep the conglomerate together is through the most sinister of tactics like bribery and blackmail. But the Bible assures us, that it's only a matter of time before it falls to pieces, because the Diamond, not made by man's hand, will grind them to dust.
If Gibraltarians understood, that much of the protocols were meant to control and enslave them, they might not have voted to "stay" in the EU. Fortunately as an UK territory, Gibraltar is on the road to "come out of her" – which is good. But there is a better set of laws Gibraltar needs to enact – and the only ones that have The King of kings' royal assent.
The Bible tells us that Elijah The Prophet will return just before the END to remind us to return to the Law of Moses or be cursed and burned to ashes – not that we've believed him, because our arrogance has made us ignorant, hard-headed and stubborn. Jesus warned us these would be like the Times of Noah, because no one believed him and therefore only a few survived – like a drop is to an ocean wave.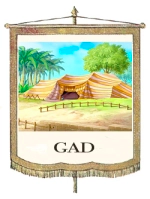 Like the United Kingdom of Israel (not the fake state), Gibraltar – the tribe of Gad, with its troop/camp/castle banner, has been called into remembrance. With the technocrats' near coup d'état in ushering in the harmful 5G on top of its ALREADY harmful electromagnetic frequency smog, digital identities, cashless society, vaccine-happy health authority, advanced addictive gaming, there's little time to wipe the slate clean.
Note: In April 2020, Gibraltar was asked to let God fight their battle for them, giving the Gaddites a chance to prove they are on His side. They were asked to sign a Petition to Return to God's Perfect Law of Liberty. If and when enough Gibraltarians have signed it, the petition will be handed in to Parliament. It's now January 2023, and The Lord's campaign has advanced to the front lines.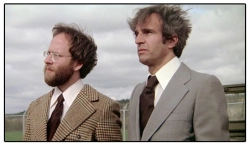 Petition signatures also include individuals from around the world in support of the petition. Think of it this way: in the movie Close Encounters, the French scientist Claude Lacombe said of those who knew to come, and made their way to Devil's Tower, "They belong here more than we".
Gibraltar is the Biblical Rock of Defence. It will be where Christ Michael makes His stand. From this tiny country, which will enlarge to include The Campo, Christ plans to grow God's Kingdom on Earth. Do you want to be invited? Will Christ know you?
Gibraltar's politicians have also foolishly fought for a seat at the UN round table. Only a few locals get to hob-knob with them, perhaps by proving loyalty to the UN Agenda, and exposing themselves as the bad apples they are. Know them by their fruit.
China controls the UN, and even the World Health Organization. So which local elites hob-knob with China? Which local elites hob-knob with the other Hydra appendages, like the WEF? One bad apple can spoil the barrel, even if they ooze out rhetoric that appears sweet.
Matt. 23:27 Woe unto you, lawyers and politicians, hypocrites! for ye are like unto whited sepulchres, which indeed appear beautiful outward, but are within full of dead [men's] bones, and of all filthiness.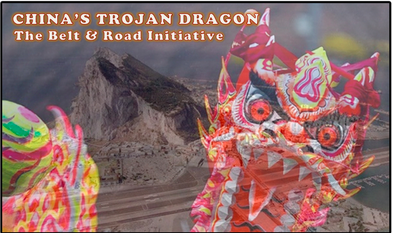 For an in-depth report on how Gibraltar was seduced into China's Belt and Road Initiative, read Gibraltar's Interest in China's Belt and Road Initiative Might NOT BE in the Best Interest of Gibraltar.
The Gibraltar Messenger spreads the good news, but it does so by publishing the truth about politics, war and religion. It serves to enlighten, educate, and motivate those who will put on the whole armour of God – and stand with Christ, behind His ensign (Isa. 11:12; Isa. 42:1-8).
And like Jesus went into the Temple and overturned the money-tables, Christ will set variance among men by challenging The Establishment; and even challenging what each man falsely thinks he knows.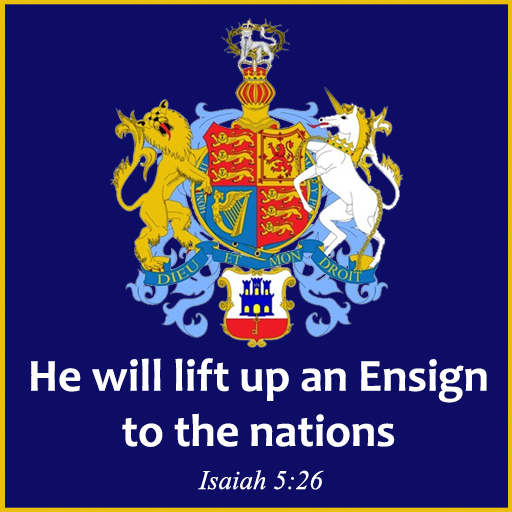 If you haven't noticed The Lord working on The Rock of Defence, pay attention. Things are getting good. The Establishment is trying to keep a lid on a movement; label it conspiratorial, and do what T.H.E.Y. do best – ignore it.
But Jesus told us that a sea of people could move a mountain of government. The sea is restless, constantly in motion. With enough energy, a ripple is formed, with more energy it becomes a wave and with tremendous energy, a tsunami. The more people, the more energy, but they must work together.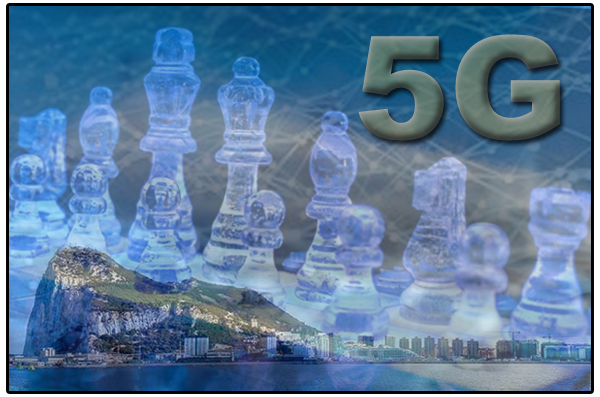 The fight against 5G is on, read Gibraltar's Gamble with 5G. It's going to take locals girding their loins and besieging the castle. Everyone in the world can help in this fight. The Establishment continues to ride rough-shod over Gibraltarians time and time again, using their fraudulent legislation that is prohibited by God's Perfect Law of Liberty.
The Bad Establishment builds housing for rich world elitists, not locals. The Bad Establishment ignores its own homeless problems. The Bad Establishment takes on massive loans, which will be impossible for the people to pay back. Usury, or interest, is against God's Law. The Bad Establishment relies on outsiders to set rules and regulations, like the corrupt ICNIRP guidelines for EMF radiation; and WHO programs including vaccines. Pharmacy is against God's Law. You may not like God's Law and prefer to live in bondage to rich men; but have you ever read or understood His Royal Law of Liberty? They are so simple, even a child could learn them. Read the Song of Moses and the Song of The Lamb, then sing them by heart.
Time is running out – that's good for some and bad for a whole lot of others.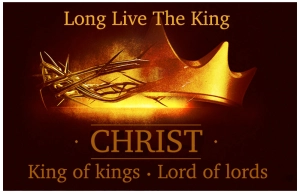 Satan knows his days are numbered; and is desperate to lock down the world by deceiving all nations. (Rev. 18:23) – and he is using his bad hydra to do it: BigGov, BigPharm, BigTech, the Banksters, and the so-called Crown. All those people saying, "stay home, stay safe" are so-easily deceived in Satan's grand scheme (Rev. 12:9); as outlined in his protocols. Have pity on them and educate them – with kindness, facts and Knowledge.
Are you waking up at 3 a.m. restless, knowing something isn't right? This is Father waking you up to telepathically communicate with you, because your mind is clear then. Some may even notice an unexplained ringing in their ears. "What will you do when you find there are two?" (Thomas 2:8). Are you restless and feel a fire is burning inside you to do something? Think of it as a baptism with a fire from within. Read The Way home or face The Fire – which will let you know where we are on the Biblical timeline. While it will scare the hell out of you, it will give you the Knowledge you seek (Revelation Chapter 10 – bitter and sweet).

The UN is Satanic – steer far from them. Any research done into the UN will disclose its evil corruption, from anti-God idealism, which is Marxist ideology, or the mark of the beast in their foreheads (in their minds). Everywhere the UN shows up, havoc and destruction ensue, from the ugly reality of human trafficking, drug-trafficking, killer vaccines – rape and pillage all around. Beware its Agenda 21 and 2030. Beware the World Economic Forum's ID2020 – T.H.E.Y. want everyone on the planet to have a "digital identity" Mark of the Beast (calling evil good) in order to travel, buy, sell etc (Rev. 13:17). And currrently, Gibraltar is in Lockstep with the global plan.
We are living in prophetic times. This should be clear to even those who doubted before.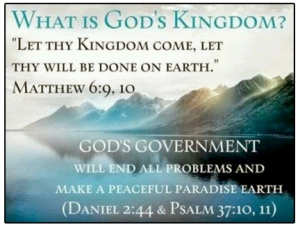 The good news is the EU and UN will be brought to naught. The Bible assures us of their destruction. The fourth kingdom of the world will be ground to dust (Daniel 2:32-35). And the United Nations Organization will be destroyed by a mighty wind. Actually, it's been crumbling for years, since "Desert Storm", as explained in Ezekiel 13 by JAH. Both the EU and the UN are struggling to keep their power – kind of like a controlling wife – and T.H.E.Y. are pulling out all stops just to get their way – to rule a world their lover Satan has offered them. Adultery is against God's Law, including adultery against God, or a nation, commonly known as treason.
While Gibraltar is full of freemasons and attorneys, it is also controlled by the "Palomas". Darkness hates Light. Shine the light on those who hide in the shadows, and see who runs.
We are at spiritual war on this Dune planet.
Long Live The Fighters – for good, for GOD.
RELATED