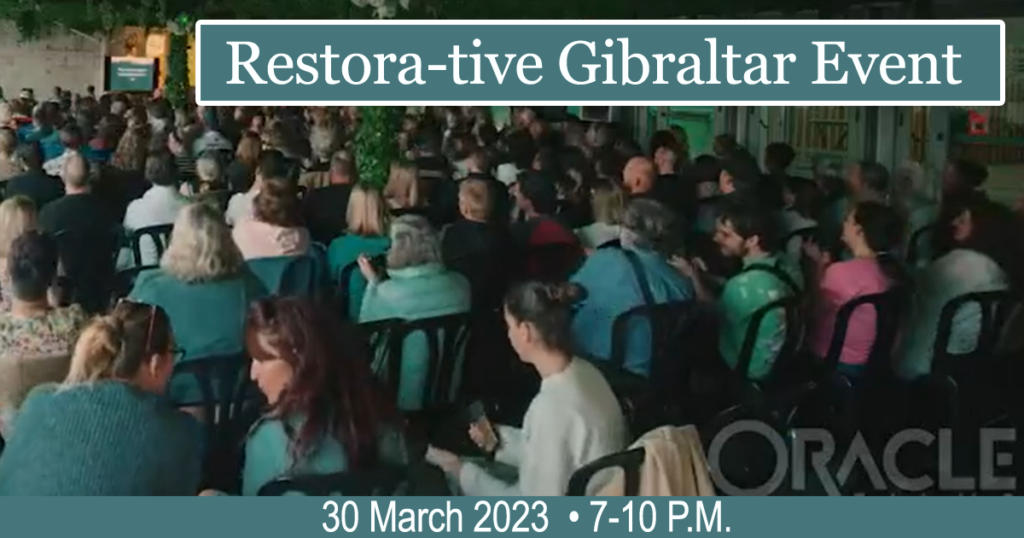 On Thursday, 30 March 2023, an extraordinary event occurred in Gibraltar.
It wasn't an event sanctioned by the government or one covered by the local media; but, it was an event that brought experts, witnesses, well-known personalities, and Gibraltarians together for a 3-hour event to discuss what seemed to be the "unspeakable" in Gibraltar – how the mRNA-Covid-19 vaccines were not as "safe and effective" as routinely pushed by local authorities.
"Too many people have had their voices silenced. Error correction depends on hearing all voices. Finally people were allowed to gather and discuss in person what they've experienced," said featured guest speaker Dr. Clare Craig.
Evidence continues to come to light that what the Government of Gibraltar, Gibraltar Health Authority, politicians, doctors, nurses, police, and others pushed on the local population was a lie.
This event allowed one percent of Gibraltar's population to come together to share what they have been taught to fear – speaking truth to power. The event allowed them to hear from experts outside of government-approved ones. They were able to ask questions as well as share their very real experiences from blindly accepting the jabs by trusting these authorities; of which to this day, Gibraltarians are discouraged from voicing their experiences aloud; because in this small community, a top-down government approach and peer-pressure to conform remains the norm. Anyone who voices alternative opininons or evidence to the contrary are quickly ridiculed, belittled, talked-over, and bullied by those running the show on The Rock. This behaviour has become a political tactic and their megaphone is the local government-run media.
That's why this event was extraordinary – It was pulled off without being blocked or ridiculed by authoritarian officials. It brought all those interested together in one place and in person.
Just to put the intimidation-process in perspective – after Tony Farrell unsuccessfully worked towards having "Died Suddenly" shown in the John Mackintosh Centre, he was refused by Mark Cortes, the Facilities Manager, who told Farrell that the government would not allow the film to be shown at the centre, even though, it knew full well that these Pfizer vaccines were killing people. When Farrell brought what was told to him to the attention of several leading public officials across Gibraltar, he found himself being  arrested early the very next morning.
Farrell said it was his understanding that Oracle Films will be making a documentary; and they have released this clip from Dr. Aseem Malhotra:
Dr. Aseem Malhotra: A Message to The Government of Gibraltar
UPDATE – 11 April 2023: Oracle Films has released Dr. Aseem Malhotra's full presentation.

UPDATE – 13 April 2023: Oracle Films has released Dr. Clare Craig's full presentation.
The Event Line-Up:
Hosted by actor John Bowe, with Oracle Films.
Special Viewing of Oracle Film's "Safe and Effective: A Second Opinion".
Presentations by top cardiologiest Dr. Aseem Malhotra and diagnostic pathologist Dr. Clare Craig (below).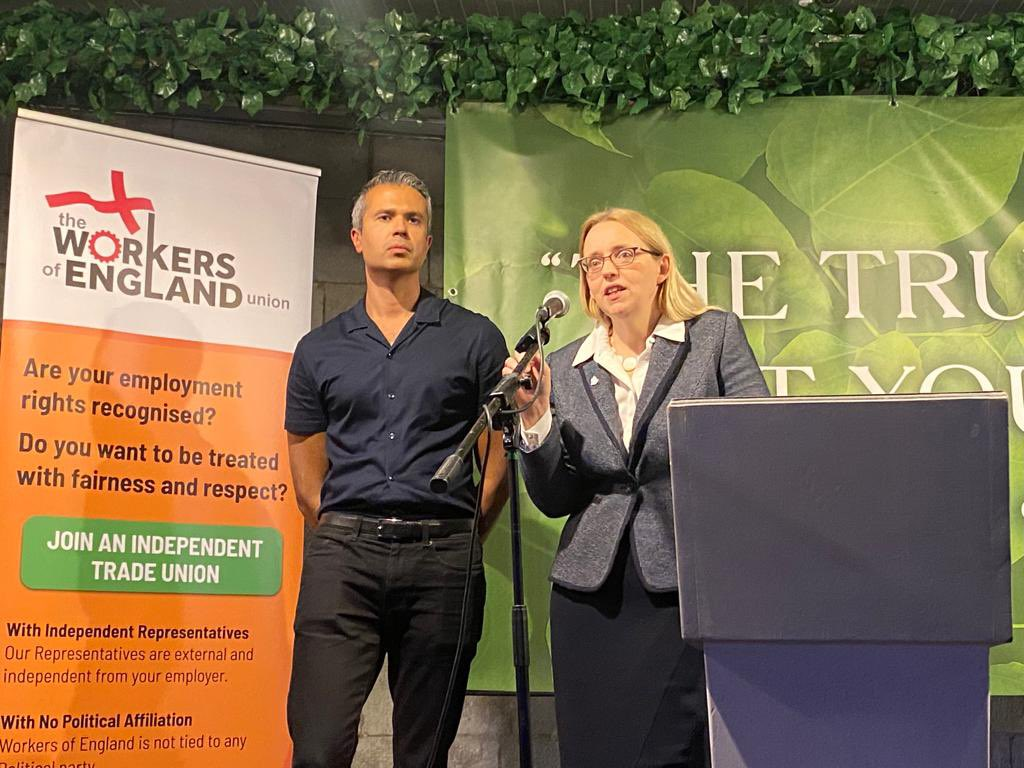 Andrew Bridgen MP made a video-appearance; and recently tweeted he was happy to support raising awareness about vaccine harms: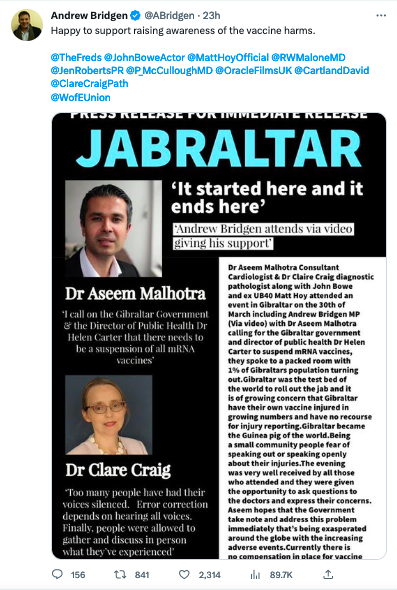 Dr. Robert Malone and Steve Kirsch were also featured in zoom calls.

While Steve Kirsch gave an insightful and deadly serious overview of what's happening in the United States, he made the audience laugh with the following slide: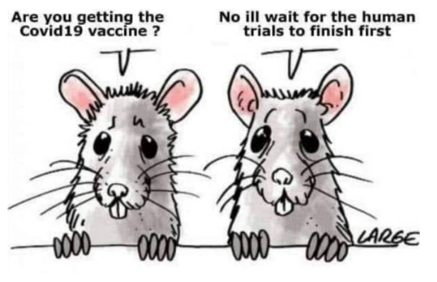 Dr. David Cartland, ex-UB40 member Matt Hoy, Gareth Icke, and Right Said Fred came to support the event. Here are some of their later tweets: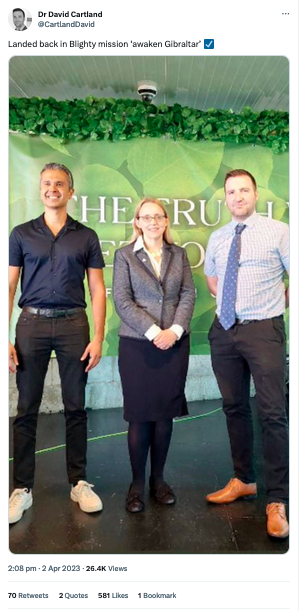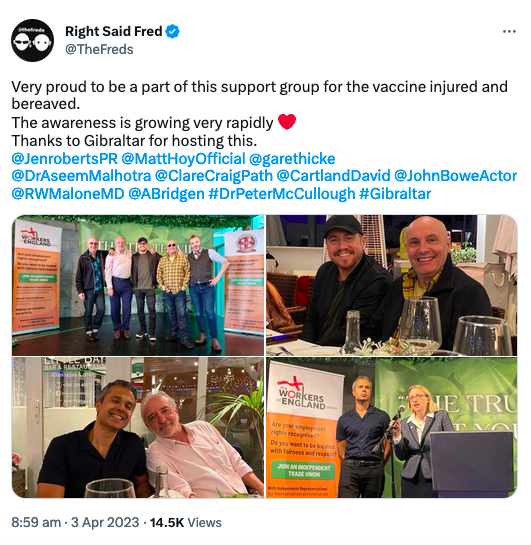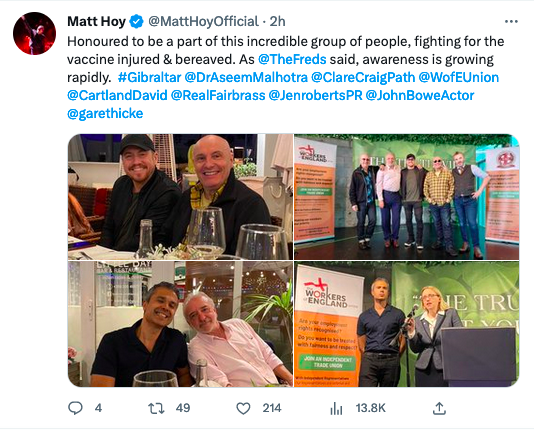 Matt Hoy also captured 26.3k viewers: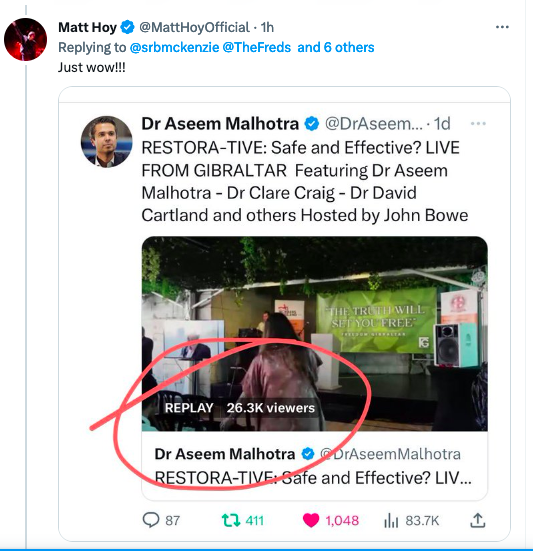 The evening ended with a Q&A session.
It was made possible by Workers of England Union, Freedom Gibraltar, and nameless others.
UPDATE 13 APRIL – The videos that were a part of the original post from Hearts of Oak that live-streamed the event have been REPLACED with Oracle Films high-quality versions:
RESTORA-TIVE: Safe and Effective? LIVE FROM GIBRALTAR
RESTORA-TIVE: Safe and Effective? An Evening in Gibraltar | Oracle Films | PART 1/2
Part 1 on Oracle's Rumble Channel
RESTORA-TIVE: Safe and Effective? An Evening in Gibraltar | Oracle Films | PART 2/2
Part 2 on Oracle's Rumble Channel
Original videos were from Hearts of Oak (Rumble) – RESTORA-TIVE: Safe and Effective? LIVE FROM GIBRALTAR and Hearts of Oak (Rumble) – RESTORA-TIVE: Safe and Effective? Q&As LIVE FROM GIBRALTAR.
This article may be updated as information is made available.
RELATED: