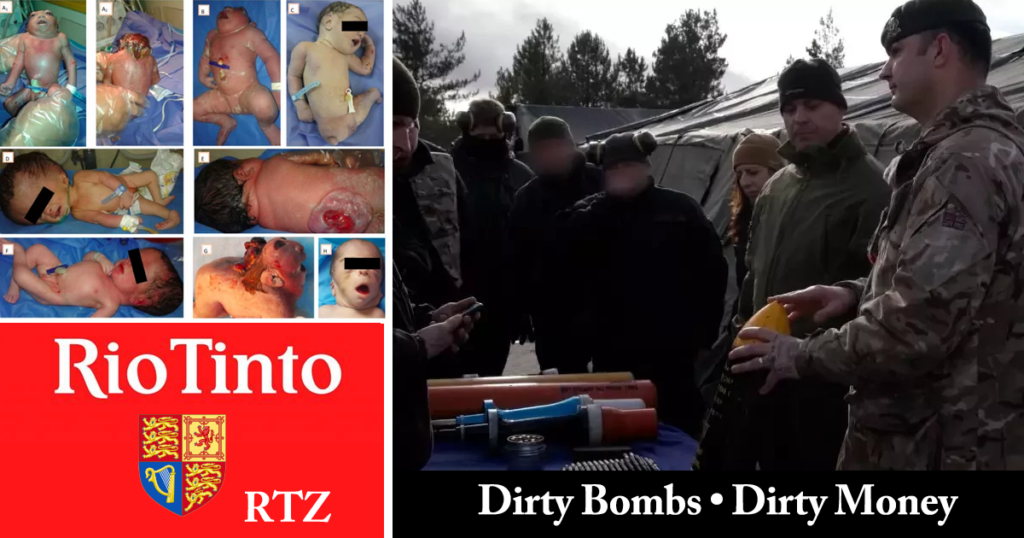 Please note: The Royal Family financially benefits from Uranium mining (see second article).
---
1 – Ukrainian Soldiers Seen with Depleted Uranium Ammo in UK
by Jonas E. Alexis, Veteran's Today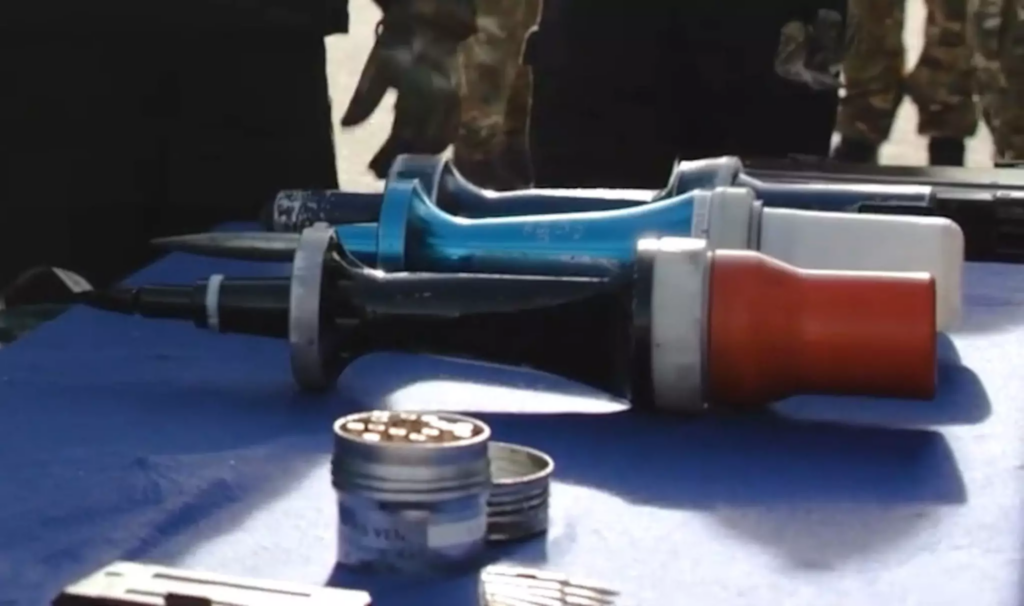 Ukrainian soldiers have been filmed alongside depleted uranium ammunition that Britain is supplying to their country for the fight against Russia.
The footage is contained in a documentary the UK Ministry of Defence (MoD) released yesterday as Ukrainian tank crews completed their training.
DGTV – DOCUMENTARY: British Army Trains Ukrainian Tank Crews on Challenger 2
Britain is gifting 14 Challenger 2 tanks to Ukraine together with depleted uranium shells, which Declassified revealed last week.
An MoD spokesperson told the media that the "impact to personal health and the environment from the use of depleted uranium munitions is likely to be low".
But the decision to supply the ammunition sparked a furious reaction from the Kremlin, with Vladimir Putin pledging on Saturday to retaliate by moving 'tactical' nuclear weapons into Belarus.
The depleted uranium (DU) ammunition seen in the MoD documentary is marked "inert", suggesting it could be a replica. A blue and silver training shell is visible next to it, an expert told Declassified.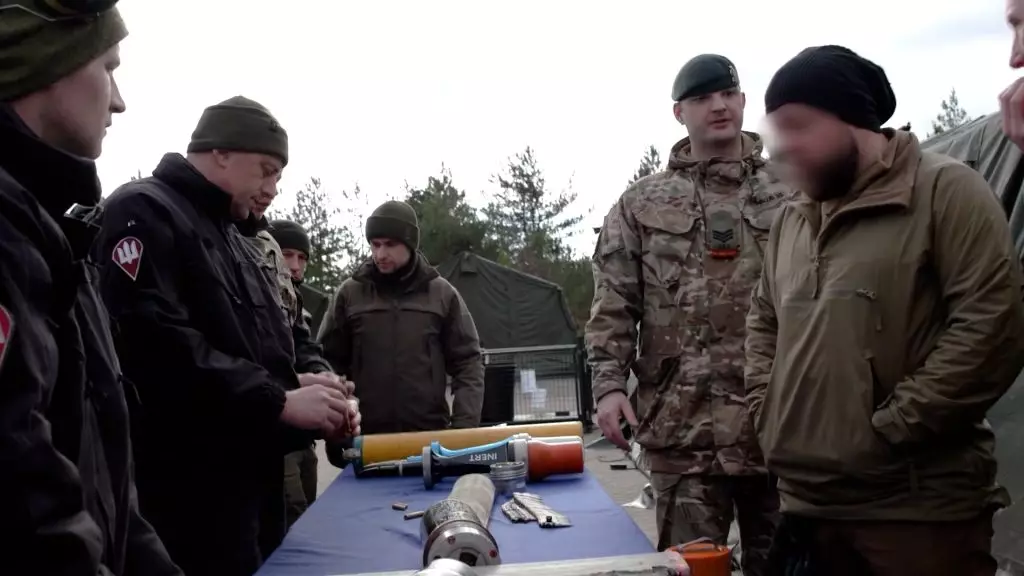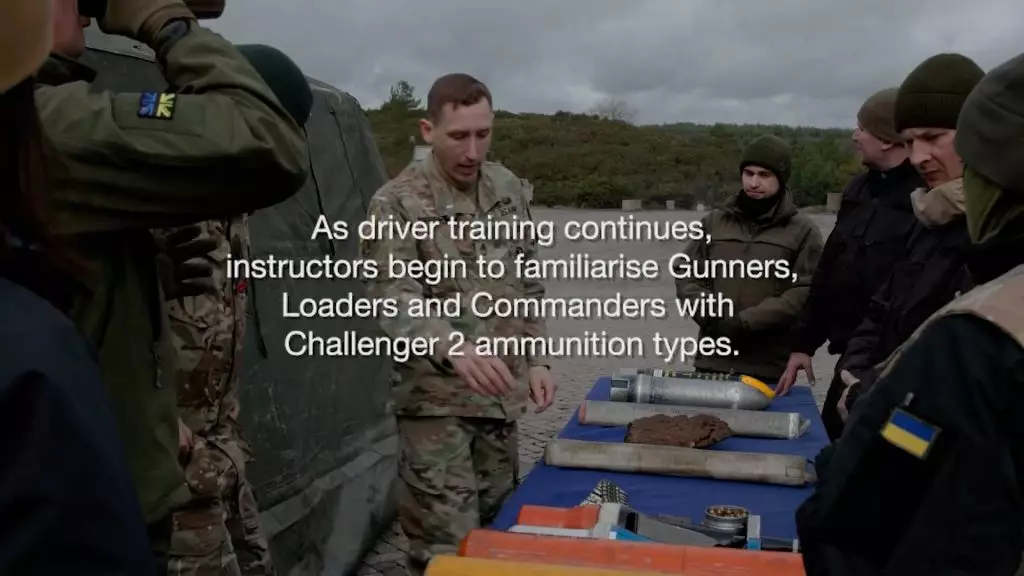 The presence of an American soldier at the training session could escalate tensions further, after the White House denied sending any of its own DU stocks to Ukraine last week.
Doug Weir from the Conflict and Environment Observatory said: "The orange and black munition in the video appears to be an inert display version of the UK's 120mm CHARM3 DU ammunition."
CHARM3 is a technical term for Britain's stockpile of depleted uranium shells.
Weir added: "When DU munitions hit hard targets such as tanks or armoured vehicles, they fragment and burn, generating chemically toxic and radioactive DU particulate [microscopic particles] that poses an inhalational risk to people.
"Managing DU contamination appropriately will be a further burden for Ukraine, in a conflict that has already generated serious pollution problems."
The shells are shown spread out on a table with other types of ammunition, as Ukrainian tank crews listen to a lecture from US and British soldiers.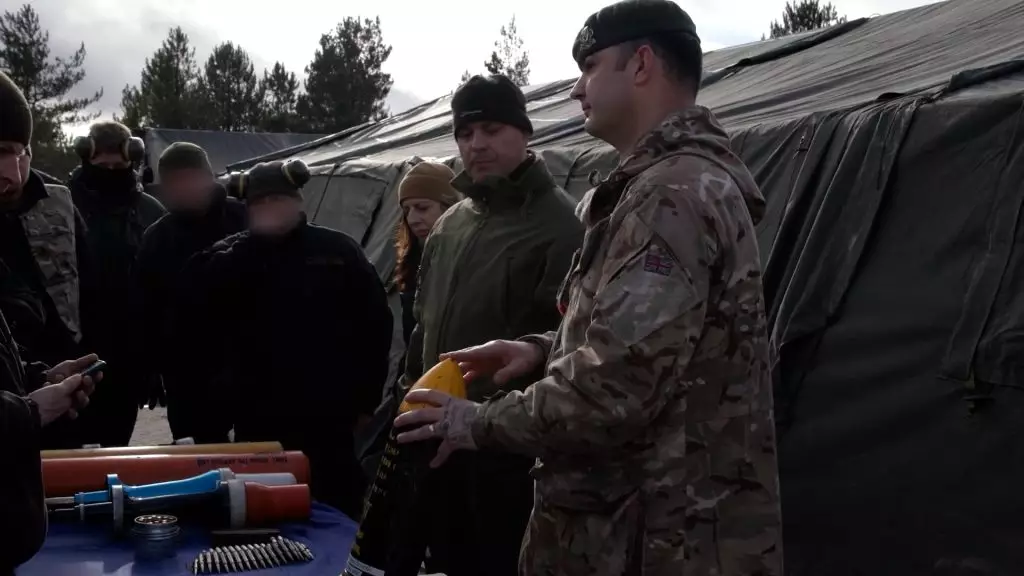 The text on the UK military video states: "Instructors begin to familiarise Gunners, Loaders and Commanders with Challenger 2 ammunition types".
Health impacts
Depleted uranium is standard ammunition for the tanks Britain is giving to Ukraine, despite long running concerns about its health and environmental impacts.
It has been blamed for causing cancer and birth defects in Iraq.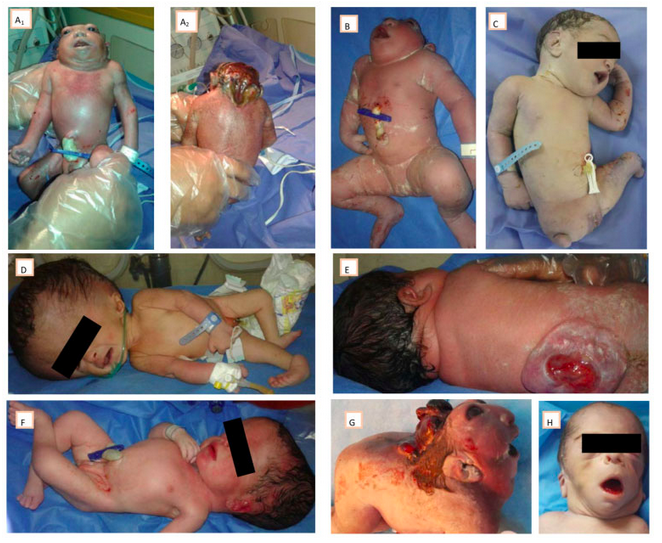 Jack Watling, a researcher at the MoD-funded RUSI think tank, wrote in the Spectator  yesterday: "I wouldn't recommend Russian soldiers go to sleep cradling a depleted uranium round, or lick the tip of the ammunition – depleted uranium is still toxic."
He added: "But when Russian troops do come into contact with one of these projectiles, the fact that the uranium will be travelling at around 1,800 metres per second and burning up as it flies will be more concerning to any target than its radioactivity."
UK Defence Secretary Ben Wallace said today: "It is truly inspiring to witness the determination of Ukrainian soldiers having completed their training on British Challenger 2 tanks on British soil.
"They return to their homeland better equipped, but to no less danger. We will continue to stand by them and do all we can to support Ukraine for as long as it takes."
SOURCE: Veteran's Today – Exclusive: Ukrainian Soldiers Seen with Depleted Uranium Ammo in UK
---
Who Benefits from Uranium?
2 – UK Queen in Depleted Uranium Trade – Her Fortune is £17 Billion
Who inherited her shares? Who else has investments?
DGTV – UK Queen in Depleted Uranium Trade
Britain's Queen Elizabeth was one of the richest women on earth and much of her profits were from arms trade including the notorious depleted uranium trade. The British monarch managed to increase her wealth from £300 million early in her 60-year reign to £17 billion at present thanks to investments in arms firms that produce uranium used in depleted uranium (DU) shells, including Rio Tinto Zinc. DU shells are notorious for their ability to pierce armor and kill targets due to their deadly radioactive features.
The video cites the American nuclear radiation expert Jay M. Gould as saying in his 1996 book titled "The Enemy Within: the High Cost of Living Near Nuclear Reactors" that the British "royal" family, especially the Queen herself, privately own investments in uranium holding worth some £4 billion through Rio Tinto Zinc.
The mining company, originally named Rio Tinto Mines, was allegedly created for the British "royal" family in the late 1950's by Ronald Walter Rowland, the Queen's "buccaneer".
The video argues that the Queen and other "royals" have been investing in the death trade of depleted uranium globally with little ethical concerns for the consequences of their profiteering. DU weapons were first used by the US military during the first Persian Gulf War against Iraq in 1991.
The US Defense Ministry estimated that between 315 and 350 tons of DU bombs, shells and bullets were fired during the conflict. There are allegations that American and British troops used more than five times as many such weapons as the total number used in the 1991 war in Iraq. The US has confirmed the use of depleted uranium in both wars but refuses to disclose the scale of the use.
Iraq has seen a sharp rise in the number of children with leukemia and genetic malformation in the decades after the First Persian Gulf War that are attributed to the use of DU weapons.
Source: Shoah – UK Queen in Depleted Uranium Trade – Her Fortune is £17 Billion
Her Majesty's Prerogative Powers' – According to Charles Higham, co-author of Elizabeth and Philip, the Queen is a major stockholder in RTZ, which, with her old friends at Anglo-American, controls 12% of the world's precious, strategic, and base metals and minerals (see corporate profiles)… In 1976, the U.S. Senate Foreign Relations Committee, in hearings chaired by Frank Church (D-Idaho), and attended by Attorney General Edward H. Levi, found that an international cartel, of which RTZ was a major partner, had been formed in 1971 to fix the world's uranium prices. (La Rouche PDF)
The United Kingdom and The British Monarchy were supposed to be good witnesses for God. They are about to be punished for their treason. But one narrow window of opportunity remains, recognizing The True King.
RELATED: