Managing Editor's Note: Think this war is about saving lives and brokening peace? Read these headlines about how arms dealers are making killings off the conflicts. UK and US are complicit in the killings of innocents – from Yemen to Ukraine – no matter how politicians spin it.
1 – UK gov't facing High Court battle over arms sales to Saudi Arabia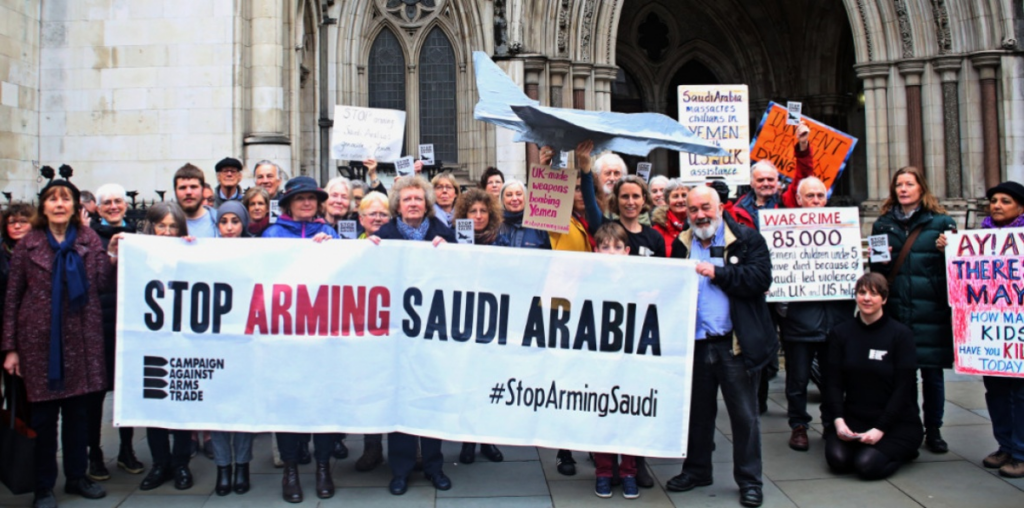 From Al Jezeera – A campaign group has launched a courtroom battle against the United Kingdom's arms sales to Saudi Arabia, warning the weapons are worsening a major humanitarian disaster in war-torn Yemen.
The United Kingdom's High Court on Tuesday began hearing the case brought forward by the Campaign Against Arms Trade (CAAT), which says arms exports have contributed to the deaths of thousands of civilians.
The UK-based group is challenging the lawfulness of a decision taken by the British government in 2020 to continue supplying weapons to the Saudi-led coalition involved in the nine-year-old conflict in Yemen.
It marks the latest development in a long-running battle over the legality of the exports, which CAAT says have made the UK more than 23 billion pounds ($28bn) since the war began.
CAAT won a similar fight in 2019, when Court of Appeal judges said continuing to license military equipment that could be used in the war in Yemen for export was unlawful amid concerns it may have been used to commit war crimes.
The government temporarily halted sales following the ruling. UK law does not allow for the export of weapons if there is a "clear risk" they may be used to carry out war crimes.
However, exports resumed in mid-2020 under the order of then-trade minister Liz Truss after a governmental review.
The review concluded that possible violations of international humanitarian law by actors using UK-supplied weapons were only "isolated incidents".
Governmental review under scrutiny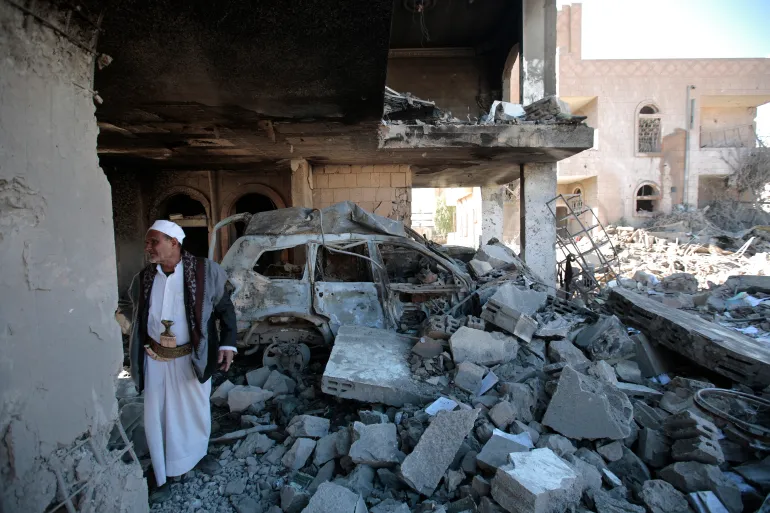 British arms sales to Saudi Arabia have continued in recent years, despite the UK's leading ally, the United States adopting a partial ban on weapons exports to the kingdom because of the war in Yemen.
Meanwhile, campaigners and rights groups have disputed the validity of the governmental review's findings.
"The ample evidence of laws of war violations by the Saudi-led coalition in Yemen throughout the war make clear that these violations are not simply 'isolated incidents' as claimed by the UK government," Niku Jafarnia, Yemen and Bahrain researcher at Human Rights Watch, said.
"UK weapons have been used in some of these violations with total impunity," Jafarnia said.
"At a time when the UK is promoting a rules-based international order, and rightly calling out Russia for serious violations of international law, it needs to apply those same rules to itself and end the sale of weapons to Saudi Arabia."
The weapons supplied by the UK include Paveway guided bombs and Brimstone and Storm Shadow missiles.
'UK bombs kill civilians'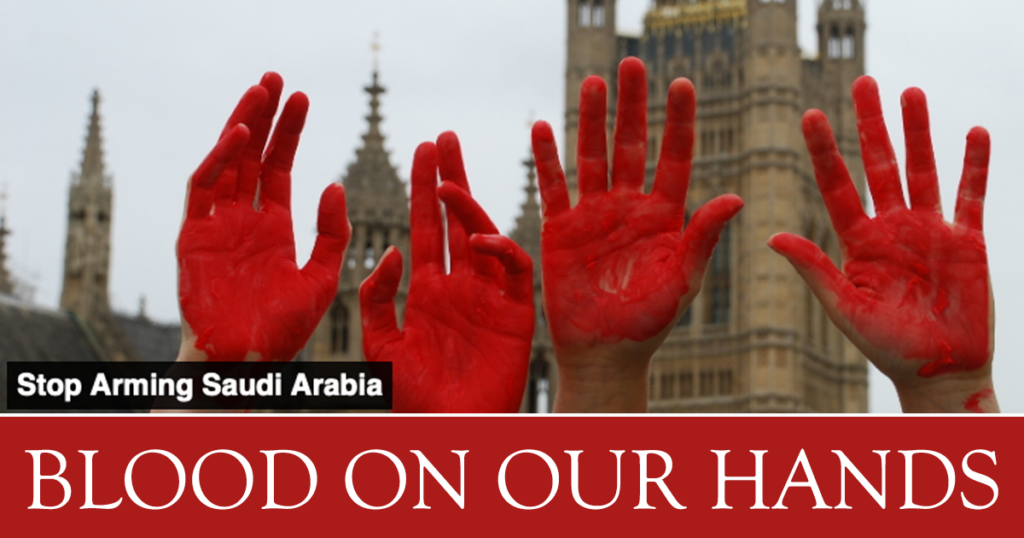 Emily Apple, a spokesperson for CAAT, accused the government of "caring more about profit than war crimes".
"The … case is being taken in solidarity with the people of Yemen who deserve justice," Apple said.
"We cannot sit by while UK bombs kill civilians and cause devastation while UK arms dealers profit."
The conflict in Yemen started in 2014 when Houthi rebels, backed by Iran, seized large swaths of the country, including the capital, Sanaa.
The war escalated in March 2015, when the Saudi Arabia-led coalition intervened in an attempt to restore the government of President Abd-Rabbu Mansour Hadi.
The coalition has been assisted by several Western powers, including the UK and the US.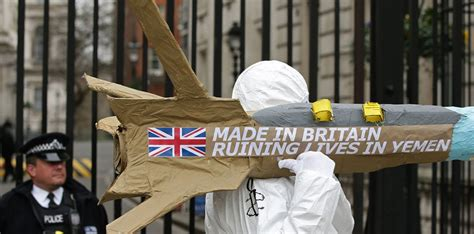 Both sides in the conflict have since been accused of war crimes during fighting that has killed more than 8,900 people to date, according to the Yemen Data Project.
A United Nations-brokered truce deal agreed to in April of last year has largely held, despite expiring in early October.
The agreement has delivered the longest stretch of relative calm in Yemen since the war began, but both sides have stepped up moves to economically weaken the other in the interim.
2 – Airstrikes on Yemen using UK and US weapons "part of a pattern of violence against civilians"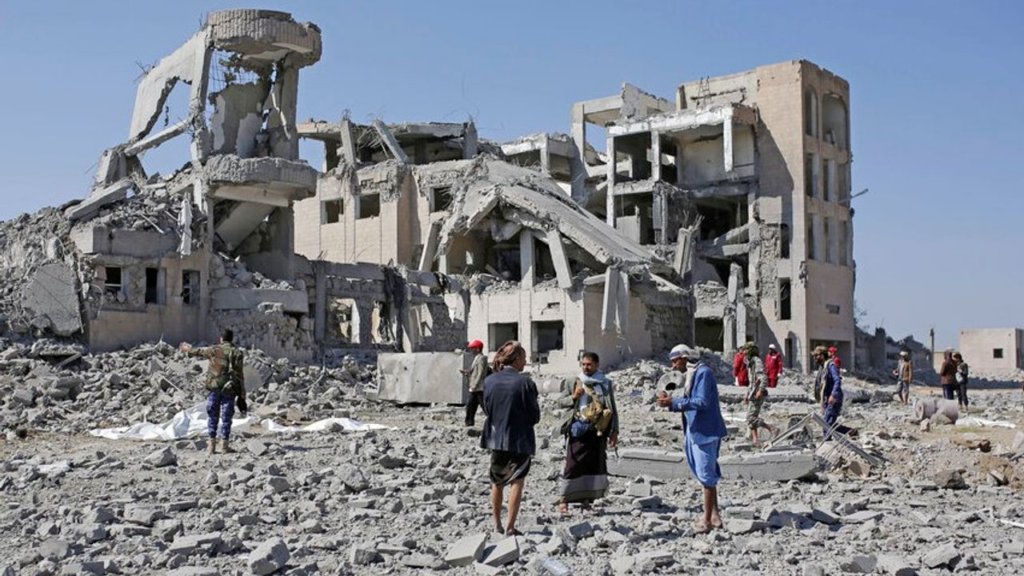 From WSWS – Britain and the United States provided the Saudi-led coalition with the weapons used in hundreds of attacks on civilians in Yemen between January 2021 and the end of February 2022, according to a recent report by Oxfam.
Martin Butcher, Oxfam's Policy Advisor on Arms and Conflict, said that the Saudi-led coalition were responsible for at least 87 civilian deaths and 136 injuries, 19 attacks on healthcare facilities and 293 attacks that forced people to flee their homes—39 percent of all attacks causing displacement. "Our analysis shows there is a pattern of violence against civilians, and all sides in this conflict have not done enough to protect civilian life, which they are obligated to do under International Humanitarian Law."
He added, "The intensity of these attacks would not have been possible without a ready supply of arms. That is why it's vital the UK government and others must immediately stop the arms sales that are fueling war in Yemen."
3 – US arms sales boom in 2022 due to war in Ukraine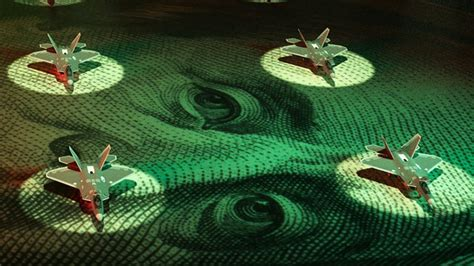 From MSN News – Direct commercial sales also grew, with American defense contractors selling some $153.7 billion in weapons and military equipment directly to foreign governments in 2022, up from $103.4 billion the previous year. The State Department attributed the spike to "authorizations adjudicated in support Ukraine's efforts.
U.S. weapons sales to other countries experienced a major uptick in 2022, jumping to more than $51.9 billion largely due to Russia's war on Ukraine.
Among the biggest buyers of U.S. arms in Europe was Germany, which in July ordered 35 F-35 Joint Strike Fighter aircraft and equipment for a potential $8.4 billion in "support of NATO's nuclear sharing mission." Ahead of Russia's invasion, Poland in February sought 250 M1 Abrams tanks for an estimated $6 billion.
And the United Kingdom in March requested a new Ballistic Missile Defense Radar at an estimated cost of $700 million, while Spain the same month sought $950 million worth of MH-60R Multi-Mission Helicopters.
Saudi Arabia wants 300 MIM-104E Patriot Guidance Enhanced Ballistic missiles for about $3 billion, while the UAE seeks 96 Terminal High Altitude Area Defense system missiles for more than $2.2 billion.
Saudi Arabia Benefits

Democrats suggest shifting weapons from Saudi Arabia to Ukraine – Democrats on Capitol Hill have suggested transferring US weapons systems in Saudi Arabia to Ukraine and suspending a planned transfer of Patriot missiles to Riyadh in the wake of what they call a "turning point" in Washington's relationship with the kingdom. The break in the relationship followed an announcement last week that Opec+, the oil cartel, had agreed to cut oil production by 2m barrels a day over the strong objections of, and lobbying by, the administration of Joe Biden.

Saudi Arabia is the biggest beneficiary of the war in Ukraine – As leaders congratulate themselves for shunning Russian oil, Saudi Aramco becomes the world's most valuable company.

Saudi billionaire made $500mn Russia bet near the war's onset – Saudi billionaire Prince Alwaleed bin Talal invested more than $500mn in Russian firms in the days around Moscow's invasion of Ukraine. Prince Alwaleed's investment firm, Kingdom Holding Co, acquired depositary receipts issued by Gazprom PSJC, Lukoil PJSC and Rosneft PJSC in February, according to a stock exchange filing.

Russia-Ukraine war shows cracks in US ties to Middle East allies – But despite promoting global unity against Russia, the conflict has highlighted cracks in some of the United States' most prominent alliances in the Middle East, notably with the United Arab Emirates (UAE) and Saudi Arabia. Kristian Coates Ulrichsen, a Middle East fellow at Rice University's Baker Institute for Public Policy, told Al Jazeera: "'We're going to act upon our interests and not what you think our interests are.'"

Saudi-Russian partnership remains strong – Riyadh has maintained its cooperative relationship with Russia since Putin sent troops into neighbouring Ukraine in late February. In fact, at the start of the war, Saudi Arabia's Kingdom Holding Co invested at least $500m in Gazprom, Rosneft and Lukoil, just as the West was punishing these Russian energy giants with sanctions.
4 – Greenpeace to appeal Spain-Saudi arms deal confidentiality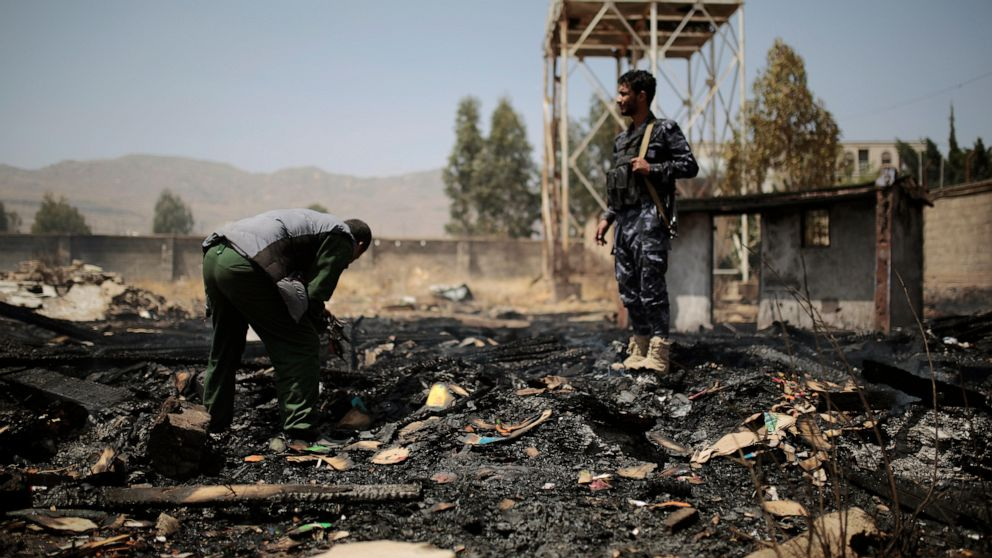 Greenpeace says it will appeal a Spanish Supreme Court decision blocking public access on national security grounds to government export licenses for vehicle-mounted weapons systems sold to Saudi Arabia
From ABC News – MADRID – Greenpeace said Monday it will appeal a Spanish Supreme Court decision blocking public access, on national security grounds, to information on government export licenses for vehicle-mounted weapons systems sold to Saudi Arabia.
The global environmental and human rights group argues that the Alakran 120 mm mortar system developed by the Madrid-based firm NTGS was deployed by the Saudi-led coalition on the border with Yemen, endangering civilian lives. The weapon's use "not only violates the Spanish law on arms trade control, but also the international Arms Trade Treaty signed by Spain," Greenpeace argued.
Greenpeace asked the trade ministry in 2020 for copies of recent export licenses for the mortar system, but was denied on grounds of national security and official secrets laws.
The Supreme Court upheld the ministry's decision on Feb. 7, arguing that the NGO had not demonstrated sufficient public interest to warrant declassifying the licenses. The court further argued that the right to access license details was "subjective," and that Greenpeace had failed to prove that fundamental human rights would be harmed as a result of the ministry withholding the information.
Greenpeace can appeal the decision before Spain's Constitutional Court, but vowed to take it to the European Court of Human Rights if necessary.
"Only an informed citizenry can prevent human rights violations in any society," said Lorena Ruiz-Huerta, lawyer for Greenpeace Spain, in a statement. "It is time for judges and courts to recognize Spanish men and women as citizens with full rights to truthful information on issues that affect human rights," she added. Spanish law prohibits weapons export licensing where human rights would be violated.
As a longtime commercial ally of Saudi Arabia, Spain is the fourth largest provider of military equipment and weapons to the Gulf state, according to Amnesty International. Madrid canceled the delivery of 400 laser-guided bombs purchased by Saudi Arabia in 2018 following criticism from human rights groups.
Yemen's war began when the Iran-backed Houthis seized the country's capital, Sanaa, in September 2014 and forced the internationally recognized government into exile. A Saudi-led coalition — armed with Western weaponry and intelligence — entered the war on the side of Yemen's exiled government in March 2015.
Currently all sides appear to be looking for a solution after eight years of a war that has killed more than 150,000 people, fragmented Yemen and driven the Arab world's poorest country into collapse and near starvation.
Many countries are going to rejoice when Russia and China defeat the UK and USA in WW3. These astrocities are tormenting them.

Rev. 11:10 And they that dwell upon the earth shall rejoice over them, and make merry, and shall send gifts one to another; because these Two Prophets ("Olive" trees) tormented them that dwelt on the earth.
Related: