Russian nuclear submarine Generalissimus Suvorov successfully fired a Bulava ballistic missile from the White Sea on November 3. The test comes amid heightened tension between Russian and NATO. Experts speculated the test was in response to US nuclear-powered submarine arriving in Gibraltar.

Is US & Russia heading towards a submarine war?
DGTV – Russia Ukraine War Putins Nuclear Submarine Test Fires Bulava Ballistic Missile Warning To NATO
Putin showed great destructive power, called 'America killer' missile test from new Russian nuclear submarine
by Aditya Tarar, Hindustan News Hub
In the midst of the Ukraine war, Russia has included another weapon of destruction in its arsenal. Russia's new nuclear submarine has completed its final stage test by firing the Bulava missile. The missile was launched from the Generalissimo Suvorov nuclear submarine. According to reports, Russia tested this Bulava ballistic missile during its 'Grom' nuclear weapons exercise. This submarine will soon be inducted into the Russian Navy. This Bulava missile can hit the US.
Russian Navy Chief Admiral Nikolai Yevmenov said his new nuclear-powered submarine has tested a strategic missile. It is believed that next month this submarine may be announced to be included in the Russian Navy. The Generallissmo Suvorov submarine proved its strength by firing this missile during its stay in the White Sea. The Ministry of Defense of Russia has also confirmed this in its message sent on Telegram.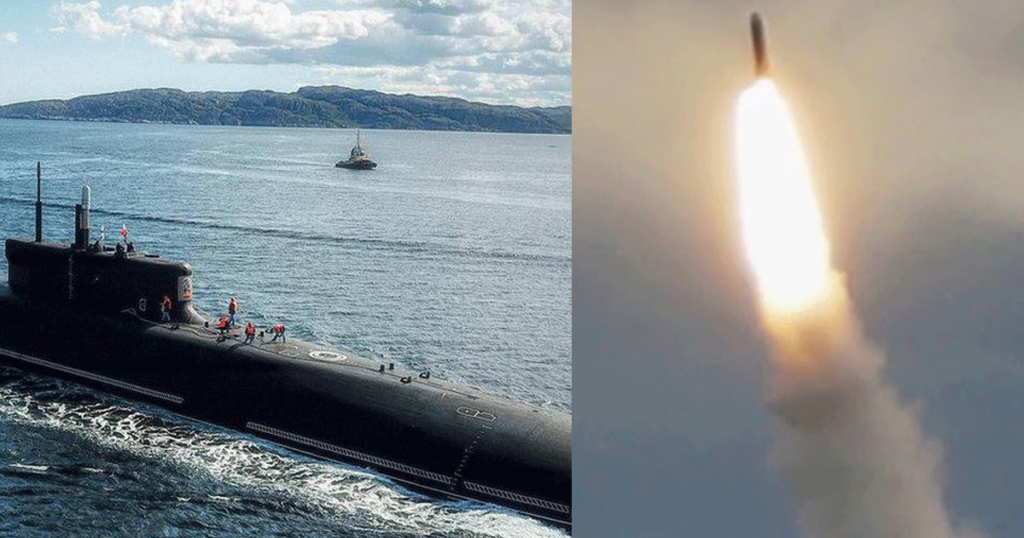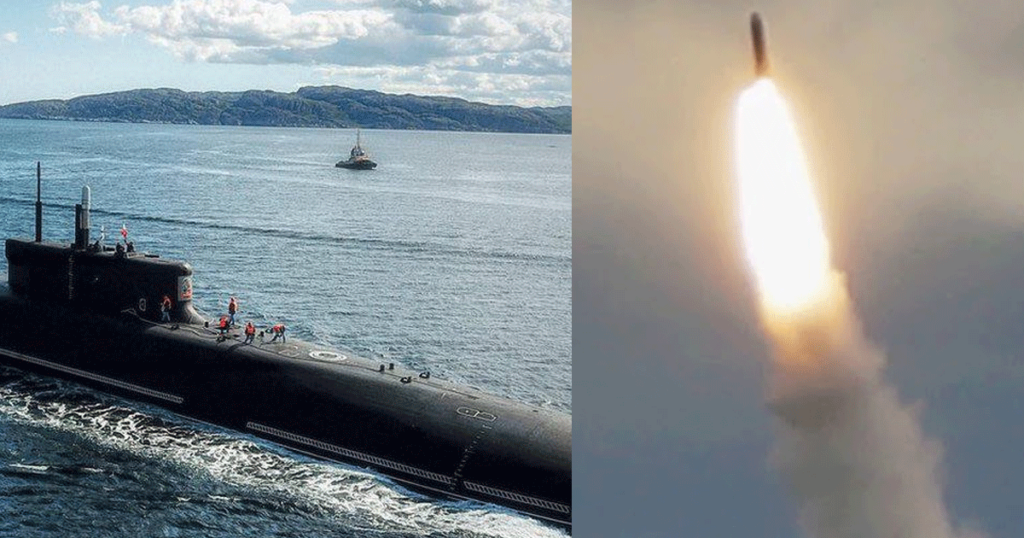 "The new Borei-e Project Generalissimo Suvorov strategic missile submarine has test-fired a Bulava missile in its final stages of testing," the Russian Defense Ministry said. The missile fired from the deadly Russian submarine fell in the Kura Missile Test Range. This submarine is the second submarine of the Borei-A project. Many state-of-the-art missiles, torpedoes, navigation systems and sonar systems have been installed in it.
This Russian submarine is believed to be of the fourth generation and it is very difficult to catch. Both Russia and the US have recently completed their nuclear exercise. That too when the tension between the two sides regarding Ukraine has increased significantly. Russia's president has said there is no need to use nuclear weapons in the Ukraine war, but the US still doubts Putin's intentions.
5 superpowers armed with atomic bombs are on the VERGE OF WAR, the consequences will be catastrophic – Russia warns Russian missile can hit America. [World War III]
Russia has also claimed that Ukraine intends to use dirty bombs against Russia. The missile that Russia has just tested can hit 8000 km. In this way, Russia has sent a strong message to the Western countries by testing a missile that can hit America. This missile has been described as Russia's most expensive weapons program.
Source: Hindustan News Hub – Putin showed great destructive power, called 'America killer' missile test from new Russian nuclear submarine
Putin Says Civilians 'Must Be Removed' From Kherson as Battle Looms – Russian President Vladimir Putin said on Friday, Nov. 4, that the remaining civilian population should be evacuated from the city of Kherson in Russian-occupied southern Ukraine as all indicators suggested the battle for the strategically key city on the Dnipro River was imminent.
---
In April 2022, RUSSIA has successfully launched its 'Satan' missile.
The launch of the Sarmat intercontinental ballistic missile will give "food for thought for those who try to threaten Russia," the Russian president warned. The missile, nicknamed Satan 2, can fly 11,000 miles, carry 15 warheads and has the potential to destroy an area the size of France. It was successfully launched from Plesetsk Cosmodrome in Arkhangelsk Oblast, northwestern Russia, according to Russian state media outlet RIA Novosti. Video shows the enormous 115-foot missile being launched from an underground silo, triggering an enormous fireball. It travelled almost the entire length of Russia – almost 3,600 miles – in around 15 minutes.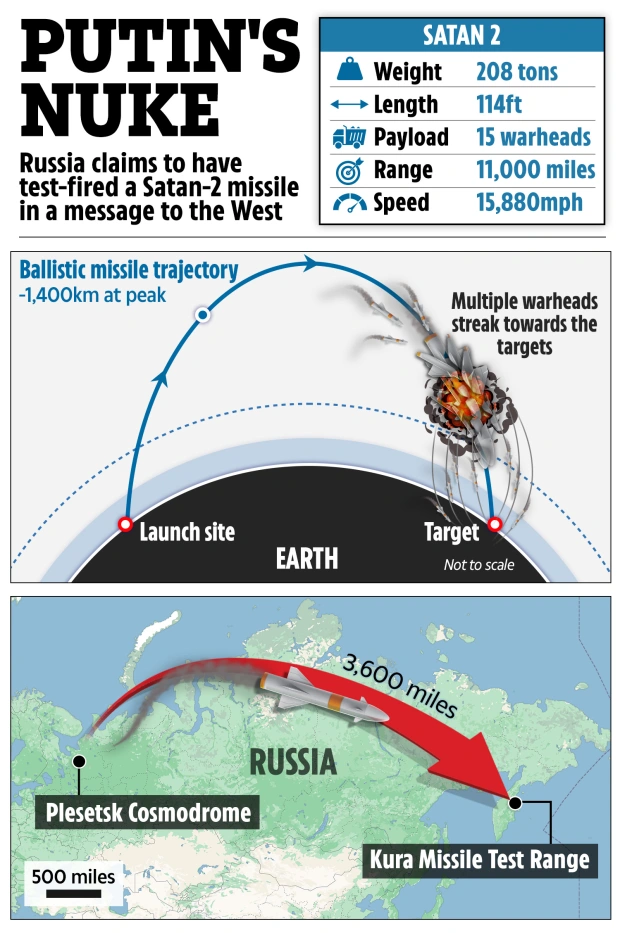 ---
RELATED: