In the News – Russia summons UK envoy; warns of 'dangerous consequences' after Black Sea drone attack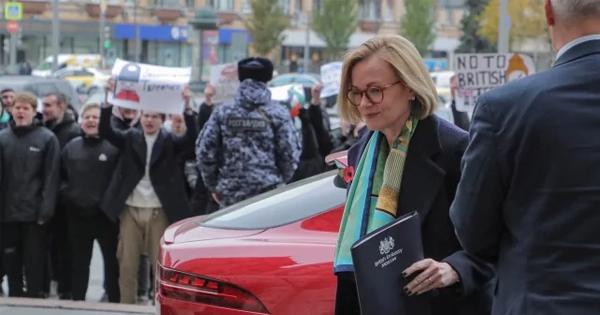 The Russian Foreign Ministry has summoned the British ambassador and warned London of "dangerous consequences," following a Ukrainian drone attack on Moscow's Black Sea fleet in Crimea last week, which Russia says the UK provided support to Kiev to carry out the attack.
"Such confrontational actions of the English carry a threat of escalation of the situation and could lead to unpredictable and dangerous consequences," the ministry said in a statement on Thursday.
Stressing that Moscow had delivered a "strong protest" to UK ambassador Deborah Bronnert in the wake of the attack, the Russian Foreign Ministry said it had handed "concrete facts" of London's "hostile provocations" to her and that "a demand was put forward to stop them immediately."
The ministry said British forces were training Ukrainian special services in the southern city of Ochakiv for "sabotage operations at sea," adding that the training also included preparing "underwater saboteurs for operations in the waters of the Black and Azov seas".
Russia accused Britain on Saturday of helping Ukraine to conduct a drone attack on its ships in the Crimean port of Sevastopol, with the UK dismissing the allegations as "false claims on an epic scale."
The Ministry also stressed that it was emphasised that this aggressive provocation was unacceptable, and it was demanded that they stop right now. If these aggressive measures, which have direct implications for the war, continue, only the British side will bear responsibility for their negative effects and the escalating tensions in their bilateral relations, the statement added.

According to the ministry, "An agreement was reached in September 2020 between London and Kyiv to expand the British instructors' training programme for Ukrainian military divers." Further, it stated that the Naval Training Initiative for the Ukrainian Navy, which includes combat swimmer training programs, was put into action by the parties in late 2020.

The minesweeper personnel that was sent to Ukraine were taught by the British in the months of August and September, the ministry reported.
The Russian Defense Ministry said in a statement the "preparation of this terrorist act … were carried out under the guidance of British specialists located in the city of Ochakiv in Ukraine's Mykolaiv region."
The ministry said "the ships of the Black Sea Fleet that were attacked by terrorists are involved in ensuring the security of the 'grain corridor' as part of an international initiative to export agricultural products from Ukrainian ports."
The defense ministry also said that in response to the drone attacks, Russia was suspending its participation in the deal that allowed grain exports from Ukraine.
The Russian fleet stationed in the port had also been attacked by a drone in July.
Since the onset of operations, the US and its European allies have imposed waves of sanctions on the Kremlin and sent numerous batches of advanced weapons to Ukraine. Moscow has been critical of the weapons supplies to Kiev, warning that they will prolong the war.
Source: Press TV – Russia summons UK envoy; warns of 'dangerous consequences' after Black Sea drone attack
---
Why is NO ONE stopping this? NATO readies MASSIVE attack, Putin sounds alarm
American troops are in fact on the ground in Ukraine, according to several U.S. media reports. A Pentagon official says that U.S. troops are "monitoring NATO arms deliveries." That's a fairly vague description of what we were assured would not happen. We talk about this major mission creep with Col. Douglas MacGregor.
DGTV – Why is NO ONE stopping this NATO readies MASSIVE attack Putin sounds alarm – Redacted
Comment by Carl Jones on 4 NOV 2022

The Russians are also about to imminently publish evidence of Black Sea attacks. This is very, very important, because as it stands, NATO has nothing to do with this. If the UK and US did Nord Stream, it also probably stands, that NATO had nothing to do with the attack, even if German intel knew what was going on. German intel is German, not NATO, they don't report to NATO.So while the UK did Nord Stream, with US blessing, or instructions to do so. The UK attacks on the Russian fleet in the Black Sea, were done by just the UK, & probably some UKrainians.

This means that Russia could publish, and then state, publicly, that they intend to take military action against the UK.Now, given that the UK attacked Russia in its back yard, we can assume that Russia will strike the UK. Probably Portsmouth, or a Russian sub will sink a Royal Navy ship, somewhere.So at the moment, Russia is going through all the legal hoops, and summonsing the UK ambassador to Russia, she was probably told this, including the fact that Russia will attack a component of the British military, very much ilkley to be naval.

Now, there's ZERO chance the US, or NATO doing anything about this coming likely attack on the UK. Many, many countries in NATO, will not stand by the UK terrorist state.My guess is that a very powerful conventional hypersonic weapon will be used on the UK. The question is, do they hit the naval repair docks, or do they hit high value boats. I bet that rust bucket carrier is still being repaired.
---
by Luan Trimi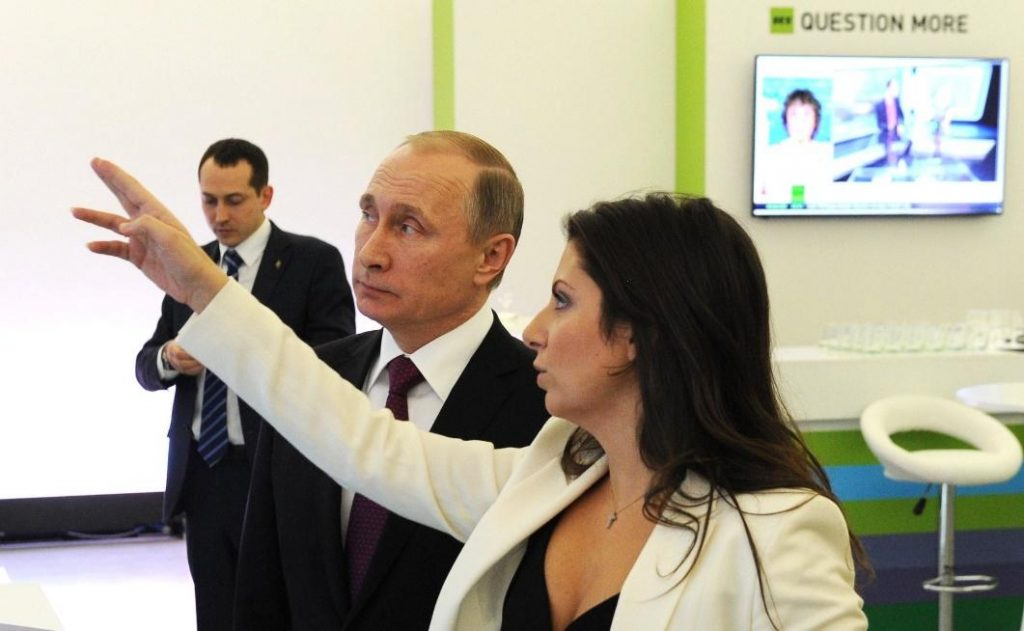 Vladimir Putin's long-time ally sends alarming message on state TV – Margarita Simonyan, the head of Russia Today (RT) and long-time Vladimir Putin ally, said on Sunday for Russians it is better to go fight in Ukraine and possibly die rather than live in a western-dominated world, Newsweek reports.
Simonyan, the prominent State TV commentator, is exempted from fighting in Ukraine herself due to being a woman and part of the media.
Nevertheless, this did not stop her from claiming for other Russians it is better to die than live under western values which she described as unbearable. Her arguments also invoked culture and biology.
'One day I will be prohibited to put dresses on my daughters and to explain to my son that he is a boy. This is already happening in many countries. For me, it's unbearable. For me, this is worse than war. Indeed, it's worse than war.'
'The west is spreading an ultra-liberal fascist trash'
According to Simonyan, western values are a significant threat to humankind, The Daily Beast reports.
'The world is at a dead end in terms of values, and the west is the cause and accelerating the demise towards the destruction of mankind, even without any kind of war.'
Furthermore, she described western values as ultra-liberal mixed with fascism and used a cancer analogy to emphasize the problems she sees with a western led world.
War has goals. Along with tragedies, pain and other understandable things, war has pride, the happiness of victory, and certain personal growth. There are changes in personality that lead to deeper self-awareness as a part of your nation, as a part of certain values and ideals,
What does that ultra-liberal fascist trash have,
I don't know. It spreads as an uncontrollable tumor, against which the chemotherapy is ineffective. If you allow it anywhere near your borders, before you know it, you'll be living in a country that is dictating that you must live a certain way. With our mentality, to live this way is unbearable.'
Simonyan also praised Russian President Vladimir Putin by saying that the world is changing for the better under his influence.
---
RELATED
While she dismissed allegations that Russia was behind it, Russian spokesperson Zakharova reminds us of…