From Tyler Durden, ZeroHedge
Heavy armored vehicles including tanks supplied by the West have begun showing up on the frontlines in Ukraine, as Ukrainian forces have this week launched their counteroffensive.
Multiple war analysts are now confirming that Russian forces have just destroyed their first German-made Leopard II tank, which happened Wednesday in the south of the country. Videos and photographs which have emerged also appear to show destroyed Bradley fighting vehicles provided by the United States. Drone footage captured a Leopard II tank being destroyed as it was traveling in a column of other vehicles…
Video from Ukraine Weapons Tracker tweet – 4:33 p.m. 8 June – For the first time, a Ukrainian Leopard 2A4 tank was destroyed by the Russian army during the recent Ukrainian attack near Novopokrovka, #Zaporizhzhia Oblast.
DGTV – For The First Time, A Ukrainian Leopard 2a4 Tank Was Destroyed By The Russian Army
A war analyst and weapons tracker at Forbes confirms that the Russians have bagged their first Leopard.
According to a detailed analysis of the video:
A Russian artillery strike on a Ukrainian vehicle column during a daytime assault on or around the town of Novopokrovka—35 miles southeast of Zaporizhzhia city in southern Ukraine—apparently knocked out at least one Leopard 2 tank on Wednesday.
A Russian drone orbited overheard as the shells rained down, its crew presumably helping to direct the strike and assess the resulting damage. The Russians posted the drone's video on social media, finally achieving what Russian propagandists earlier had tried and failed to do: posit the destruction of a Ukrainian Leopard 2.
The Leopard 2 and other armored vehicles were traveling in an uncomfortably tight column along an unpaved road outside Novopokrovka or nearby Mala Tokmachka—both occupied by Russian troops—when the artillery struck.
Currently NATO allies have pledged 85 Leopard II tanks to Kiev, but there are more on the way, including the UK Challenger 2 tanks.
According to Forbes, "Many of Ukraine's heaviest brigades have yet to join the attack." The report notes that "The 47th Assault Brigade with its American-made M-2 infantry fighting vehicles reportedly is fighting along the southern front. But the 82nd Air Assault Brigade with its ex-British Challenger 2 tanks and ex-American Stryker IFVs has yet to appear."
The below photograph is also widely circulating, showing multiple destroyed West-supplied armored vehicles closely together in a heap of mangled metal: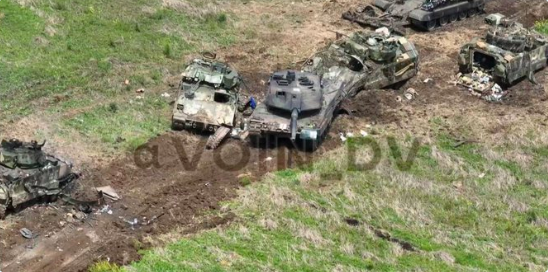 Rob Lee tweet 1:52 p.m. 9 June – Photo showing damaged/abadoned Ukrainian Leopard 2A6 tank and Bradley IFVs reportedly in the Orikhiv part of the front. Possible mine strikes. Also indicates the Ukraine's 47th Mechanized Brigade is taking part in the fighting.
Rob Lee Tweet 2:01 p.m. 9 June – The video shows additional damaged or destroyed vehicles, including wheeled vehicles. Many of them were not catastrophic kills, which means the crew/dismounts likely survived.
DGTV – Damaged Or Destroyed Vehicles, Including Wheeled Vehicles
At least 31 M-1 Abrams have been pledged from the United States, but it's expected the Ukrainian operators will take more time undergoing the necessary training on the sophisticated US-designed tanks.
Oliver Alexander Tweet 4:32 p.m. 9 June – Hard to say anything positive about this. After initially losing 4 M2A2 Bradley ODS-SA IFVs, 1 Leopard 2A6 and a BMR-2 armored demining vehicle in one location, 4 more M2A2 Bradley ODS-SA IFVs drove to the exact same position and started taking loses.
DGTV – Hard To Say Anything Positive About This.
Kiev has previously touted Western main battle tanks as a "game-changer" and are now eagerly seeking F-16s.
---
Germany's Top Tank Destroyed on Ukrainian Frontlines: Leopard 2A6 and Dozens of American Bradleys Taken Out
Since the initiation of Ukraine's mass offensive against Russian positions the Ukrainian Army and allied paramilitaries have begun to actively deploy new batches of armour received from Western countries, including not only very large numbers of Leopard 1 and Leopard 2A4 tanks, but also the much more capable Leopard 2A6 which, alongside the British Challenger 2, is considered the most capable in the country's inventory. While Leopard 2A4s have proven highly vulnerable in combat with armour protection that is effectively obsolete, as best demonstrated by Turkish use of the vehicles against local militias in Syria and Iraq, the Leopard 2A6 has long been marketed as a much more capable vehicle. Costing close to $8 million per vehicle, advantages of the new variant include use of 3rd generation composite armour, integration of a a longer barrelled and more powerful main gun, installation of additional armour modules on the turret, and use of much improved fire controls. The loss of these tanks, which have widely been considered the most capable in production across the Western world, has significant implications well beyond Ukraine itself.
A Leopard 2A6 tank was shown in close up aerial footage burning and completely destroyed, with features such as the gun mount confirming the class of vehicle seen. A second Leopard 2A6 was shown in the same formation damaged on its left track and abandoned, alongside multiple American M2 Bradley infantry fighting vehicles. personnel losses may be heavy, with Western tanks requiring 33% more crew than Russian or Soviet ones at four men each, while Bradleys typically carry nine personnel including three crew. Footage of the destroyed vehicles comes amid reports of very heavy losses for Ukraine's Western supplied armour in attempted offensives against Russian positions, with other footage published from both sides showing significant losses among Leopard 1 and Leopard 2A4 units.
It remains likely that Leopard 2A6 units have taken further losses, as only a small fraction of destroyed vehicles in the conflict can have closeup videos taken from the air. Leopard 2A6s remain very scarce assets within the Ukrainian inventory, and within NATO more broadly the large majority of tanks in service are less capable, meaning the class' vulnerability could draw the future viability of further Western arms shipments to Ukraine into question. Germany was initially highly reluctant to allow Leopard 2s to be supplied to Ukraine, with this speculated to have been largely influenced by concerns that combat could tarnish the tank's reputation. This would be a major loss due to its central importance to the German defence sector's reputation and to its arms export profile as perhaps the country's most iconic defence product. Although a more capable Leopard 2 variant the Leopard 2A7 has been developed, improvements remain conservative particularly when compared to the gap between the A4 and A6 variants, with the A7 also having been relegated to a very small production run due to limited foreign demand.
---
Leopard 2A6 Just got Destroyed. Ukraine lost Leopard 2A6 tanks…
DGTV – Leopard 2A6 Just got Destroyed
---
Four more Ukrainian Leopard 2 tanks destroyed – Moscow
From RT – June 10, 2023
The Russian military has destroyed nine Ukrainian tanks, including four German-made Leopard 2s, as it successfully repelled attempts to advance by Kiev's forces, the Ministry of Defense has claimed.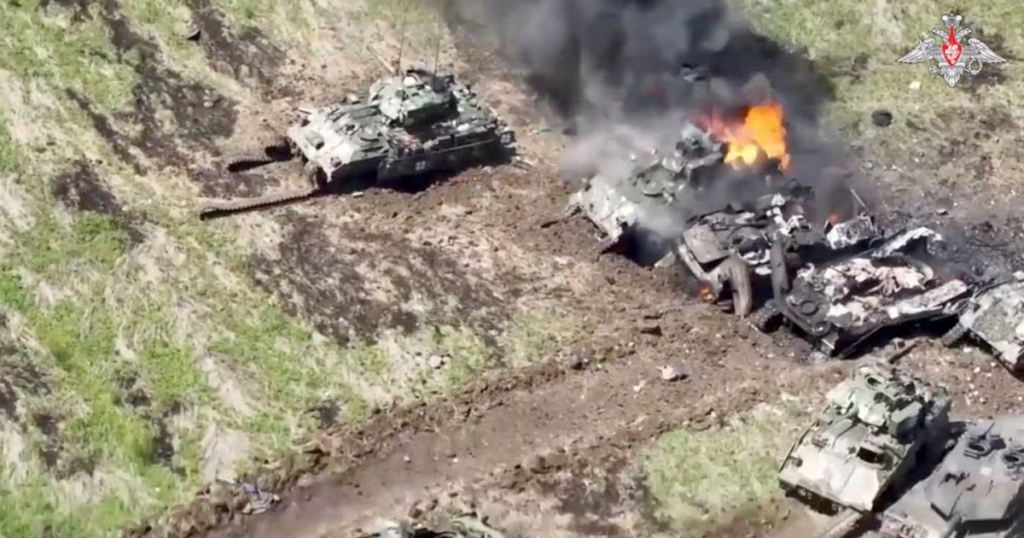 Over the past 24 hours, Ukraine has "continued fruitless attempts to carry out offensive operations" in Russia's Zaporozhye Region, in the south of Donetsk People's Republic and near the city of Artyomovsk, also known as Bakhmut, ministry spokesman Lieutenant General Igor Konashenkov said during a briefing on Saturday.
In Zaporozhye Region, Russian ground troops, artillery and aviation repelled two attacks by large Ukrainian units boosted by tanks in the area of Yablonevo and Novopokrovka villages, he said.
Two of Kiev's armored convoys were struck near the settlements of Novodanilovka and Malaya Tokmachka, the spokesman also reported. There were also three smaller Ukrainian attacks in the region, which were also unsuccessful, he added.
Besides the nine tanks, Kiev forces are also down eleven armored personnel carriers, which include five US-supplied Bradley fighting vehicles, 14 armored cars and a French-made Caesar self-propelled howitzer, Konashenkov pointed out.
The Ukrainian military's losses in terms of manpower during the fresh fighting in Zaporozhye Region has reached up to 300 troops, according to the ministry spokesman.
Five attacks were repelled near the city of Artymovsk, which the Russian forces captured from Ukraine in May after months of heavy fighting, he told the briefing. Kiev's losses in this area over the past 24 hours, he pointed out, included up to 230 personnel, five armored cars and two Soviet-made D-30 howitzers.
According to Konashenkov, around 60 of Kiev's soldiers were neutralized in the area of Krasny Liman, a Ukrainian-held town in the Donetsk Peoples Republic. An APC and several howitzers, including a Polish-made Krab self-propelled gun were also destroyed, he said.
---
Putin's 'Leopard' Pledge Becomes Reality; Russia Bombs German Tanks in Zaporizhzhia – Hindustan Times – June 10, 2023
>
DGTV – Putin's 'Leopard' Pledge Becomes Reality; Russia Bombs German Tanks in Zaporizhzhia
RELATED: