In the News –
In an interview with The Guardian (7 June), NATO's former secretary-general, Anders Fogh Rasmussen, said he believes there's a possiblity of sending the alliance's troops into Ukraine.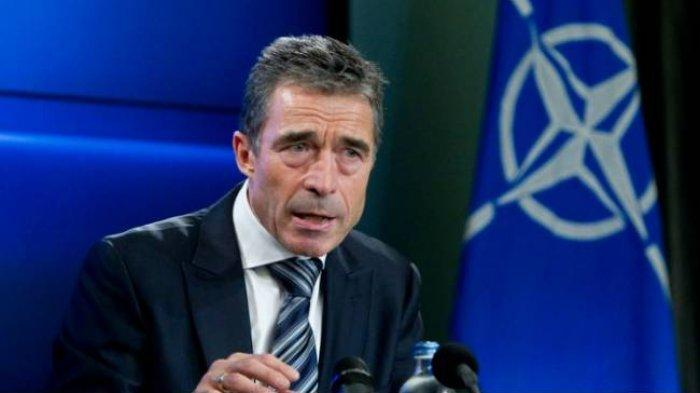 Rasmussen was speaking ahead of next month's NATO summit in Vilnius, Lithuania, where it is expected that NATO will move to adopt some sort of formal military alliance with Ukraine, including potential moves toward NATO membership. According to Rasmussen, if NATO cannot decide on steps regarding Ukraine's membership or its security guarantees at the summit in Vilnius, "there is a clear possibility that some countries individually might take action."
Rasmussen said, "We know that Poland is very engaged in providing concrete assistance to Ukraine. And I wouldn't exclude the possibility that Poland would engage even stronger in this context on a national basis and be followed by the Baltic states, maybe including the possibility of troops on the ground."
Rasmussen added, "I've spoken with several eastern European leaders, and there is a group of hardcore, eastern central European allies that want at least a clear path for Ukraine towards NATO membership."
Rasmussen's comments come after current Secretary General Jens Stoltenberg said he expected the summit in Vilnius in July to send a strong signal of support to Ukraine. He repeatedly stressed that NATO needed to "strengthen Ukraine's position in the battlefield to enable them to get an outcome of this war which ensures that Ukraine prevails as a sovereign independent nation."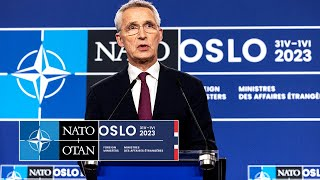 At the press conference following the conclusion of an informal meeting of NATO foreign ministers in Oslo, Norway, NATO Secretary General Jens Stoltenberg declared, "Our focus today was on how we can bring Ukraine closer to NATO, where it belongs." Stoltenberg made clear that formalizing NATO's alliance structure with Ukraine will be a major focus of the summit. This informal meeting, held 31-May-1 June, specifically focused on the summit in Vilnius. Ministers met in a very small and confidential setting.
NATO Forges Secret Plans Against Russia—'We Are Ready To Fight Tonight'

At the Vilnius Summit, NATO leaders are set to approve plans outlining how the alliance can respond to an attack by Russia. The move may take several years to fully implement, although the NATO officials said that it could head into battle immediately. The proposed move comes as a top NATO official, Admiral Rob Bauer, warned that preparations were needed because "a conflict can present itself at any time." The plans, running into thousands of pages, will also guide its 31 members on how to upgrade forces and logistics.

Worth noting is NATO will launch the largest aerial war games in its history with the Air Defender 23 exercise, in which NATO will fight a simulated war with Russia. The exercises will take place from the United States to the Baltics and the Black Sea, with Germany playing a leading role. "From June 12 to 23, up to 250 aircraft will be stationed across six military bases, with 25 countries taking part. The US alone is sending 100 aircraft across the Atlantic. In the air, participants will train in crisis situations over three flight zones: over northern Germany in the North Sea, in the east and in a small strip of southern Germany." – NATO: Air Defender 23 to be biggest exercise ever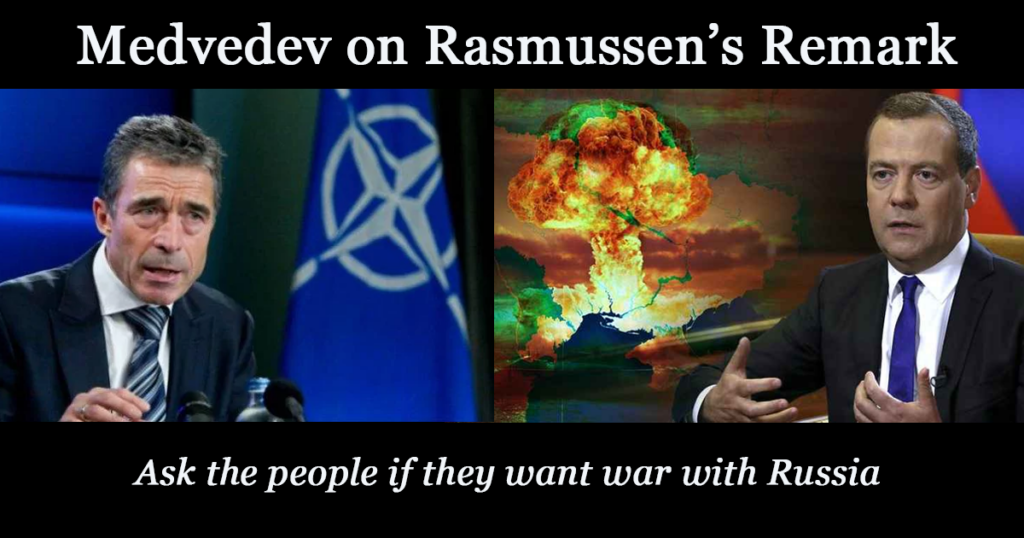 The deputy chairman of Russia's Security Council, Dmitry Medvedev reacted to Rasmussen's remark – NATO countries should ask their people if they want war with Russia.
"Fogh Rasmussen wasn't a very smart man before. And now he has sunk into a doctrinaire's dementia. In an interview with The Guardian he stated that even if Banderavite Ukraine doesn't receive an invitation to join NATO in Vilnius, the countries of the alliance will be able to send their troops there. Sort of on their own," Medvedev wrote on his Telegram account.
"Well, have the people of these countries been asked? Who among them wants war with Russia? Do they really want hypersonic strikes on Europe? And what does Uncle Sam think about this? It would affect him too, wouldn't it?" Medvedev added.
Official representatives of the Alliance and Western countries have repeatedly categorically rejected the possibility of sending their own troops into Ukraine, claiming that this would lead to a direct confrontation between NATO and Russia.
Estonian Prime Minister Kaja Kallas has said that NATO countries are not discussing sending their military to Ukraine. "All countries are providing some kind of assistance to Ukraine. But not a single country has declared its desire to intervene in this war, to send its military to it, and I have not heard of such plans."
Matthew 24:6:- Jesus said, And ye shall hear of wars and rumours of wars (talk of war, with some false-alarms): see that ye be not troubled: for all [these things] must come to pass, but the End is not yet.
24:7 For nation SHALL rise against nation, and kingdom against kingdom (individual and World Wars): and there SHALL BE famines, and pestilences, and earthquakes, in diverse places.
24:8 All these [are] the beginning of sorrows (Woes) ………. (2 Esd. 16:18)
24:22 And EXCEPT those days should be shortened, there should NO flesh be saved (2 Esd. 16:28): but for the Elect's sake those days SHALL be shortened (by The Ruler of The Universe).
24:30 And then shall appear the Sign ("Star") of the Son of Man (Rev. 21:2) in heaven: and then shall ALL the tribes of the Earth mourn, and they shall see the Son of Man coming in the "Clouds" of heaven with power and great glory.

SIGNS OF THE END TIMES
RELATED: