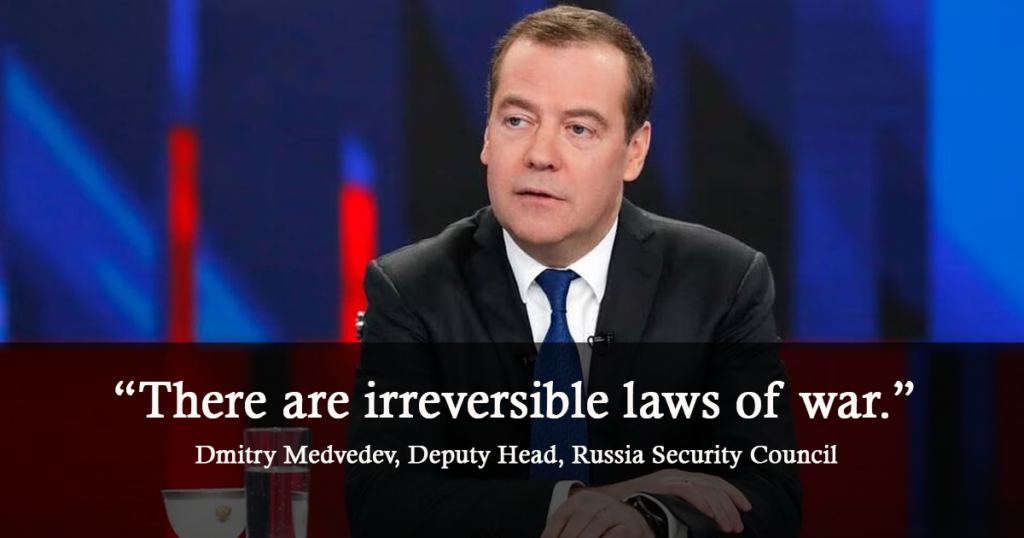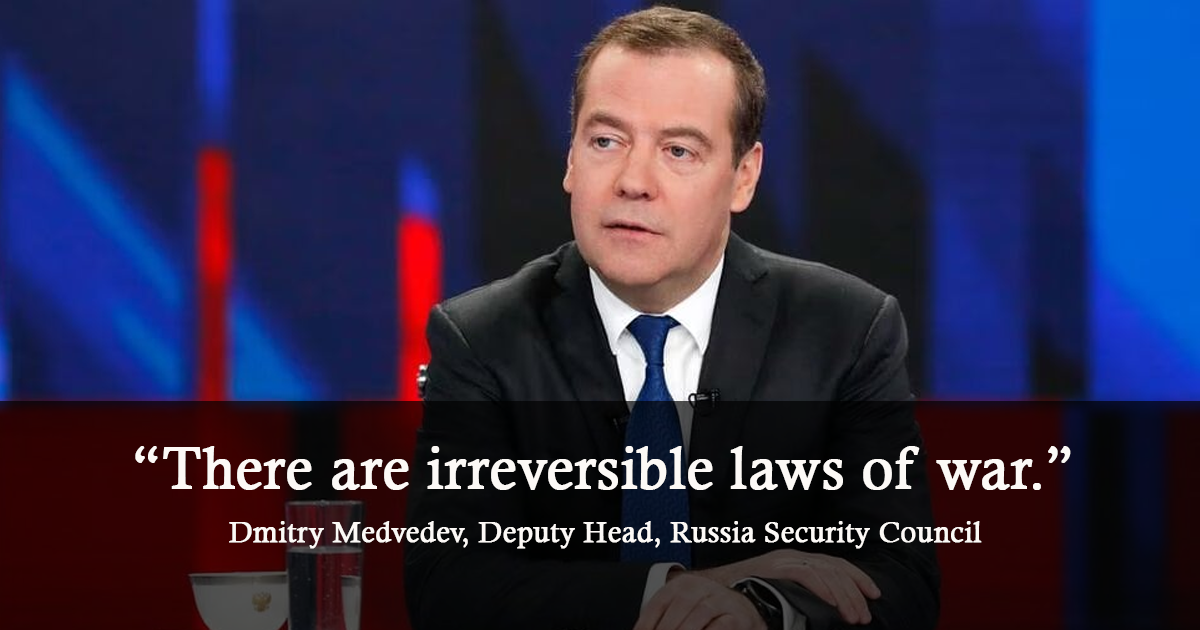 The deputy head of Russia's Security Council warned Friday that if the West delivers nuclear arms to Ukraine, Russia would have to carry out a preventive strike.
Dmitry Medvedev told reporters in Moscow that the West has been supplying Ukraine with gradually heavier weapons since the beginning of the war last year, when it started sending Kyiv small arms, while now they plan to deliver F-16 fighter jets.
"There are irreversible laws of war. If it comes to (supplying Ukraine with) nuclear weapons, it will be necessary to launch a preemptive strike," he stressed.
Medvedev, who served as Russian president in 2008-2012, claimed that the US "earns money" on the conflict in Ukraine, while simultaneously damaging its "centuries-old enemy," Russia.
As for Europe, Medvedev said it "went crazy," behaving in ways that escalate the conflict in Ukraine.
"This conflict (in Ukraine) is very long-lasting … for decades, probably. This is a new reality, new living conditions. Under the Kyiv regime, there will be three years of truce, two years of conflict — and everything will repeat again," he noted.
Source: Top Russian official warns of 'preemptive strike' if West gives Ukraine nuclear arms
---
Ukraine conflict could last for decades
One year on and there isn't any sign of Ukraine war to end. A top ally of Russian President Vladimir Putin has said that the conflict could continue for decades.
Known for making hard line comments, Dmitry Medvedev during his visit to Vietnam said that Ukraine-Russia war will last for a very long time with lengthy periods of fighting interspersed by truces.
"This conflict will last a very long time, most likely decades," Russia's RIA news agency quoted Medvedev as saying.
"As long as there is such a power in place, there will be, say, three years of truce, two years of conflict, and everything will be repeated," Medvedev further said, reiterating Russia's claim that Ukraine is a Nazi state.
It can be recalled that last month deputy chairman of Putin's powerful security council Medvedev, described Ukrainian authorities as an infection.
Back in January, Medvedev said if Russia were defeated it could trigger a nuclear war.
Russia-Ukraine war latest update
The battle has intensified in the eastern Ukrainian city of Bakhmut. Meanwhile, the Wagner group has started withdrawing its troops from the region and said that it would hand over positions to the Russian army.
The chief of the mercenary group, Yevgeny Prigozhin, said he would return the bodies of a US citizen killed in fighting in Bakhmut and a Turkish citizen found dead in a blown-up building.
Meanwhile, the US has imposed sanctions on the head of the Wagner Group in Mali, blaming the Russian private army for trying to obscure its efforts to acquire military equipment for use in Ukraine and of working through Mali and other countries.
The US, on the other hand, is developing a coordinated programme to train Ukrainian pilots on the F-16 fighter jets.
Source: First Post – Ukraine conflict could last for decades, says Putin's top ally Dmitry Medvedev
---
F 16 isn't free, Europe must give $4B for 20 Ukrainian F 16s – US
Sending F-16s to Ukraine will cost money. This was made clear by Defense Secretary Lloyd Austin and General Mark Milley, chairman of the Joint Chiefs of Staff. The statement was made during a press conference at the Pentagon on May 25. It was held immediately after the meeting of the contact group in Ukraine. It is about billions of dollars that the countries involved in military support for Ukraine must provide. General Milley did a quick calculation, saying that 10 F-16 fighter jets would cost those supporting Ukraine $2 billion. He stressed that just providing 10 fighter jets costs $1 billion, and maintaining those 10 costs another $1 billion. There is still no clarity on which country will give Ukraine how many planes, the logic is simple: 20 F-16s will cost $4 billion, 30 F-16s will cost $6 billion, etc. Since the USA and European countries alone account for 90% of Ukraine's aid, it is expected that these countries will provide the funding.
Related article: '$2B for 10 Aircraft': Pentagon Looks to Allies to Fund Ukraine F-16 Training
---
NATO not serious enough about risk of nuclear apocalypse — Medvedev
VIENTIANE, May 23. /TASS/. The North Atlantic alliance does not take the threat of nuclear war seriously enough, thus making a big mistake, the deputy chairman of Russia's Security Council Dmitry Medvedev, said on Tuesday.
"NATO is not serious about this scenario. Otherwise, NATO would not have supplied such dangerous weapons to the Ukrainian regime. Apparently, they think that a nuclear conflict, or a nuclear apocalypse, is never ever possible," he said in an interview with the RT television broadcaster. In Medvedev's view, NATO is "wrong and at some point events may take a completely unpredictable turn."
"The responsibility will be placed squarely on the North Atlantic Alliance," he said.
As Medvedev pointed out, no one knows whether the point of no return has been passed.
"No one knows this. This is the main danger. Because as soon as they provide something, they say: let's supply this, too. Long range missiles or planes. Everything will be all right. But nothing will be fine. We will be able to cope with it. But only more and more serious types of weapons will be used. That's what the current trend is," he concluded.
RELATED: