11 Sept – See Updates to this news below.
A British-made Challenger 2 tank provided to Ukraine was destroyed by Russian artillery, marking the first time the tank has been destroyed in active combat by enemy fire.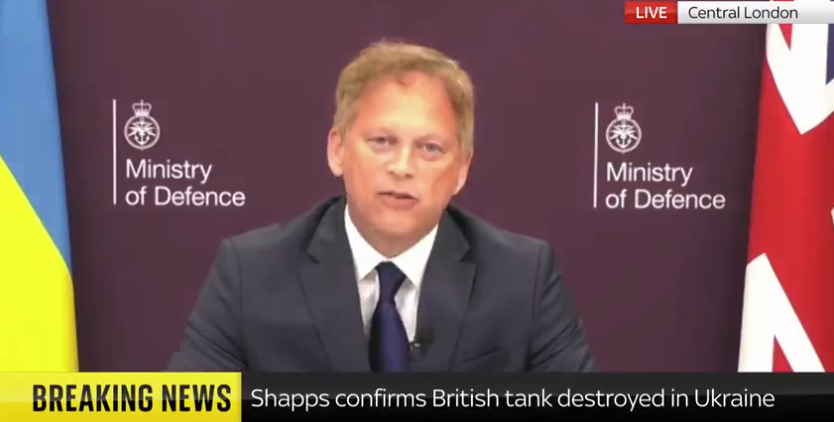 The tank's destruction was confirmed by the new British Secretary of Defense Grant Shapps, who also claimed that the six-member Ukrainian crew of the tank somehow survived. Britain provided the Kiev regime with 14 such tanks for frontline breakthroughs. When asked would UK send a replacement, Shapps said no, that Ukraine had the 13 other tanks gifted to them.
DGTV – Moment When British Challenger 2 Tank was Destroyed
Appearing on Russian Telegram channels on Wednesday, the video shows the Challenger 2 coming under fire from a Russian-made anti-tank missile thought to be a Kornet. The hit appears to trigger a fire, and a large plume of smoke can be seen emerging from the tank. Drone shots filmed later showed the wreckage, and the tank appears to have been completely burned out.
DGTV – Destroyed British Challenger 2 Tank – from the ground
Another video was reportedly shot by a Ukrainian soldier attempting to flee an artillery barrage in a car. Ukrainian voices can be heard in the background, and another destroyed tank, likely a Soviet T-64, is also visible nearby. This incident occurred near the village of Rabotino, in the Zaporozhye Region.
According to Sputnik, Ukrainian battlefield footage appears to show a destroyed Challenger 2 with its barrel shrouded in smoke. Per the British press, the incident apparently took place on September 4.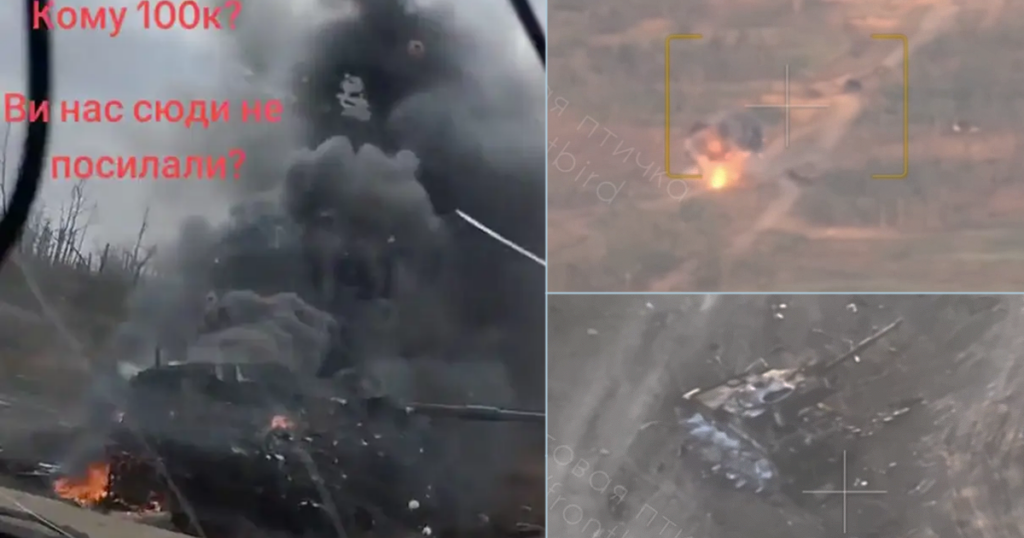 The Challenger 2 tanks were supplied by the UK to the elite 82nd Air Assault Brigade for the summer counteroffensive, however, unlike similar incidents involving Bradley IFVs or Leopard 2 tanks.
Later shots captured by drone confirmed the loss of the tank, as well as the T-64, two BMP-1 infantry fighting vehicles (IFVs) and a US-made M113 armored personnel carrier.
The British main battle tank, which entered into service in 1994, was smashed in combat for the first time in almost 30 years, according to the media. Prior to that, the Challenger 2 was severely hit only once, in 2003, after falling under friendly fire in Iraq. This is not a very good ad for the tank, according to Michael Maloof, former senior security policy analyst in the US Office of the Secretary of Defense.
"If confirmed, it shows that the Challenger, like any other equipment that's fielded, is capable of being destroyed," Maloof told Sputnik. "There's nothing indestructible. And that also demonstrates, however, that the Ukrainians really are not equipped. They have very limited numbers of Challengers. They only have 14. And their training is minimal. You need months and months of training and they don't have it. I would add that that's what we're encountering with the F-16s, the pilots in the case of the F-16, not only have to learn how to drive the F-16. They have to learn English first, all instructions are in English. And I'm sure that that applies also to the British equipment, which is very sophisticated. The Challenges are very sophisticated."
The military expert expects that the use and effectiveness of the Challenger 2 "is going to be minimal" because of their limited number and is "going to get even worse because of the changing weather."
"The weather is going to be changing shortly. So the tanks could become ineffective, they could get bogged down, that makes them sitting targets," Maloof explained. "Not to mention the logistical training that they would require just for those 14, and on top of the logistical training that would be needed for the 31 Abrams which, even though it's supposed to be very powerful and effective, it has vulnerabilities and the Challenger does, too. Nothing is invulnerable. Nothing."
Maloof noted that he doesn't recall Challengers being used "all that much" in actual combat. Challengers have hardly been subjected to the types of warfare that the Abrams tanks and others have been subjected to, according to Sputnik's interlocutor. In contrast, the Russian tanks have more experience on the battlefield, he noted.
"The British have not engaged in a lot of wars. I think they have very strict limitations on exports to other countries. So that has also lessened any Challengers being engaged in any warfare, none really come to mind. I don't think they were using them in Afghanistan, the terrain isn't applicable to that. I think the Challengers are getting a first taste of actual combat and they're not making it," the security analyst said.
Given that the Russian military has considerable air power and "very formidable" defenses, the Ukrainian Challenger 2 tanks are facing many problems ahead, according to him.
Meanwhile, BAE Systems recently admitted that the UK is no longer able to manufacture large-caliber gun barrels which presumably may add to the problem of Ukraine's arming.
Per Maloof, the Kiev regime's problem is much bigger than that as the Ukrainian military has sustained tremendous losses in terms of military equipment and troops. "Nobody is seeing a counteroffensive as such," the expert highlighted. According to him, the Americans and Europeans are growing skeptical about sending more funding and military assistance to Kiev.
"There are a lot of increasing political considerations who are not wanting to, polls from Europe and especially from the United States," Maloof said. "That's what I'm seeing. It's going to become increasingly difficult to get further funding. Biden wanted that $113 billion, and that was approved for our fiscal year 2023, it's been chewed up, used, done. And Biden is coming in for another, I believe, $34 billion. There's already resistance in the Congress to approving that amount. And it's all embodied in our defense authorization bill and that is bogged down. And now the Congress is out of session for now, whether they should be coming back in time, but the funding of the Defense Department and other agencies is going to be coming up and we run the strong risk at the end of September of having a government shutdown because Congress cannot agree, unless they agree this to a continuing resolution, cannot agree at this point to refunding the agencies."
People in the West have a lot on their plate including inflation, economic slowdown, etc. And their domestic problems are overtaking their concerns about Ukraine, according to the expert.
"The Democrats are going to have to try to make Ukraine a nonpolitical issue for 2024. This is going to be very important because if they don't and the Republicans in the House are going to be making an issue of impeachment for Biden if for no other reason than to focus on his alleged corruption charges in Ukraine," Maloof concluded.
Sources: Sky News, Russia Today, and Sputnik.
---
UPDATE 11 Sept: The Chief of the British General Staff was shocked by the destruction of Challenger II. General Patrick Sanders noted that the Challenger 2 was one of the most advanced and secure tanks in the world. He said, "This caused me emotional distress. Because it was like I was in this tank myself. Do you understand what I'm talking about. We have a deep affection for technology, on which we have been fighting in recent years. But I understand that this happens in war." Excerpts in this article taken from this interview.
UPDATE: Tass reports Russian forces have destroyed two British-made Challenger tanks in the Zaporozhye Region with Kornet anti-tank missile systems, Yevgeny Balitsky, the region's acting governor said. "In terms of armor, they have no special features. The Kornets coped with them easily. Our guys hit two tanks," he said. Balitsky also noted that four Challengers were now near Stepnogorsk and two in Orekhov.
The UK and The USA are going to lose World War 3.
RELATED: