The One and Only Rightful Owner of The British Throne is The King of Israel – Christ.
by Francisca
Dear Charles Phillip Battenberg Windsor,
I hope this finds you well, in good spirit and having a good day.
I write this letter in support of the ROYAL DECREE BY THE TRUE BRITISH KING OF ISRAEL, that you come to Gibraltar, lay down your crown, and kneel at The Feet of The Gibraltar-Messenger, CHRIST, on 22 April 2023 in St. Michael (Christ)'s Cave, Gibraltar, The Rock of His Defence.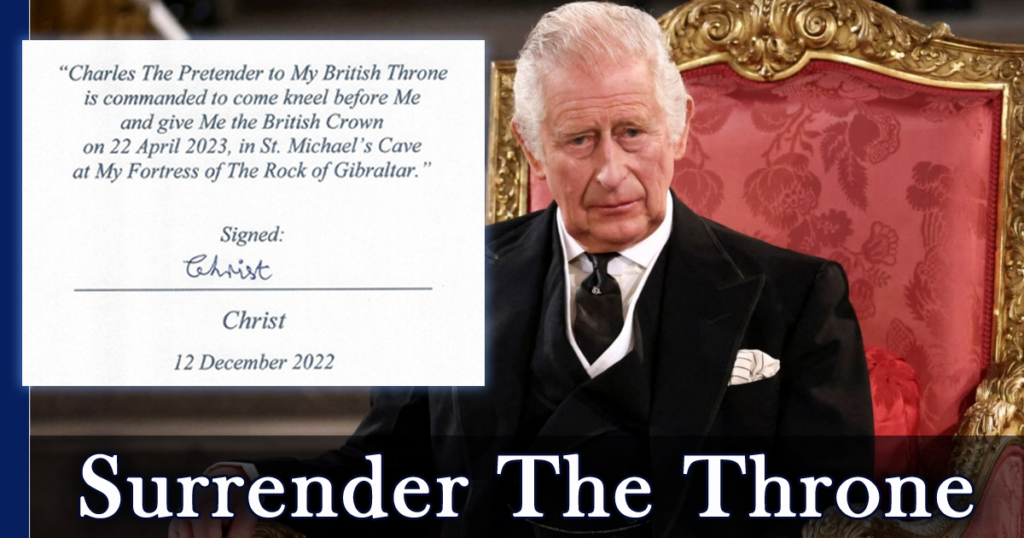 John 1:1-5 KJV
1 In the beginning was the Word, and the Word was with God and the Word was God.
2 The same was in the beginning with God.
3 All things were made by him; and without him was not any thing made that was made.
4 In him was life ; and the life was the light of men.
5 And the light shineth in darkness; and the darkness comprehended it not.
John 1:14 And the Word was made flesh, and dwelt among us, (and we beheld his glory, the glory as of the only begotten of the Father,) full of grace and truth.
If you believe the Bible and have the Holy Spirit/truth in you, surrendering all (The Throne and the world) to its rightful OWNER "CHRIST" should be a topmost priority.
It is obvious men can not rule the world, and, just as it is stated in Malachi 4:4-6, Christ/Eli-JAH is here to restore the world to God's perfect Laws of liberty and true justice. "Thy Kingdom come, thy will be done in earth".
2nd Esdras 5:6 And even he shall rule, [Christ] whom they look not for that dwell upon the Earth, and the fowls shall take their flight away together:
Zechariah 14:9 And the LORD shall be king over all the earth: in that day shall there be one LORD, and his name one.
I humbly advise that you obey the decree, considering the times we are living in, that no one else can emphatically make a statement like this other than the King of kings –
Revelation 16:15-16 and from "His fortress of The Rock" of Gibraltar. So as not to face the wrath of God, and also save the world from this insanity.
Also see; The Way home or face The Fire.
Peace be upon you and within you.
From: Francisca
This letter has been added to Crown Prince Michael in Gibraltar.