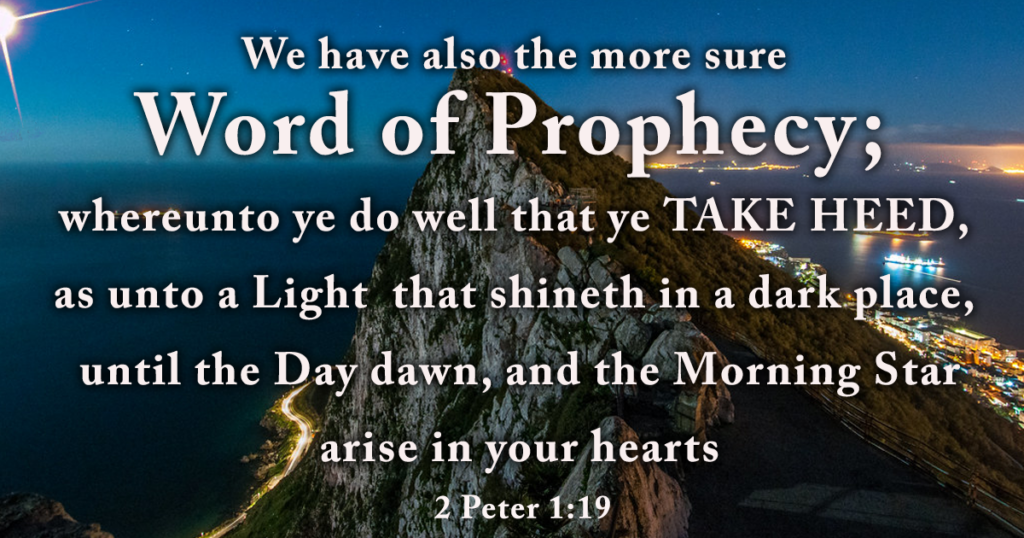 Managing Editor's Note: Gibraltar Messenger is sharing these two much-appreciated letters as one post. While they are combined here, Charles will appropriately receive each letter separately.
Acknowledge Christ in His Second Coming
by Christina
Hello and Good Day Charles Battenberg/Windsor,
My name is Christina and I live in the USA. I am writing to you because I am in support of the Royal Decree by the British King of Israel that you Please give the British Throne and Crown to Christ JAH on the 22nd of April 2023 at the Rock of Gibraltar in St. Michael's Cave.
There have been many letters sent you all with the same truthful messages. To humbly kneel and give the British Throne to the True King and Lord Christ JAH.
Christ JAH has been more than patient and is waiting for your reply to give Him what is rightfully His Do you believe in Prophecy Charles? I hope you do. Because it is happening at this present time and I'm afraid you will not listen to what we are telling you. Because eventually Father will GIVE Him the Throne and when this happens it will be too late for us (including you). We will all be punished for refusing and not acknowledging Christ JAH as the True King of the British Throne and the World. (Armageddon and WW3)
Also, do you actually think that Father would allow everything that has happened to HIS Most Beloved Son in the past incarnation as (Jesus Christ – 1st Coming) go UNPUNISHED? HE will make sure everyone responsible pays for their Treason and Lies that have been done and told to the whole world, which has kept us blind from the Truth about Christ being here in His second coming as Lord Christ JAH and accepting Him as our True King.
2 Peter 1:19 We have also the more sure Word of Prophecy; whereunto ye do well that ye TAKE HEED, as unto a Light that shineth in a dark place, until the Day dawn, and the Morning Star arise in your hearts: (Revelation 22:16 – I Jesus am … the bright and Morning Star).
1:20 Knowing this first, that no Prophecy of the Scripture is of any private interpretation.
1:21 For the Prophecy came not in old time by the will of man: but holy men of God spoke [as they were] moved by the Holy Spirit.
2:1 But there were false prophets also among the people, even as there shall be false teachers among you, who privily shall bring in damnable heresies, even denying the Lord (when he comes again in his new body) that bought them, and bring upon themselves swift destruction.
2:2 And many shall follow their pernicious (harmful) ways; by reason of whom The Way of Truth (the REAL Christ and The Way) shall be evil spoken of.
2:3 And through covetousness shall they with feigned words make merchandise of you: whose judgment now of a long time lingereth not, and their damnation slumbereth not.
We are just trying to help you understand brother (in spirit) Charles that Christ JAH is Jesus the Savior and your mother Elizabeth was never crowned on the Throne, just as you NEVER will be either. And you must know this to be True because of the prophecy about the final overturn.
Ezekiel 21:27 I will overturn (1), overturn (2), overturn (3), it: and it shall be no [more], [overturned] UNTILhe come whose Rightit is; and (4) I will give it [him – Shiloh/Christ (Genesis 49:10)].
Please do the right thing and respond back to Our Lord Christ JAH in handing over His Rightful Throne to Him. We need to go back to God's Law and live by it. By Re-Establishing God's Law in this world we might just have a chance before it really gets bad and Christ JAH is the only one who can do it. He is giving you an opportunity to humbly come to Him to make it Right. He is Most Merciful and Most Gracious just like His Father the "I AM".
And with the little time we have left, please read a very important book called "The Way Home or Face The Fire". It is where I found all the answers to all my problems and it is written by "The Master" Christ JAH.
Thank you for your time.
Christina – a follower of Christ The Way
The First Step to True Peace
by Matthew
Dear Charles Battenberg Windsor,
I hope this finds you well and in good spirit.
My name is Matthew I'm 16 years old and from the USA. I am writing to you to help you please deliver Prince Michael's (Christ) Crown to him on April 22, 2023 in Gibraltar at St. Michael's Cave.
The Scriptures tell us where Christ would go, in the Book of God's Prophet Isaiah, in chapter 33:-
Isaiah 33:15 He that walketh righteously, and speaketh uprightly; he that despiseth the gain by oppressions, that shaketh hishands from taking of bribes, that stoppeth his ears from hearing of bloodshed, and shutteth his eyes from seeing evil;
33:16 He shall dwell on high: his place of defence [shall be] the munitions (Fortress) of Rock: bread shall be given him; his waters [shall be] sure.
33:17 Thine eyes shall see the King in his beauty: they shall behold the land that is very faroff (Israel). (jahtruth.net/emmau2)
The "SIGNS" of The "END" Times
Ezekiel 21:26 Thus saith the Lord "IAM"; Remove the diadem (sovereignty), and take off the crown: this [shall] not [be] the same: exalt [him that is] low (Line of Judah/Zarah), and abase [him that is] high (Line of Judah/Pharez).
Ezekiel 21:27 I will overturn (1), overturn (2), overturn (3), it: and it shall be no [more], [overturned] UNTIL he come whose Right it is ; and (4) I will give it [him- Shiloh/Christ (Genesis 49:10)].
Prince Michael (Christ) is the True British KING and you have His Crown. Please deliver it to Him as He has requested. We are in the Latter Days and this is a last warning message to hand over His Throne of David before we have to suffer FATHER'S Punishment (WW3) and later HIS wrath (Malachi 4:1) for not keeping HIS Commandments and accepting FATHER'S Son (Christ) who is on this Earth at this present time patiently waiting for you to give Him what is rightfully His, the British Throne of David.
Ezekiel 38:4 And I will put hooks into thy jaws (hunger – 2 Esdras 6:22) and bring thee forth (the whole world … 38:16 And thou shalt come up against my people Israel (U.K. and U.S.A. not Judah; not the Jews) as a cloud to cover the land.
Revelation 11:7 And when they shall have finished their testimony; the beast that ascendeth out of the bottomless pit shall kill them. The "SIGNS" of The "END" Times
So Please make the right decision for you and the all people of this planet. We can't have Peace unless we go back to GOD'S Law and HIS Commandments. So, give His Son (Christ) what is rightfully His, the British Throne of David. And this is the first step to True Peace.
Thank You for your time,
Matthew (a follower of Christ)
These letters have been added to Crown Prince Michael in Gibraltar.