RadarOne – 'Warning To The West': Nuclear Military Train Seen Moving Through Russia As Vladimir Putin Ramps Up War In Ukraine.
A freight train connected to Moscow's nuclear arm's division was spotted moving through Russia as Vladimir Putin continues to ramp up his ongoing war against Ukraine, RadarOnline.com has learned.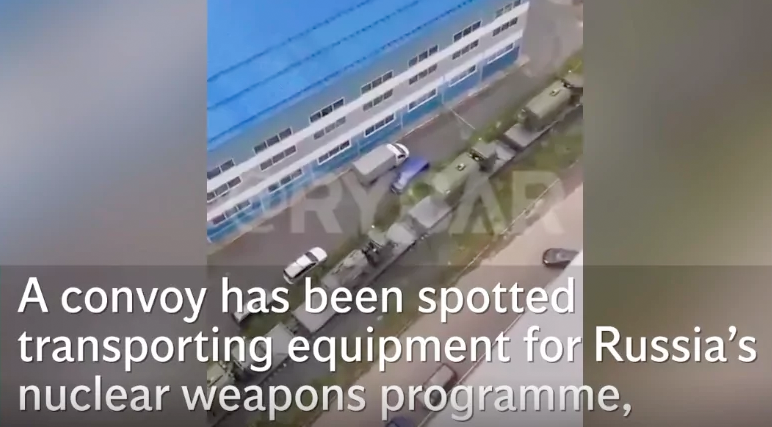 The train – which was reportedly transporting specialist military equipment for Russia's Ministry of Defense – was seen traveling through central Russia on Sunday.
Even more shocking are reports that the military caravan was transporting both armored personnel carriers and other vehicles to Russia's border with Ukraine.
Russian insiders have claimed the transport of such advanced military hardware signals a potential escalation in Putin's war against Ukraine – an escalation that very well might include the use of nuclear weapons.
"We're in a situation in which superiority in resources and conventional weaponry is on the side of the West," Vasily Kashin, a military analyst in Moscow and a close confidante to Putin, said over the weekend.
"But Russia's power is based on its nuclear arsenal," Kashin added.
Ramzan Kadyrov, another Putin ally who serves as the current president of Chechnya, has since suggested Putin ramp up the war in Ukraine with more "drastic measures" – including declaring martial law in already claimed Ukrainian territory and deploying "low-yield" nuclear weapons.
"I do not know what the Defense Ministry reports to the Supreme Commander-in-Chief," Kadyrov explained, "but in my personal opinion, we need to take more drastic measures."
The transport of specialist military equipment across Russia also comes as Moscow's Strategic Rocket Forces division is set to undergo extensive training exercises later this season.
Russia's Strategic Rocket Forces serves as the "cornerstone" of Putin's nuclear defense program. The division also consists of dozens of missile regiments that control Russia's nuclear weapons arsenal.
As RadarOnline.com previously reported, the transport of nuclear weapons across Russia comes shortly after Putin mobilized more than 300,000 more soldiers into Ukraine.
SOURCE: Radar Online – 'Warning To The West': Nuclear Military Train Seen Moving Through Russia As Vladimir Putin Ramps Up War In Ukraine
DGTV – Russian Train Convoy on The Move
---
Putin's 'Nuclear Military Train' Reportedly on the Move, Spotted Loaded Down with Weaponry
In response to the footage of this equipment move in Russia, Konrad Muzyka, an independent defense analyst with expertise in Russia and Belarus, said it could mean several things.
"Does that mean that this video shows preparations for a nuclear release? Not really," he tweeted Sunday. "There are other more likely explanations.
"1) It could be a form of signalling to the West that Moscow is escalating."
"2) Russian RVSN forces usually train extensively during autumn."
"3) Russia may conduct GROM strategic deterrence exercise in October, so this train could be showing a prep for this drill."
While the train might not indicate Russia is preparing to make a nuclear move, it comes after several comments from Russian President Vladimir Putin in which he warned that his country will continue to fight.
Source: The Western Journal – Putin's 'Nuclear Military Train' Reportedly on the Move, Spotted Loaded Down with Weaponry