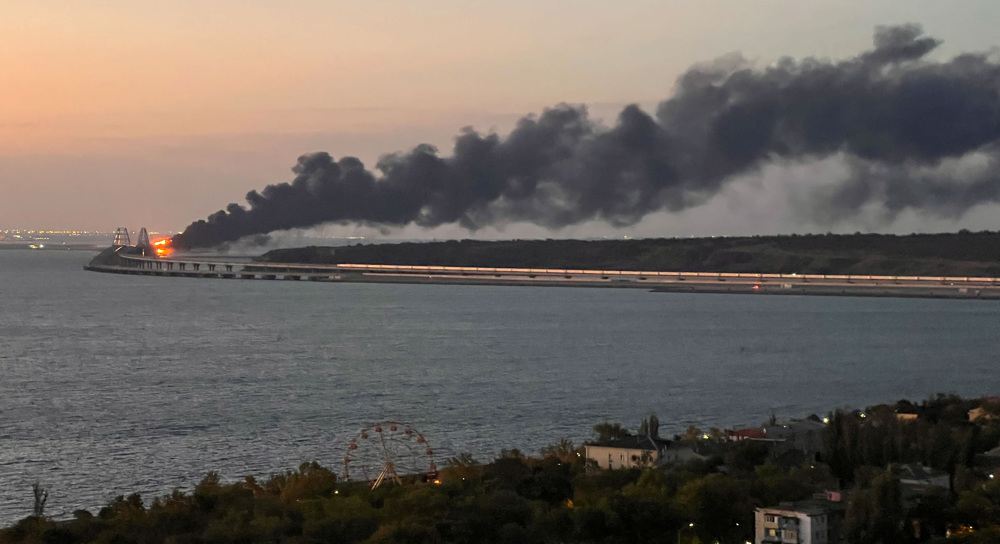 The Truthseeker – The West is using Ukraine as a proxy against Russia, in a campaign that is intended to contain and ultimately undermine Russia's burgeoning power. In the process, however, they are pushing the whole world toward a much wider conflict.
That's because Russia is not simply going to sit back and allow this to happen.
First, Putin launched his Special Military Operation in Ukraine. The objective was to neutralise Ukraine's growing military power, which with extensive western support, Moscow perceived as a threat to its Western border and to the Russian-speaking population of eastern Ukraine.
The West has responded by providing Kiev with literally billions more in military aid and support. As it has done so relations Moscow and the West have dramatically deteriorated.
Now, with the bombing of the bridge linking Russia and Ukraine, the West's objectives in supporting Ukraine are becoming clearer. Washington and London are using Ukraine as a proxy in a war against Russia.
They did the same with their covert support of Islamic State militants in Syria. Fortunately for President Assad, Russia stepped and successfully neutralised the Western backed militants (see here and here).
That frustrated Western plans in the Middle East. So it was decided to deal with Russia more directly and take the conflict to its western border and Russia responded with a limited campaign to neutralise the threat.
However, the West has responded in turn with literally billions in military aid to Kiev. Without such support the regime in Kiev would have come to terms with Moscow months ago. So the West has effectively prolonged the war and in the process is pushing us all toward a much wider conflict.
Because Moscow has seen that its limited Special Military Operation has run into difficulties. So we suspect that it may decide to take its gloves off and strike at Kiev's western backers directly. Ed.
Car bomb sparks huge fire on Crimea bridge, celebrations in Ukraine
Press TV – Oct 8, 2022
A car bomb blast on a key road and rail bridge linking Crimea to Russia has sparked a massive fire, prompting gleeful messages from Ukrainian officials but no direct claim of responsibility.
Russia said the blast set ablaze seven oil tankers by transported by train and collapsed two car lanes of the giant road and rail structure.
Dramatic social media footage showed the bridge on fire with parts plunging into the sea.
"Today at 6:07 am (0307 GMT) on the road traffic side of the Crimean bridge … a car bomb exploded, setting fire to seven oil tankers being carried by rail to Crimea," Russia's national anti-terrorism committee said on Saturday.
Shortly after initial conflicting reports about damages inflicted on the bridge connecting Russian mainland to the Crimea peninsula, Ukrainian presidential adviser Mykhailo Podolyak declared in a Twitter message that the bombing was "the beginning".
"Everything illegal must be destroyed, everything stolen must be returned to Ukraine, everything occupied by Russia must be expelled," Podolyak wrote.
The bridge, constructed on the orders of Russian President Vladimir Putin, was inaugurated in 2018, four years after Crimea voted in a referendum to become part of Russia following a Western-backed uprising in 2014 that ousted a pro-Moscow administration in Kiev.
Russia's foreign ministry said Ukraine's reaction to the huge blast showed Kyiv's "terrorist nature".
"The reaction of the Kiev regime to the destruction of civilian infrastructure shows its terrorist nature," the ministry's spokeswoman Maria Zakharova said on Telegram.
Ukraine says the bridge served as a key transport link for carrying military equipment to Russian soldiers fighting in Ukraine, especially in the south.
Moscow had maintained that the bridge was safe despite the ongoing skirmishes, but threatened Kiev with reprisals if it attacked the vital transport route.
The Kremlin spokesman said Putin had ordered a commission to be set up to look into the blast, Russian news agencies reported.
Russia's powerful investigative committee opened a criminal probe into the explosion and sent detectives to the scene.
It said a truck exploded "on the automobile part of the Crimean bridge from the side of the Taman Peninsula".
This "caused seven fuel tanks to ignite on a train heading towards the Crimea Peninsula. As a result, two lanes partially collapsed."
While officials in Moscow stopped short of blaming Kiev, an official in Crimea pointed the finger at "Ukrainian vandals".
There have been several explosions at Russian military installations in the Crimean peninsula and if it is established that Ukraine was behind the latest blast, alarm bells may sound with the bridge so far from the front line.
The blasts come after Ukraine's recent lightning territorial gains in the east and south.
Russia-backed forces claim gains in eastern Ukraine
Russian forces declared that they had captured ground in eastern Donetsk region, after Kiev's recent claims of grabbing momentum with a counter-offensive that forced a Russian withdrawal.
Russia-backed forces in the Donetsk region said they had reclaimed a series of villages near the Ukraine-controlled industrial town of Bakhmut.
Four territories which create a crucial land corridor between Russia and the Crimean peninsula joined Moscow in a recent referendum not recognized by Ukraine and the West.
Ukraine's Defense Minister Oleksiy Reznikov on Friday called on Russian forces to lay down their arms, vowing that their lives would be spared and they would be safe.
Source: The Truthseeker – Car bomb sparks huge fire on Crimea bridge, celebrations in Ukraine
REMINDER:
In July, a Ukrainian intelligence official said that Ukrainian forces should start attacking Russian facilities in Crimea and suggested US-provided HIMARS could be used for such strikes.Former Russian President Dmitry Medvedev, who currently serves as the deputy chair of Russia's security council, warned Sunday that if Ukraine launched attacks on Crimea, it would mean "doomsday" for Ukrainian leadership.
"Should anything of the kind happen, they will be faced with a doomsday, very quick and tough, immediately. There will be no avoiding it. But they keep on provoking the general situation by such statements," Medvedev said, according to Russia's Tass news agency.
Medvedev also said that the fact that Ukraine and Western nations don't recognize Crimea as Russian territory poses a "systemic threat"" to Russia. "If any state, either Ukraine or a NATO country, thinks that Crimea is not part of Russia, it is a systemic threat to us," he said.
The HIMARS the US has sent to Ukraine are equipped with munitions that can reach targets up to 50 miles away. The rocket systems could be outfitted with longer-range rockets, but the US chose the 50-mile range and sought assurances that they won't be used to target Russian territory over fears that such attacks risk escalating the conflict.
But since Russia considers Crimea its territory, any attack on the peninsula would be a major escalation and would risk provoking a response from Moscow.
The much wider conflict is World War 3: The Second of its Three Woes/Phases