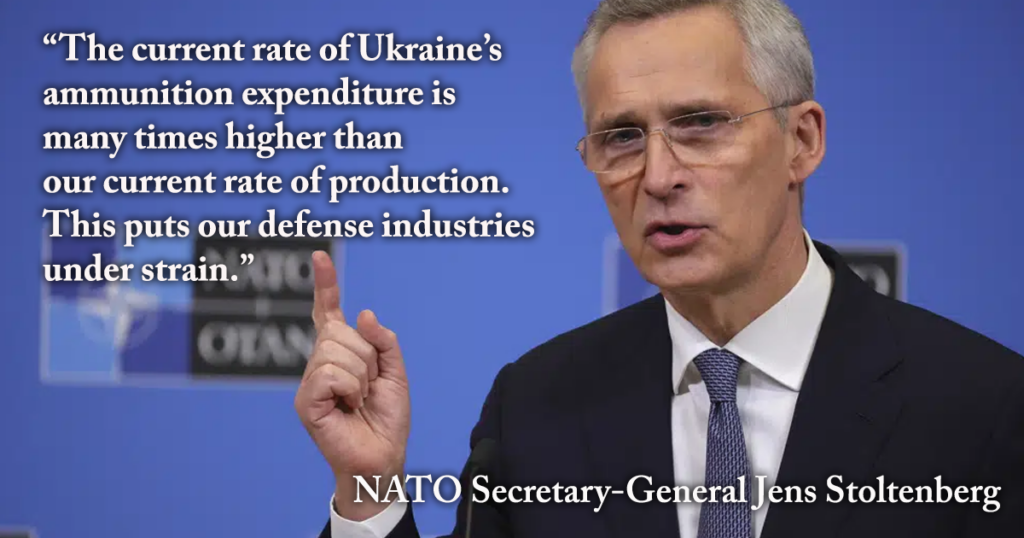 by Tyler Durden, ZeroHedge
NATO secretary-general Jens Stoltenberg in a Monday (13 Feb) briefing warned that the West is now locked in a race against Russia to get ammunition to the front lines in support of Ukrainian forces. He specifically affirmed that NATO countries are in a "race of logistics" regarding ammo and arms supplies at a crucial moment of intensified fighting. This as "Russia seems to have already launched a large-scale offensive in Ukraine… sending in thousands and thousands more troops," Stoltenberg explained.
"It is clear that we are in the race of logistics. Key capabilities like ammunition . . . must reach Ukraine before Russia can seize the initiative on the battlefield." He also described dramatically that "A war of attrition becomes a battle of logistics," while acknowledging that "Yes, we have a challenge. Yes we have a problem . . . but we have a strategy to tackle that." In some ways, his new words are a belated admission that Russia has already seized the initiative.
According to more from the Financial Times, despite the West already having poured billions in arms and supplies into Ukraine's military effort over the past year, Ukraine is still being far outgunned:
Ukraine's ammunition shortages were "acute", a senior western intelligence official told the Financial Times, adding that the speed of western supplies would be critical to the outcome of Russia's attempt to regain the initiative in the war.

Kyiv's forces are estimated to be firing more than 5,000 artillery rounds every day — equal to a smaller European country's orders in an entire year in peacetime. Russia is estimated to be firing four times that amount each day as it seeks to gain territory in the east of the country and deploy tens of thousands of newly trained conscripts in the war.
Urging more immediate production among NATO allies' defense sectors, Stoltenberg said, "The war in Ukraine is consuming an enormous amount of munitions and depleting allied stockpiles. The current rate of Ukraine's ammunition expenditure is many times higher than our current rate of production. This puts our defense industries under strain."
It was only this past fall that international headlines presented a battlefield picture of a losing Russian side amid a robust West-supported Ukrainian counteroffensive in the east and south. But after Russia's very clear victory over Soledar, and with the strategic Donetsk region city of Bakhmut also now on the verge of falling to the Russians (having been nearly encircled), those prior mainstream media reports have proven premature.
As for Stoltenberg's words saying the major Russian offensive has already started, which was long anticipated headed into spring, he said that Moscow has shown itself willing absorb "a very high rate of casualties". But while taking on "big losses" – the immense pressure being felt by the Ukrainians is evident.
The NATO chief's comments implicitly acknowledge the war has result in significant setbacks for Western countries' own defense readiness, given depleting stockpiles at home…
DGTV – Jens Stoltenberg on NATO lethal supplies to Ukraine
The rate of expenditure of ammunition in Ukraine now exceeds the possibility of their production by NATO countries — Stoltenberg — War Monitor (@WarMonitors) February 13, 2023
"What Russia lacks in quality, they try to compensate in quantity," he said, again underscoring the need for more arms and ammo from the Western allies. He said the faster this can be done, the more lives can be saved. He laid out the problem very bluntly and specifically as follows:
Stoltenberg admitted that Nato was facing a "problem" as current waiting times for large-calibre ammunition have grown from 12 to 28 months.
"But he still sought to inject some optimism, stressing NATO members are enacting plans to be on the path that will enable us both to continue to support Ukraine, but also to replenish our own stocks."
A Ukrainian BMP-2 firing at Russian positions in the Bakhmut area. — Rob Lee (@RALee85) February 13, 2023
---
Related to these "plans" in the works for replenishing stocks, Rabobank has highlighted a new scheme cooking in the background as the West apparently "gets creative" over efforts to alleviate the ammo supply crisis…
The UK Telegraph reports 'Europe rushes to launch Covid-style plan to ramp up shell production for Ukraine', noting the ECB "could be used to raise funds to place orders large enough to convince defence firms to increase production." (As long flagged here as a risk by the way.) It notes, "European governments have backed plans to use the EU's multibillion-euro fast-tracked coronavirus vaccine scheme as a blueprint to produce the ammunition so desperately needed by Ukraine. A number of the bloc's leaders told the Ukrainian president they "no longer have much in our warehouses to give" after he handed them weaponry wish-lists of weapons during a visit to Brussels earlier this week… Ukraine is firing an estimated 6,000 artillery rounds every day, according to Western intelligence figures, whereas Russia fires 20,000 a day – the same amount manufactured by European defence producers each month."
Yet this is also about far more than munitions. Foreign Policy magazine underlines the critique that President Biden's geostrategy lacks an economic vision that brings allies along, making it more reliant on a US military with inadequate funding despite a $848bn defence budget. Indeed, Bloomberg commentator Noah Smith underlines @ElbridgeColby in saying 'Europe has to stand against Russia: the US is going to get distracted, and Russia isn't going to stop.' That would change lots of things a very great deal.
Source: ZeroHedge – Ukraine Short On Ammo With Russia Gaining, Despite West's Billions, Stoltenberg Admits