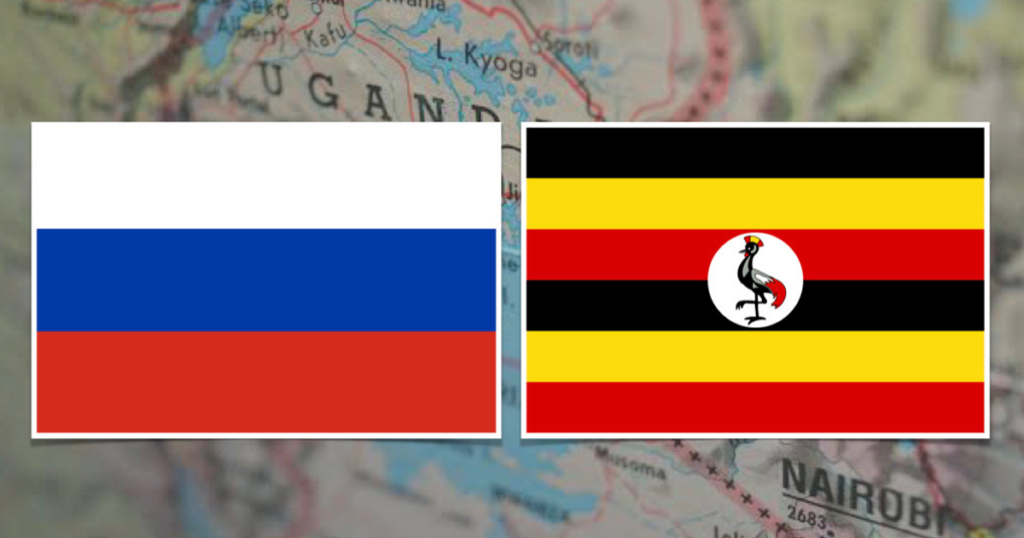 In the News –
Uganda Will Send Troops to Defend Russia If Need Be – President Museveni's Son
by By Nontobeko Mlambo, All Africa, 3 April 2023
Ugandan Army General who is President Yoweri Museveni's son Muhoozi Kainerugaba has said his country is prepared to send troops to defend Moscow if it becomes necessary. He said this on March 30 via his Twitter account.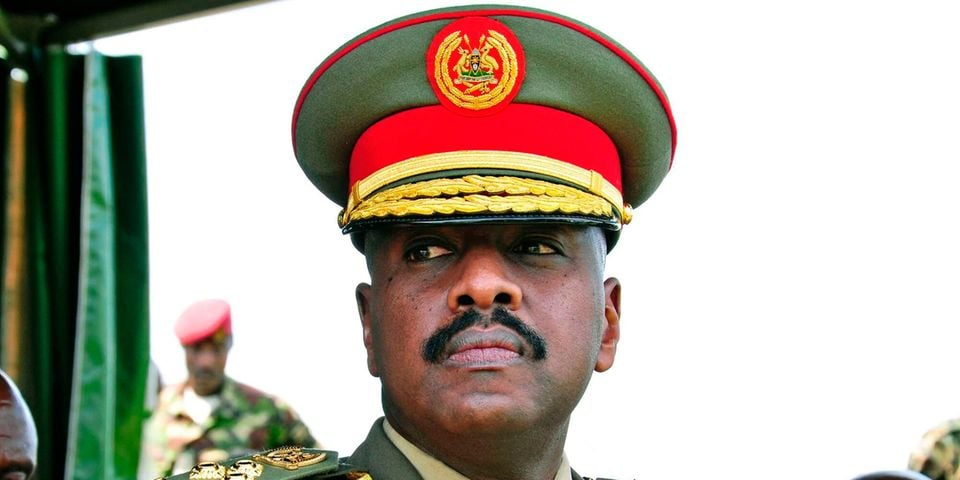 "Call me a 'Putinist' if you will, but we, Uganda shall send soldiers to defend Moscow if it's ever threatened by the Imperialists!." He went on to say, "In Africa, we only believe in President Putin when it comes to Eastern Europe. The West is wasting its time with its useless pro-Ukraine propaganda. Russia, China, Africa, India, and South America shall win in Ukraine. 75% of humanity shall win against 15%."
Tweets by Museveni's son Muhoozi spark 'concern' over succession question
The news that Uganda will send troops to Moscow should not be a surprise, given their long-standing relationship on trade and their finacial-ties.
Russia – Uganda: Why Museveni is gravitating towards Putin, The African Report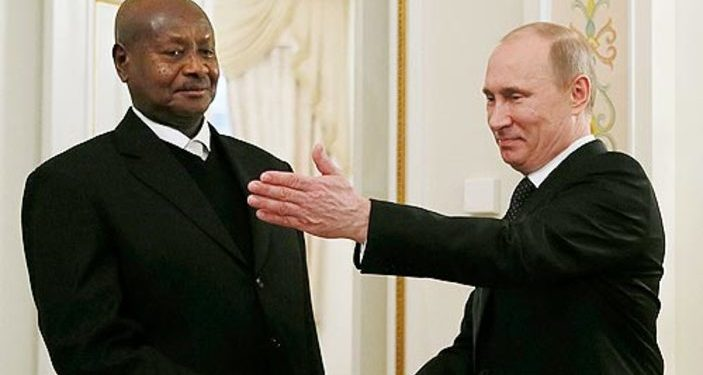 By Musinguzi Blanshe, 17 June 2022, The Africa Report
A week into the Russian-Ukraine conflict, state television Russia Today secured an opportunity to be aired on Uganda's state broadcaster (UBC). At the time, Moscow was under intense criticism and sanctions from the West.
At the start of June, the ruling party in Uganda – National Resistance Movement (NRM) – signed a memorandum of understanding with Russia's ruling party to bolster cooperation. For the same purpose, Museveni also held a virtual call with former president Dmitry Medvedev, who is the chairman of the ruling party. Uganda had notably abstained in the UN vote to condemn Russia's invasion of Ukraine in March.
The 2021 presidential elections left a strained relationship with the West that is yet to thaw. As China's Xi Jinping, who has been an ally of many African presidents, focuses on internal politics ahead of this year's Communist Party National Congress where he is expected to seek a third term, analysts say Museveni, a shrewd politician who has been in power since 1986 and whose tunes have been played to the West for decades, could be fraternising with Moscow in a bid to get the West to tone down its criticism of him.
"I think Museveni is supremely opportunistic, so if he is around in 20 years, he will be doing what is good for Museveni," says Helen Epstein, a journalist who has written about Museveni's relationship with the West.
Analysts also argue that Museveni's alliance with Moscow and Beijing will likely get stronger in the next decade. "A further authoritarian turn, and hence, worsening of relations with the West will only become worse and hence that the regime will further come closer to actors such as Russia," says Kristof Titeca, a professor of the politics of development at the University of Antwerp.
A good Museveni, Putin decade
Museveni and Putin have had a good decade of increasing communication and cooperation in both military and non-military sectors. Traditionally, Russia has been Uganda's number one source of military equipment. Moscow has also been helping Museveni with technology and knowledge transfer in the military sector.
In 2012, Museveni spent four days in Moscow on a state visit. This was the time after the 2011 election, which was followed by walk-to-work protests led by Kizza Besigye, the most potent threat that Museveni had ever faced. Though the West had remained allied to Museveni, viewing Besigye as a sore loser, they raised eyebrows over human-rights violations. Most importantly, however, Uganda's deployment in Somalia was earning higher returns. A year earlier, the al Qaeda-linked al Shabaab had been kicked out of Mogadishu, Somalia's capital city.
In Moscow, Museveni gave a lecture at the Moscow State Institute of International Relations University, lashing out at the 'arrogant' Western world.
"With improvements in weapons technology, with the use of precision bombs, stealth bombers, cruise missiles, anti-missile technology, ECM technology," he said. "Renewed arrogance is manifesting itself in some quarters in the Western world."
Another important event that took place in 2011 was the West's invasion of Libya, deposing Muammar Gaddafi who had been Museveni's friend for decades. Though Museveni had fallen out with Gaddafi in the years leading to his overthrow, the NATO invasion "disturbed him a lot".
In a speech last year, Museveni said he was trying to convince African leaders, such as South Africa's Jacob Zuma, to put together a continental force that would intervene in Libya and "teach a lesson to those aggressors (NATO)."
Even so, the plan didn't come to fruition because Gaddafi abandoned Tripoli without a fight. "We had to work out a solution for the aircraft and cruise missiles that attack defenceless people from far away so that if the aggressors so wished, could come on the ground and we fight man to man," Museveni said.
However, another transaction took place in 2011: Museveni purchased six Sukhoi Su-30MK2 fighters from Russia amidst protest from government officials, including then Central Bank Governor Emmanuel Mutebile. The planes cost about $740m at a time when inflation had skyrocketed to above 30%. Such transactions rarely get reflected in trade statistics. However, there was a more than 10-fold increase in Russia's export volumes to Uganda in 2011, according to UN comtrade data.
Russia exports to Uganda averaged about $50m for most of the years in the last decade but went up unusually again in 2020 by five-folds. This is the year after Museveni returned to Russia in 2019 for the first Russia-Africa summit.
Wooing Russia's private sector
In the past decade, Uganda has also tried to attract Russian private sector players with no success. In 2015, a consortium led by Russian companies was a surprise winner of a contract to construct a $4bn oil refinery. The company however walked away from the deal months later. The oil refinery deal was in 2019 awarded to a consortium of American companies though not much work has been done on it.
Which way for Museveni?
Last year's election, which saw Museveni declared the winner over his main challenger Robert Kyagulanyi aka Bobi Wine, left deep cracks in the president's relationship with the West. These cracks haven't healed to restore trust.
The election was marred by violence as security forces tried to contain Bobi Wine whose popularity had been underestimated, drawing condemnation from the West. Though Museveni was cryptic in telling off the West, his key lieutenants were unsubtle in accusing the West of bankrolling Bobi Wine.
The US was particularly tough on Museveni both verbally and in action. In April 2021, Washington imposed visa restrictions on several unidentified government officials for involvement in human rights violations and interference in electoral processes. It formally sanctioned former Uganda intelligence chief Major General Abel Kandiho for human rights abuses.
Though the EU never announced sanctions, since January 2021 Museveni has suspended the Democratic Governance Facility (DGF) – a $100m fund the EU had set up for NGOs promoting democracy. Kampala followed by suspending many NGOs that were working on democracy and human rights.
The elections were a turning point, Kristof tells The Africa Report, because of the aggressive language of the regime and Museveni towards the West, particularly the EU and the US, accusing them of wanting to overthrow the regime.
"The various measures to control foreign aid to [organisations] working on governance and human rights are an important indicator of this, such as the shutdown of DGF," he said.
A skilful geopolitical strategist, Kristof says Museveni is now manoeuvring to fit into the new geopolitical reality by establishing strong links with global players.
"On the one hand, there's a worsening relationship with the West and also a reduced support of key allies, such as the US," he says.  "On the other hand, he's further approaching players, such as Russia, while at the same time making sure not to burn bridges with the West."
Allawi Ssemanda, who runs Development Centre Watch, a foreign policy think tank in Kampala, tells The Africa Report that the "West is doing all they can to have different countries back them" because of the ongoing war in Ukraine.
As a result, the West will try to avoid anything that can impede winning more countries like Uganda. Allawi says Museveni's relationship with China and Russia will only get stronger. "As more African countries' relationship with China and Russia improve, even the West will adjust their stand."
Uganda's Museveni extols Africa-Russia ties during Lavrov visit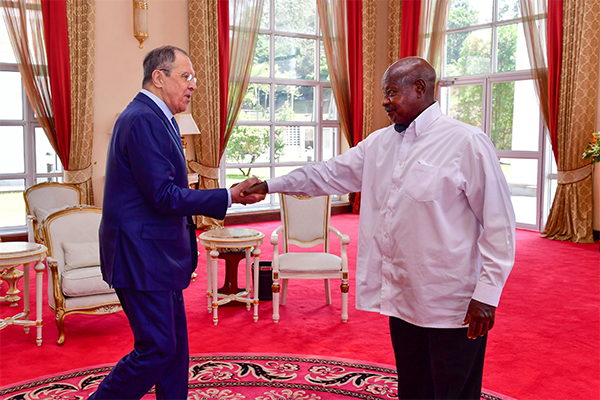 Al Jezerra News (26 July 2022) – Ugandan President Yoweri Museveni has said he saw no reason to criticise Moscow over Ukraine, extolling Russian-African friendship during the visit of Russian foreign minister Sergey Lavrov.

Speaking alongside Lavrov, who is on a four-nation African tour seeking support for Moscow at a time of confrontation with Western powers, Museveni praised Russia as a partner in the struggle against colonialism going back a century.

Many African countries, which import Russian grain and energy while also buying Ukrainian grain and benefitting from Western aid flows and trade ties, have avoided taking sides over the war in Ukraine.

Uganda was among 17 African nations that abstained in a March vote on a United Nations resolution condemning the Russian invasion, which was supported by 141 countries out of 193.
---
Vladimir Putin and President of the Republic of Uganda Yoweri Kaguta Museveni met on the sidelines of the Russia–Africa Summit in 2019.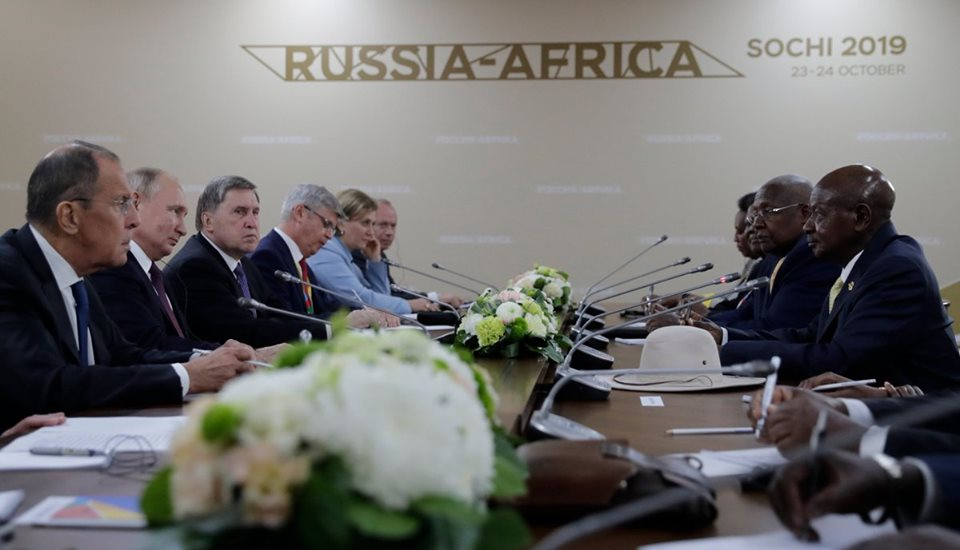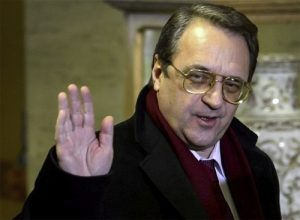 Ezekiel 38 (extract)
Thus says the Lord God; behold I AM against you Gog the prince of Rosh (Russia) Meshech (Moscow) and Tubal (Tobolsk) – the Western and Eastern Capitols of the U.S.S.R. (now called the C.I.S.): I will turn you back (from seeking peace) and put hooks into your jaws (hunger), and I will bring you forth, with all your armed forces and Persia, Ethiopia, Libya, Gomer, Togarmah and ALL the earth with them against My people Israel (Britain and the British Commonwealth; America; Scandinavia; the Netherlands; the Baltic States; Northern France; Northern Spain and the Jews) to the lands of unwalled villages (walls of untempered mortar) without bars or gates (no defences because of defence cuts after the "so-called" peace dividend), when they (the politicians – foolish prophets) say peace, peace and there was NO peace.

RELATED: