From RT –
NATO leaders have known since 2001 that Russia would "take appropriate steps" against further expansion of the alliance, according to documents recently declassified by the UK and reported by The Times.
A year into Putin's presidency, then-Defense Minister Igor Sergeyev told his NATO counterparts that the alliance's continued expansion into the territory of the former Warsaw Pact would be a major political error, the newspaper stated on Friday. Sergeyev warned that Moscow would "take appropriate steps" to respond to this enlargement, the article continued.
The largest expansion of the alliance to date would take place three years later, with Bulgaria, Romania, Slovakia, Slovenia, Estonia, Latvia and Lithuania joining the US-led military bloc.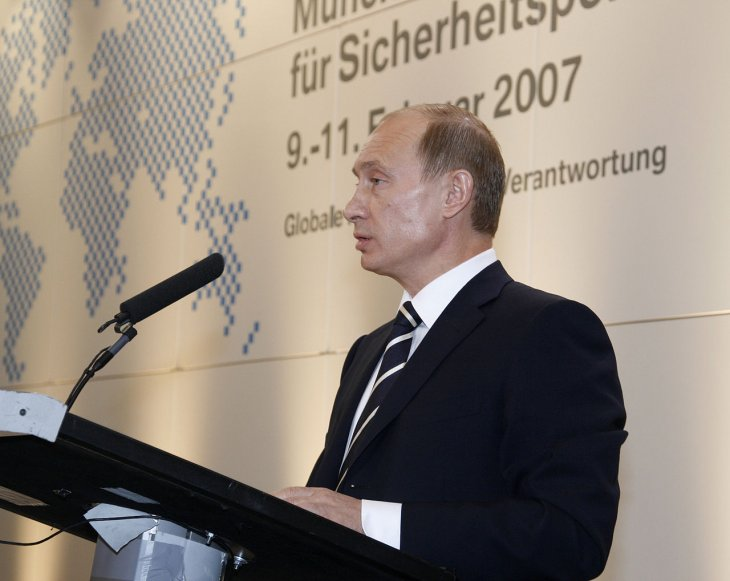 In his speech at the Munich Security Conference in 2007, Putin described this expansion as "a serious provocation that reduces the level of mutual trust," although the leaders of NATO insisted that their alliance was defensive in nature. After Ukraine refused to abandon its aspirations of joining – which Moscow viewed as an unacceptable security threat – and NATO insisted that Kiev would one day become a member, Russia sent troops into Ukraine in February.
The article below was also published by the BBC in January 2001
Putin warns against Nato expansion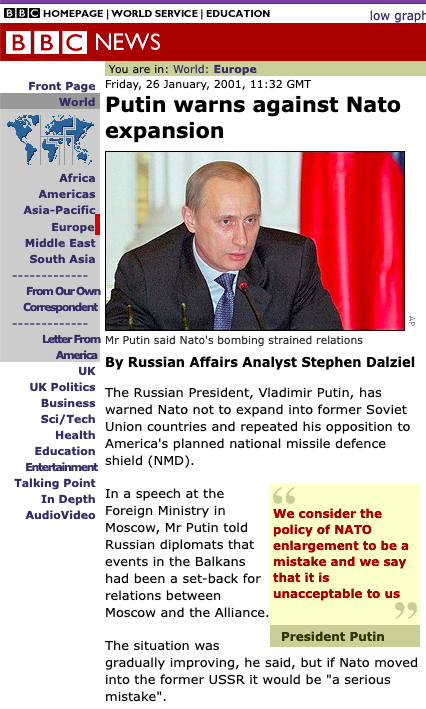 26 January 2001 BBC – By Russian Affairs Analyst Stephen Dalziel
The Russian President, Vladimir Putin, has warned Nato not to expand into former Soviet Union countries and repeated his opposition to America's planned national missile defence shield (NMD).
In a speech at the Foreign Ministry in Moscow, Mr Putin told Russian diplomats that events in the Balkans had been a set-back for relations between Moscow and the Alliance.
The situation was gradually improving, he said, but if Nato moved into the former USSR it would be "a serious mistake".
"We consider the policy of NATO enlargement to be a mistake and we say that it is unacceptable to us," said Putin.
Republics such as Ukraine and Azerbaijan have made overtures to the Alliance, but neither of these countries have been considered as serious contenders for membership by Moscow or Brussels.
The potential argument is over the Baltic States of Estonia, Latvia and Lithuania.
They were always reluctant parts of the USSR, having been incorporated by force after the signing of the Nazi-Soviet Pact in 1939.
Almost 10 years after they gained their liberty, they want to underline that independence, and guard against any future possible Russian designs on their territory, by cementing relations with the West.
This would be, firstly, through membership of the European Union, and, ultimately through joining Nato.
Words of warning
Mr Putin's words at a meeting to discuss Russia's foreign policy, were clearly intended as a warning to Nato that Russia is not prepared to relax its stiff opposition to any idea of incorporating any of the Baltic states into the Alliance.
The Russian president used the occasion to warn his US counterpart, George W Bush, that Moscow remains implacably opposed to his plans to NMD.
The Kremlin's line remains that nothing should be done which would break the terms of the 1972 Anti-Ballistic Missile Treaty – an agreement which would be violated by current US plans.
BBC – Putin warns against Nato expansion
RELATED