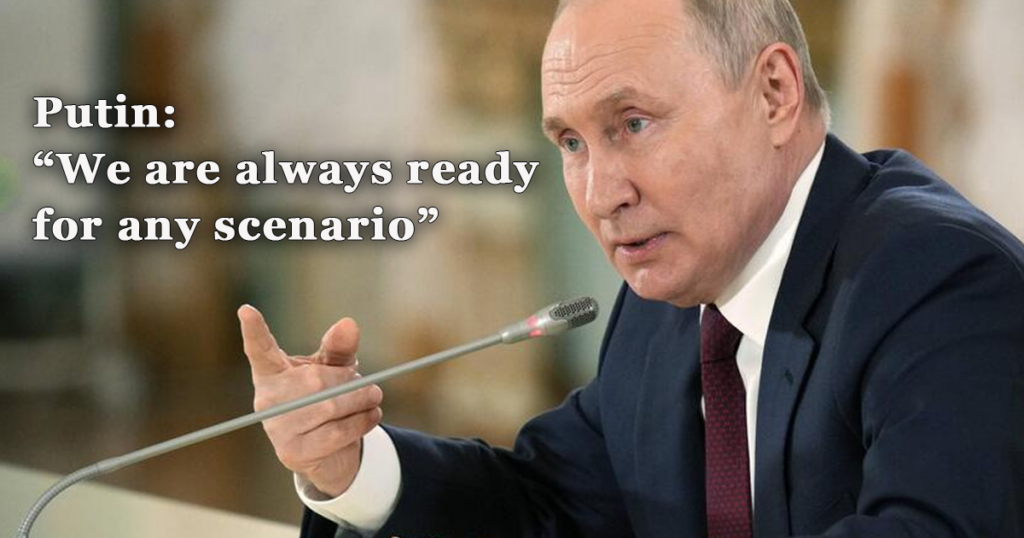 In the news –
Russian President Vladimir Putin has warned that although Moscow does not seek a direct confrontation with the US-led NATO military alliance, it is ready for "any scenario" involving Washington's provocations in Syria.
"We are always ready for any scenario, but no one wants this, and on the initiative of the American side we once created a special mechanism to prevent these conflicts," Putin told reporters in St. Petersburg on Saturday, when asked about US provocations in the Arab country.
He added that Washington and Moscow are in direct communication with each other and have the opportunity to consult on any potential crisis.
"This shows that no one wants clashes," the Russian leader reiterated.
Since early 2023, the Russian military has reported a total of 23 dangerous incidents involving Russian aircraft and those of the US-led coalition.
Rear Admiral Oleg Gurinov, the head of the Russian military's Reconciliation Center for Syria, said on Thursday that most such incidents took place in July.
Gurinov added that the Russian pilots recorded 11 cases where they were targeted with Western aircraft-targeting systems, which led to the automatic engagement of onboard defense systems.
Also, the Russian Defense Ministry said the US drones have violated flight safety in Syria 340 times since the beginning of the year.
The US has deployed forces and military equipment in Syria under the pretext of fighting Daesh, but without any authorization from the Damascus government or a UN mandate.
The US military claims its presence in Syria is aimed at preventing the oilfields in the area from falling into the hands of Daesh. Damascus, however, maintains the illegal deployment is meant to plunder the Arab country's natural resources.
Moscow has also repeatedly warned Washington and its allies about the risks of a potential direct conflict between Russia and NATO, particularly amid the ongoing conflict in Ukraine. Russia says continued Western arms supplies to Kiev will extend the hostilities and make its Western backers engage in the conflict even deeper.
'Neo-Nazism against Russia will backfire'
Meanwhile, Putin also told reporters that the use of neo-Nazism and the recruitment of terrorist groups against Russia would backfire on the countries that employ such adversarial methods.
"Now that Ukraine is being used as a tool to fight against Russia, this suits our potential adversaries. They are ready to use any means, and at one point they used al-Qaeda and other terrorist organizations in the fight against us in the Caucasus," he said.
The Russian leader said that some countries view the situation from the perspective that, for example, al-Qaeda in Europe is "bad," while the same terrorists in the fight against Russia are "good."
He argued that it's the same with Nazism, saying, "Nazism is generally bad, but if neo-Nazis can be used in the fight against Russia, that suits them."
"Both are wrong: those who are trying to use neo-Nazis against us, because in the end, it will fire back at them, just as terrorism returned to them; and those who are trying to build their identity on the basis of Nazi ideas, because this will lead them to a dead end."
Source: Press TV – Putin: Russia 'ready for any scenario' versus US in Syria but not after military confrontation
RELATED: