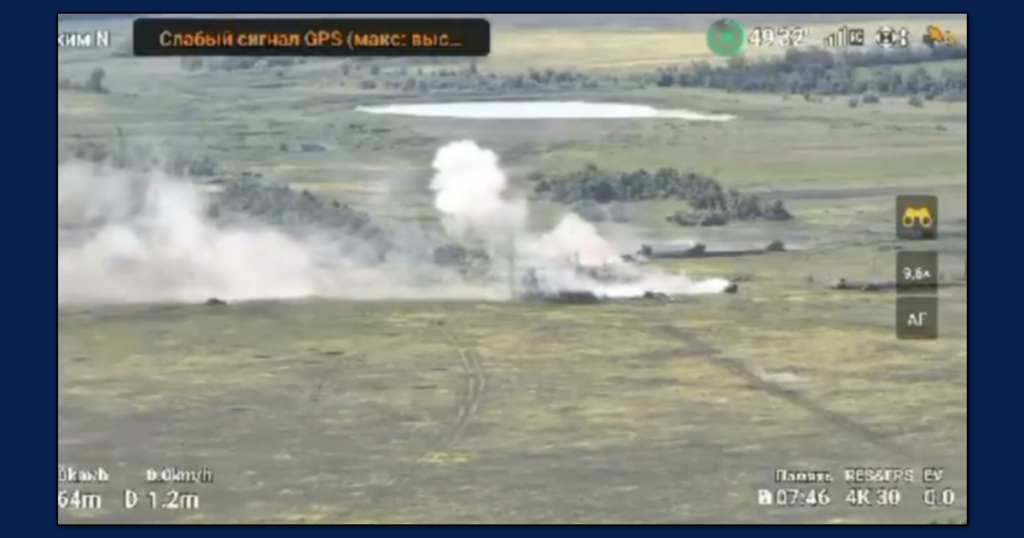 From Russia Today (RT)
Russian Defense Minister Sergey Shoigu has recommended that a tank crew that destroyed a Ukrainian armored column be named Heroes of Russia for their actions, the military has said.
In a statement on Saturday, the Defense Ministry heaped praise on the Russian service members driving a tank named 'Alyosha', who repelled "an attack by a numerically superior enemy" in Zaporozhye Region, countering eight armored vehicles, including two tanks.
According to the defense officials, the encounter occurred after 1st Lt. Rasim Baksikov, the commander of the Russian tank, had to take the place of an injured driver, while his seat was occupied by Lt. Alexander Levakov. With the tank crew ready, it rushed to support a Russian infantry regiment reeling from Ukrainian attacks.
While approaching an undisclosed settlement, the tank crew spotted a Ukrainian column and made the decision to engage the enemy, the ministry said, adding that the service members managed to skilfully use the terrain to their advantage and take Kiev's armored spearhead by surprise.
In less than an hour, the tank took out both Ukrainian Soviet-era T-72B tanks, one US-made M113, and five MaxxPro armored personnel carriers, along with the accompanying infantry, while providing cover for the Russian troops, the statement read.
When 'Alyosha' ran out of shells, Baksikov decided to retreat to replenish his ammunition, with another tank taking his position. However, the latter was quickly damaged by Ukrainian artillery, and Baksikov decided to tow the vehicle away while under constant fire, officials noted.
"Thanks to the decisive actions of the service members, the crew of the damaged tank was saved," the ministry said, adding that Kiev also lost more than 100 soldiers in the clash.
The Russian crew's feat on the battlefield first made headlines in late July, with Kremlin Press Secretary Dmitry Peskov also praising the soldiers' "heroism and professionalism," suggesting that this battle could end up in military textbooks.
The botched Ukrainian attack came amid Kiev's much-touted counteroffensive, which has so far failed to gain any ground, according to Moscow. On Friday, the Russian Defense Ministry estimated that since the start of the push in early June, Ukraine has lost more than 43,000 troops as well as over 4,900 pieces of heavy weaponry, including Western-supplied armor.
World War 3: The Second of its Three Woes/Phases
RELATED: