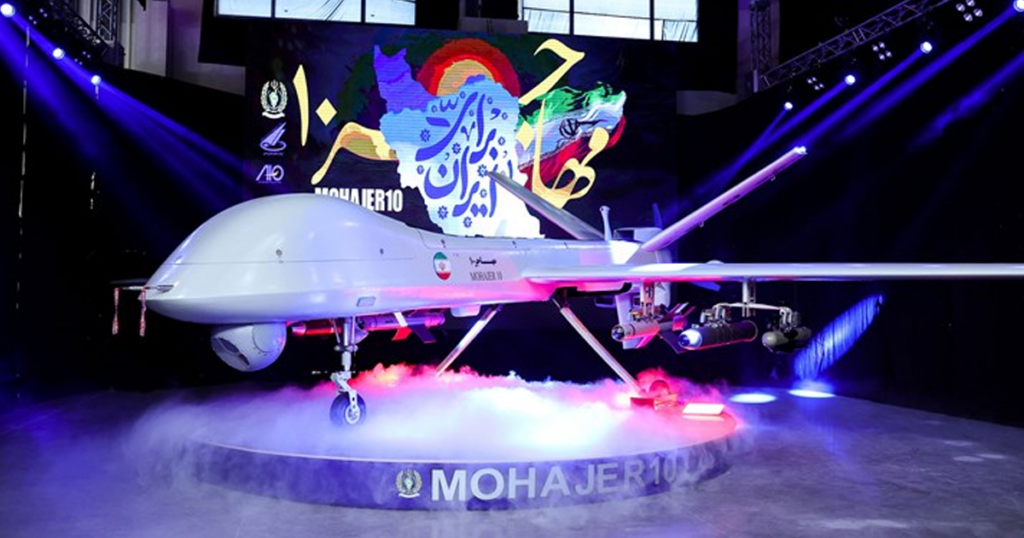 From Press TV
Iran unveiled the Mohajer-10 drone during a ceremony marking Defense Industry Day on Tuesday.
The domestically-manufactured drone was put on display during a ceremony in Tehran in the presence of President Ebrahim Raeisi.
Mohajer-10 has a maximum flight duration of 24 hours at an altitude of 7,000 meters and an operational radius of 2,000 kilometers.
It also has a maximum fuel capacity of 450 liters and a maximum cargo weight of 300 kilograms.
Equipped with electronic warfare and intelligence systems, the unmanned aerial vehicle can fly at a maximum speed of 210 kilometers per hour and carry different kinds of ammunition and bombs.
Tuesday's ceremony also saw the unveiling of Arman-1 guided air-launched bomb.
Meanwhile, President Raeisi ordered the joining of strategic "Khorramshahr" and "Haj Qassem" missiles to the Aerospace Force of the Islamic Revolution Guards Corps (IRGC).
Commanders highlight self-reliance in defense sector
Speaking to the Tehran-based al-Alam Arabic language news network, Iran's Army Chief Commander Major General Abdolrahim Mousavi emphasized that despite sanctions, the country has been able to produce all the defense equipment required by the Armed Forces to protect borders.
IRGC Navy Commander Rear Admiral Alireza also said that "Today, we are proud of covering all the country's needs for advanced equipment through reliance on the capabilities of our youth."
Tangsiri further warned that the enemy will not be allowed to even think about an operation on Iranian soil.
Defense chief enumerates achievements 
In a message marking the day, Iranian Defense Minister Brigadier General Mohammad Reza Ashtiani enumerated multiple achievements in the country's defense sector over the past two years.
According to Ashtiani, Iranian experts have managed to reduce the ballistic missiles' target miss to less than 35 meters and increase their range to 2,000 kilometers.
In air defense, he added, several systems have been developed in order to deal with low-altitude targets and cruise missiles.
Ashtiani further noted that the experts have designed and manufactured Nasr and Ghadir air-based cruise missiles (with a range of 35 to 200 kilometers) as well as Talaiyeh ground attack missiles with a range of more than 1000 kilometers.
In the field of drones, the Defense Ministry is seriously pursuing the development of the fifth generation of strategic drones under a "drone leap" program, which also involves the development of artificial intelligence along with support, electronic warfare, and signal collection missions.
Ashtiani also said that in the past two years, the production of solid fuel ballistic missiles, as well as air defense and cruise missiles have jumped by 64, 45, and 100 percent, respectively.
He also reported a 30 percent increase in the development of different types of speedboats.
DGTV – Iran unveils a new version of its Migrant Aircraft-10
Source: Press TV – Iran unveils 'Mohajer-10' drone with 2,000km flight range
RELATED: