Charles Azzopardi
St. Theresa's Church
Devil's Tower Road

cc: David Steel, Ros Astengo; Christ

Monday 8th August 2022

Dear Charles,

Recently, in an interview broadcast on the GBC, about the fake queen's fake honours list which took place between David Steel and Ros Astengo, your name got mentioned in glowing terms.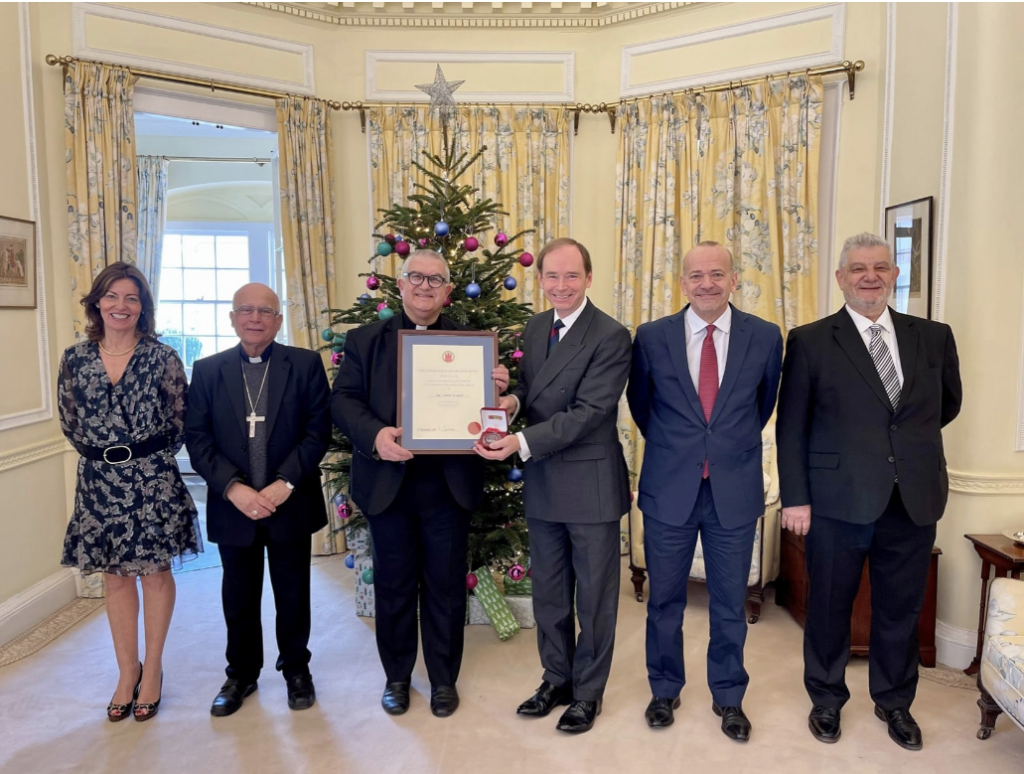 That interview itself, in a much wider sense, prompted me to subsequently write to David Steel with an earth-shattering proposal related to an up-and-coming important landmark date of 22nd April 2023. For ease of reference, let's call the entire package recently posted to the governor David Steel as "The Governor's Dossier", shall we?

Today though, as at 8th August 2022, upon seeing you stood outside the Cathedral last Friday (5th), while I myself was heading for The King's Chapel, your name getting mentioned in that interview came immediately back into my mind. It compelled me to want to write to you, hence this compilation. It has been formulated, after communications about you with my boss, The Gibraltar Messenger, Who is Christ in His Second Coming, whether you believe it or not.

Notwithstanding you and your team's fine ongoing efforts to help the homeless and underprivileged, whenever I see you, in these strange times, two additional things invariably spring to my mind.

• The recent exemplary works of Archbishop Carlo Maria Viganò, when compared with Satanically inspired New World Order utterances from the joke of The First Jesuit Pope.

• A catchphrase I have heard you use on more than one occasion when talking to me in friendly terms: "There's no rest for the wicked."

Your personal viewpoint on Archbishop Viganò is not the main reason for today's letter, even though the sheer quantity and quality of Viganò's writings, when pitched against your notion of him being resentfully motivated from not getting his red hat, perplexes and dumbfounds me. However, that well-known idiomatic expression which may derive from a corruption of a Bible verse from The Book of Isaiah Chapter 57, most definitely is up for discussion today.
Isaiah
57:20 But the wicked [are] like the troubled sea, when it cannot rest, whose waters cast up mire and dirt.
57:21 [There is] no peace, saith my God, to the wicked
The entire chapter preceding these two verses, seems so very apt to share within the wider context and purpose of this letter.

Isaiah 57
57:1 The righteous perisheth, and no man layeth [it] to heart: and merciful men [are] taken away, none considering that the righteous is taken away from the evil [to come].
57:2 He shall enter into peace: they shall rest in their beds, [each one] walking [in] his uprightness.
57:3 But draw near here, ye sons of the sorceress (Babylon the mother of harlots), the seed of the adulterer and the whore.
57:4 Against whom do ye sport yourselves? against whom make ye a wide mouth, [and] draw out the tongue? [are] ye not children of transgression, a seed of falsehood,
57:5 Enflaming yourselves with idols under every green tree, slaying the children in the valleys under the clifts of the rocks?
57:6 Among the smooth [stones] of the stream [is] thy portion; they, they [are] thy lot: even to them hast thou poured a drink offering, thou hast offered a meat offering. Should I receive comfort in these?
57:7 Upon a lofty and high mountain hast thou set thy bed: even there wentest thou up to offer sacrifice.
57:8 Behind the doors also and the posts hast thou set up thy remembrance: for thou hast discovered [thyself to another] than Me, and art gone up; thou hast enlarged thy bed, and made thee [a covenant] with them; thou lovedst their bed where thou sawest [it].
57:9 And thou wentest to the king with ointment, and didst increase thy perfumes, and didst send thy messengers far off, and didst debase [thyself even] unto hell.
57:10 Thou art wearied in the greatness of thy way; [yet] saidst thou not, There is no hope: thou hast found the life of thine hand; therefore thou wast not grieved.
57:11 And of whom hast thou been afraid or feared, that thou hast lied, and hast not remembered Me, nor laid [it] to thy heart? have not I held My peace even of old, and thou fearest Me not?
57:12 I will declare thy righteousness, and thy works; for they shall not profit thee.
57:13 When thou criest, let thy companies deliver thee; but the wind shall carry them all away; vanity shall take [them]: but he that putteth his trust in Me shall possess the land, and shall inherit My Holy Mountain;
57:14 And shall say, Cast ye up, cast ye up, prepare The Way, take up the stumblingblock out of the way of My people.
57:15 For thus saith the high and lofty One that inhabiteth eternity, whose name [is] Holy; I dwell in the high and holy [place], with him also [that is] of a contrite and humble spirit, to revive the spirit of the humble, and to revive the heart of the contrite ones.
57:16 For I will not contend for ever, neither will I be always wroth: for the spirit should fail before Me, and the souls [which] I have made.
57:17 For the inequity of his covetousness was I wroth, and smote him: I hid Me, and was wroth, and he went on frowardly in the way of his heart.
57:18 I have seen his ways, and will heal him: I will lead him also, and restore comforts unto him and to his mourners.
57:19 I create the fruit of the lips; Peace, peace to [him that is] far off, and to [him that is] near, saith the "I AM"; and I will heal him.
57:20 But the wicked [are] like the troubled sea, when it cannot rest, whose waters cast up mire and dirt.
57:21 [There is] no peace, saith my God, to the wicked.

Attached to this letter is a copy of "The Governor's Dossier", as mentioned earlier.

The purpose of sending you this letter, and "The Governor's Dossier", is fourfold:

• to encourage you to rest, contrary to your catchphrase, "There is no rest for the wicked.";

• to implore you to rest by studying "The Governor's Dossier" carefully, please;

• to urge you to take up "The Governor's Dossier" prayerfully with your boss, Carmel;

• to ask you respectfully to rest, by taking steps to heighten the awareness of "The Governor's Dossier" across The Rock, by enabling its remarkable contents to be shown in the next few editions of Upon This Rock.

But first, please, do rest by reflecting deeply upon Isaiah 57, for a time such as this.

If you would like to discuss this letter with me, please email me back. I'd be delighted to have a proper chat with you.

Peace be within you, and upon you.

Tony Farrell
Disciple of The Gibraltar Messenger, Who is Christ in His Second Coming;

---
Note: The Governor's Dossier is available for everyone to read on Gibraltar Messenger.