by Mike I.
GOD IS LOOKING for another Gideon – Christ, not another IDOL worshipper like usurper king Charles.

For the kingdom (of the world) is the LORD's: And He (Christ not Charles) is the GOVERNOR among the NATIONS. Psalm 22:28.
Dear Charles Battenberg Windsor,
Trust this finds you well – in Christ Jesus is our only Hope in these perilous times – in good spirit and having a good day.
I, Mike from Nigeria, West Africa, am one of JAH – CHRIST's disciples in His SECOND COMING.
My letter will not be complete without first of all recounting how I met with the Lord and the benefits so far. I first came across the JAH website in 2010 while browsing through the INTERNET in search of TRUTH, but I could not really understand the messages until 2012 when Father used a brother, one of my CHILDHOOD friends, to send me the BOOK. And it was like I had seen this BOOK before. Then I was still a pastor who was SERIOUSLY SICKENED by the Evils in the supposed God's house, CHURCH, but could not figure out what to do. Before then, to be HONEST, I was ALREADY at the CROSSROAD. It was complicated in the sense that HEART failure was included. But I became so HOPEFUL again soon after I read The Way home or face The Fire and I UNDERSTOOD it perfectly well. But the most amazing aspect of the story was when I came to know Who the writer and the Publisher really is: JAH – CHRIST in His SECOND COMING (Malachi 4:4-6, Revelation 5, 10). In the BOOK I saw the whole TRUTH and accepted it whole-heartedly, because there is NOTHING to argue against the TRUTH if you are wise. I quit the PASTOR Job as the DAYS went by. TODAY, by FATHER'S help, I am happy and am also one of CHRIST'S SECOND COMING DISCIPLES Who had helped me to reach out to a lot of people around the globe, and I am still reaching out with the same TRUTH as a CHANNEL. This is what I could not achieve when I was a pastor.
What could be more fulfilling than THIS?
Although I LOST everything in order to WIN CHRIST, just like the OLD DISCIPLES suffered, TODAY I have not only won CHRIST, but now have everything back that I LOST, because if you have Christ you have everything.
Please, this letter is in support of the ROYAL DECREE BY THE BRITISH KING OF ISRAEL that you go to Gibraltar, lay down the Crown and kneel at the feet of the Gibraltar-Messenger, CHRIST, on 22 April 2023 in St. Michael's (Christ) Cave, Gibraltar, The Rock of His Defence.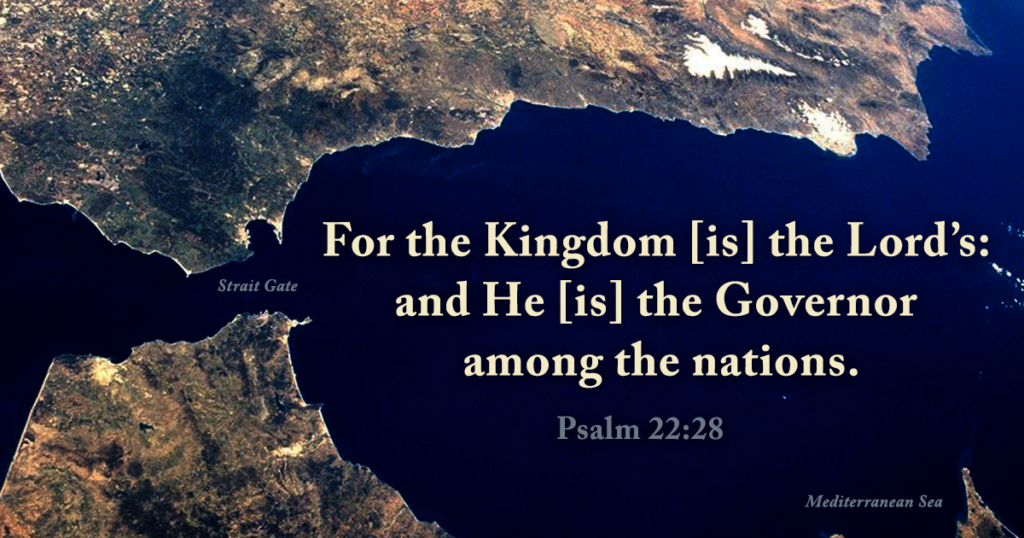 With all due respect, I encourage you to take this call extremely seriously, based on the fact that, if you obey it, it will be of great BENEFIT, not only to you and your family, but to everyone around the globe. And the people on Earth, on the planet, will no longer be destroyed as recorded in Malachi 4:4-6, because Christ will take over world affairs, and reinstate GOD'S GOLDEN PERFECT LAW of Liberty, that you and your mother rejected, because of selfishness, which in a short time would bring peace and blessings on Earth. Your mother so-called queen Elizabeth, had the opportunity to make things right with God and with the people, but did not. Do not make the same mistake, especially now that we have just a little time left to The End of this most sinful GENERATION.
What are the delay and DOUBT for?
Help save the world now that you can!
THE ABOMINATION OF THE "HOUSE OF ISRAEL – BRITAIN AND COMMONWEALTH, ETC." HAS BEEN DISCOVERED.
Hosea 13:1
When Ephraim (England) spoke, there was trembling. He exalted himself in ISRAEL, but through BAAL he did WRONG and DIED. (SPIRITUALLY and would soon be DESTROYED physically too, if they failed to do what is right, which is to acknowledge Christ as the rightful King of the Throne and also uphold God's Perfect GOLDEN Law as promised to do. Ezekiel 38 and 39).
Judges 3:7 The sons of ISRAEL did what was evil in the sight of the Lord, and forgot the Lord their God and served the BAALS (lords) and the Ashteroth.
Judges 6:31-32
But Joash said to all who stood AGAINST him, "Will you contend for BAAL, or will you deliver him? Whoever will plead for him shall be put to DEATH by morning. If he is a god, let him contend for himself, because someone has torn down his altar." Therefore on that day he named him Jerubbaal, that is to say, "Let BAAL contend AGAINST him," because he had torn down his altar. (But Baal could not do anything, because it is powerless and blind, just like those who worship it.)
Isaiah 9:6-10
For unto us a CHILD is born, unto us a son is given: and the (world) GOVERNMENT shall be UPON his (Christ not Charles) SHOULDER: and his name shall be called WONDERFUL, COUNSELLOR, The mighty God, The EVERLASTING Father, The PRINCE of Peace. Of the increase of his GOVERNMENT and peace there shall be no END, upon the THRONE of David, (BRITISH ISRAEL THRONE – Jacob's Pillar Stone) and upon his KINGDOM, to order it, and to establish it with JUDGMENT and with JUSTICE (GOD'S PERFECT GOLDEN Law – Equal rights. Malachi 4:4-6) from henceforth even for ever. The zeal of the LORD of hosts will perform this. The Lord sent a word into Jacob, and it hath LIGHTED upon ISRAEL. And all the people shall know, even Ephraim (England) and the inhabitant of Samaria, that say in the pride and stoutness of heart, The bricks are fallen down, but we will build with hewn stones: the sycamores are cut down, but we will change them into cedars.
Jeremiah 19:4-6
Because they have forsaken Me and have made this an ALIEN place and have burned sacrifices in it to other gods, that neither they nor their forefathers, nor the kings of Judah had ever known, and because they have filled this place with the blood of the INNOCENT, and have built the high places of BAAL to burn their sons in the fire as burnt offerings to Baal, a thing which I never commanded or spoke of, nor did it ever enter My mind; therefore, behold, days are coming," (the 3rd world war or the great TRIBULATION which has long started and is escalating by the day) declares the Lord, "When THIS place will no longer be called TOPHETH or the valley of BEN-HINNOM, but rather the Valley of SLAUGHTER.
Numbers 25:3-5
Israel joined THEMSELVES to Baal of Peor, and the Lord was ANGRY against Israel. (The 12 TRIBES) The Lord said to Moses, "Take all the leaders of the people and EXECUTE them in BROAD DAYLIGHT before the Lord, so that the fierce ANGER of the Lord may turn away from Israel." So Moses said to the judges of Israel, "Each of you SLAY (KILL) his men who have JOINED THEMSELVES to Baal (worship just like we have it today, in BRITAIN) of Peor.
Judges 2:12-13
and they forsook the Lord, the God of their fathers, who had brought them out of the land of Egypt, (slavery) and followed other gods from among the gods of the peoples who were AROUND them, and bowed THEMSELVES down to them; thus they PROVOKED the Lord to ANGER. So they forsook the Lord and served BAAL and the Ashteroth.
1 Kings 18:18-19
He said, "I have not troubled ISRAEL, but you and your father's HOUSE have, because you have forsaken the COMMANDMENTS (Matthew 5:17-20) of the Lord and you have followed the BAALS (lords). Now then send and gather to me all ISRAEL at Mount Carmel, together with 450 prophets of BAAL and 400 prophets of the Asherah, who eat at Jezebel's table."
1 Kings 22:53
So he served Baal and worshipped him and provoked the Lord God of Israel to anger, according to all that his father (AND MOTHER SO-CALLED QUEEN ELIZABETH II) had done.
2 Kings 10:18-29
Then Jehu gathered all the people and said to them, "Ahab served BAAL a little; Jehu will serve him much. Now, summon all the prophets of BAAL, all his worshippers and all his priests; let no one be missing, for I have a GREAT sacrifice for BAAL; whoever is missing shall not live." But Jehu did it in cunning, so that he might DESTROY the worshippers of Baal. And Jehu said, "Sanctify a solemn assembly for Baal." And they proclaimed it. (This is what GOD EXPECTED of you, Charles)
Hosea 2:2-13
"Contend with your mother, (Israel and SO-CALLED QUEEN ELIZABETH II) contend, For she is not my wife, and I am not her husband; And let her put away her HARLOTRY (unfaithfulness) from her face, and her ADULTERY (worshipping of Idols) from between her breasts, or I will strip her naked and expose her as on the day when she was BORN. I will also make her like a WILDERNESS, (where nobody lives) Make her like desert land and slay her with thirst. "Also, I will have no COMPASSION on her CHILDREN, (so-called king Charles and the rest of them who have also refused to obey God's Golden Perfect Law of Liberty) because they are CHILDREN of HARLOTRY.
Hosea 2:8
"For she does not know that it was I (God) Who gave her the grain, the new wine and the oil, (it was never so-called queen Elizabeth's making or power to make BRITAIN glorious when she was alive, and in fact she did the opposite and made it inglorious/shameful) and lavished on her silver and gold, which they used for BAAL. (Instead of to the glory of God).
God is EAGERLY looking for another GIDEON in this sick and lawless generation, to help show a good example and lead the world on the Right PATH, and that Gideon today is CHRIST, not king Charles, who never cared to put God into CONSIDERATION for a minute, having chosen his mother's sinful way – idol WORSHIP, as the whole wide world saw on the day she was knowingly fraudulently enthroned on a fake Jacob's Pillar Stone/Throne. Worshipping of BAAL continues instead of worshipping the God of their fathers, Abraham, Isaac, and Jacob, which will lead to their WOE.
DECISION MAKING
I know that one of the HARDEST decisions made in life is to choose which BRIDGES to BURN and which BRIDGES to CROSS. And often people mistake the right BRIDGE for the wrong one, because of their HUGE love of material POSSESSIONS. Certainly anytime you make a decision outside of God's Directives it would lead to REGRET AND AN IRREPAIRABLE MISTAKE. A lot of people disliked God's Directives and/or Will; most times just because they did not appear to be nice, but it obviously remains to be the best if you would patiently observe to do them. People CHERISHED a rich man's LIE, rather than a poor man's TRUTH, and were always disappointed ALONG the way, as Christ's messages had all the true facts. I advise you to consider making a good decision today.
Thank you for taking time to read through this letter.
Mike I.
This letter has been added to Crown Prince Michael in Gibraltar.