In the News – NATO nuclear weapons could potentially be placed on Russia's border with Finland if it joins the Western military alliance, reported Newsweek Wednesday, 26 Oct., citing the Finnish newspaper Iltalehti. The bill the Finnish government will put before the country's parliament on joining NATO doesn't include any opt-out agreements for hosting nuclear weapons.
Finnish military sources told the paper that Finland's foreign minister and defense minister committed to NATO back in July that they wouldn't seek "restrictions or national reservations" if their application to join the alliance is accepted. Finnish President Sauli Niinisto said earlier this month that Finland had "no preconditions" for joining NATO.
What was reported earlier this month:

Finland could host NATO nuclear weapons within 600 miles of Moscow after Finnish President Sauli Niinisto said there were "no preconditions" to the country's accession to the international body, although officials told Newsweek that the move is currently unlikely.

Finland and Sweden are set to become NATO's 31st and 32nd members, pending ratification by the Hungarian and Turkish parliaments which officials believe will happen in the coming months. The joint decision to join the transatlantic alliance ends a decades-long policy of military neutrality in Helsinki and Stockholm.

The imminent double accession will transform the geostrategic situation in northern Europe. The Baltic Sea will become what some observers have called "a NATO lake," while the 810 mile-long Finland-Russia border will become NATO's new front line with Moscow.

The foreign minister noted Finland's recent $10 billion deal to buy 64 Lockheed F-35 fighter jets from the U.S., adding: "We have been investing in defense, in our military…we have to be prepared for new types of threats."

While Finland may be willing to host nuclear weapons, it's unlikely they would be placed in the country after it joins NATO, at least in the near future. Finnish Prime Minister Sanna Marin has previously said the alliance has expressed no interest in placing nuclear warheads in Finland.
Note:
According to a reliable Gibraltar Messenger source, Finland would have to change a piece of legislation to host the nuclear weapons. Currently on its books is the Nuclear energy legislation 11.12.1987/990 (chapter 2, paragraph 4) – "The importation of nuclear explosives as well as their manufacture, possession and detonation in Finland is prohibited."
NATO keeps no nuclear warheads in countries that joined the alliance after the end of the Cold War, although Poland recently said it's had discussions with the US on hosting the weapons.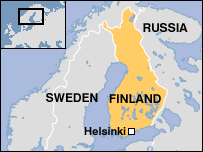 Russian President Vladimir Putin said placing nuclear weapons in Finland, which shares an over 800-mile border with Russia, would be a major provocation toward Moscow. Putin has said he doesn't view Sweden and Finland joining NATO as a threat but said he will respond to the expansion of NATO military infrastructure in the region. And Russia has nuclear facilities close to Finland's borders.
Finland and Sweden's NATO memberships have been ratified by 28 out of 30 alliance members. Turkey threatened to block the Nordic nations from joining if they don't live up to sign a memorandum signed back in June, but Ankara's issues seem to be mainly with Sweden, and the new Swedish government has said it's ready to fulfill the deal.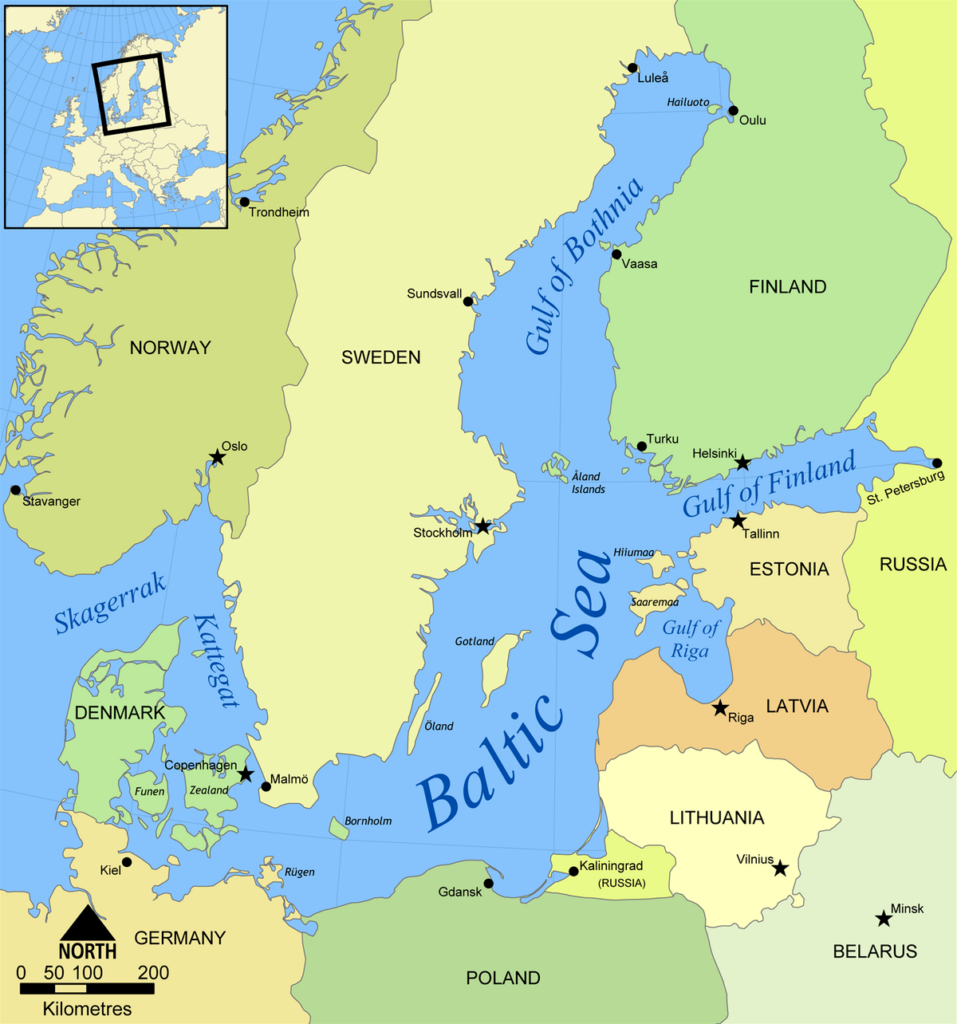 In April, Russia warned if Sweden and Finland joined NATO, it would deploy nuclear, hypersonic missiles in an exclave in the heart of Europe. President Vladimir Putin issued an order on "reinforcing our western flank" due to NATO's growing military potential. Medvedev also explicitly raised the nuclear threat by saying that there could be no more talk of a "nuclear free" Baltic – where Russia has its Kaliningrad exclave sandwiched between Poland and Lithuania. Dmitry Medvedev, deputy chairman of Russia's Security Council, said Russia would have to strengthen its land, naval and air forces in the Baltic Sea. He said Russia would "seriously reinforce its group of ground forces and air defenses and deploy significant naval forces in the Gulf of Finland." Medvedev said he hoped Finland and Sweden would see sense. If not, he said, they would have to live with nuclear weapons and hypersonic missiles close to home.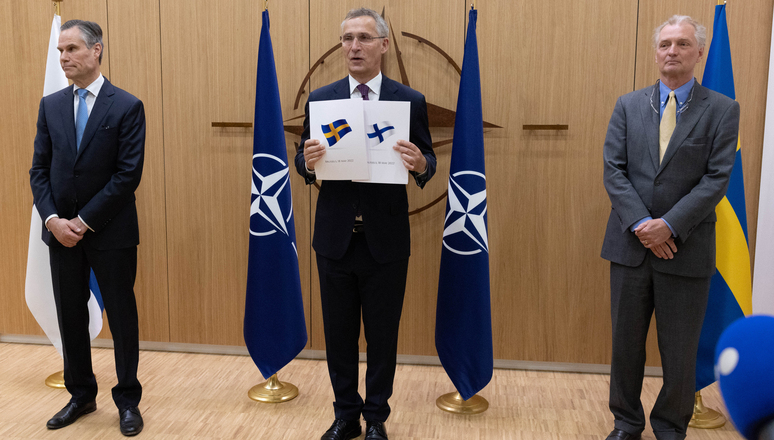 Despite this warning, on 18 May 2022, Finland and Sweden applied for NATO membership, "due to their growing security concerns about the Russia-Ukraine war". The two Scandinavian countries were given a clear path to membership in June after Turkey withdrew its opposition.
Moscow's military actions in Ukraine have sparked a dramatic U-turn in public and political opinion in both Finland and Sweden over long-held policies of military non-alignment.
Putin said the "special military operation" in Ukraine is necessary because the United States was using Ukraine to threaten Russia and Moscow had to defend against the persecution of Russian-speaking people by Ukraine.
Speaking before the heads of delegations at the 51st meeting of the CIS Council of security and intelligence heads Wednesday, 26 October, Putin said Ukraine has effectively lost its sovereignty and turned into a US battering ram against Russia and the Commonwealth of Independent States (CIS) in general. Putin noted that the US pumps Ukraine with weapons despite Kiev's public plans to obtain nuclear weapons.
And yesterday, 27 October, Medvedev said the US is using Ukrainians as bargaining chip in 'great game' and Ukrainians have been paying with their lives for the endless supply of US weapons and for the services of instructors and mercenaries.
The Great Game involves smaller states used entirely the pawns of larger states. Would The West also use Finland and Sweden as pawns?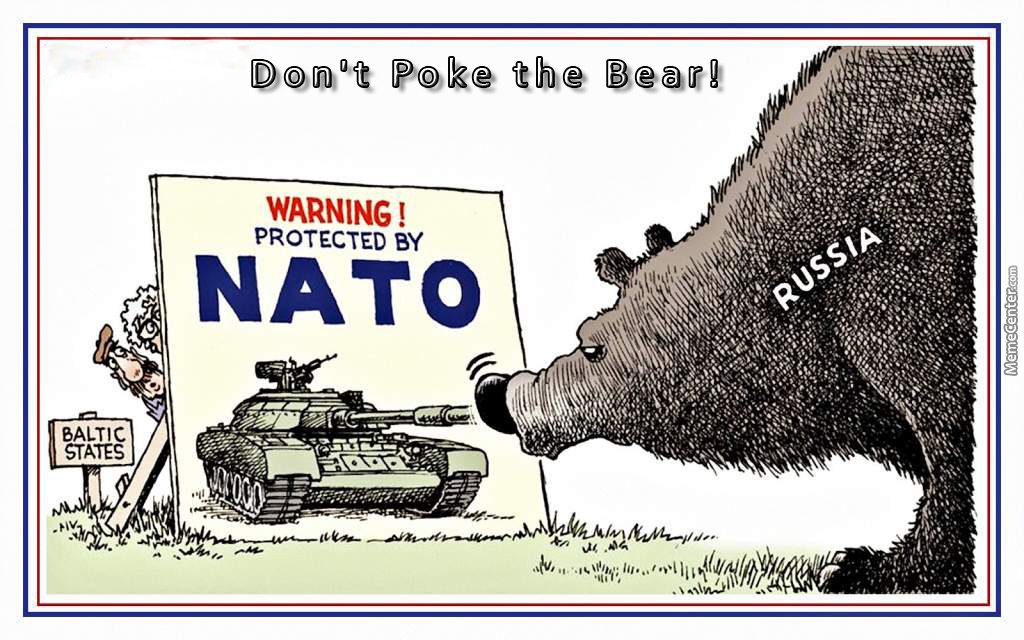 The same day, Foreign Ministry Spokeswoman Maria Zakharov said Russia calls on the West to influence Ukraine to abandon plans of the possible use of a 'dirty bomb' and nuclear blackmail. She stressed that radiation has no borders.
Russian Defense Ministry alerted its troops to be ready to act "in conditions of radioactive contamination" because it had obtained information that Kiev is preparing to detonate a dirty bomb. Russian Foreign Minister Sergey Lavrov has also stated there's a dirty-bomb risk. Russia has raised the issue at the UN Security Council. Russian Defense Minister Sergey Shoigu has held telephone conversations with his counterparts in the UK, US, Turkey and France to warn about the threat from Ukraine.
Washington, London and Paris support the opposite idea that it is Russia that is planning the "dirty bomb."
Both sides are accusing the other of planning the dirty bomb to provoke a wider confrontation. Some, like Gonzalo Lira, believe that The West is behind the plan to bomb the Kherson dam to actually establish a base in Odessa.
DGTV – The Americans Are Evil
Note also that JAH has warned that The West wants Odessa.
Odessa is a major port in Ukraine. Both sides want it. Both accuse the other of vying for it. A battle for it is in the works. According to this article, "Anti-Ship Missiles: How Ukraine Could Save Odessa from Russia?", employing the potent Naval Strike Missile (a Norwegian-made anti-ship missile that can be ship or shoreline-based) could "protect" Odessa. To get the Naval Strike Missile to the Ukrainians, the United States would have to be involved. Or, the Neptune anti-ship cruise missiles could better protect Odessa. The best arrangement is to have the Neptunes be delivered to Odessa as soon as possible. The problem is that crews would have to be trained first.
Isn't that what the 3-phase Operation Neptune is doing in the Mediterranean Sea – training?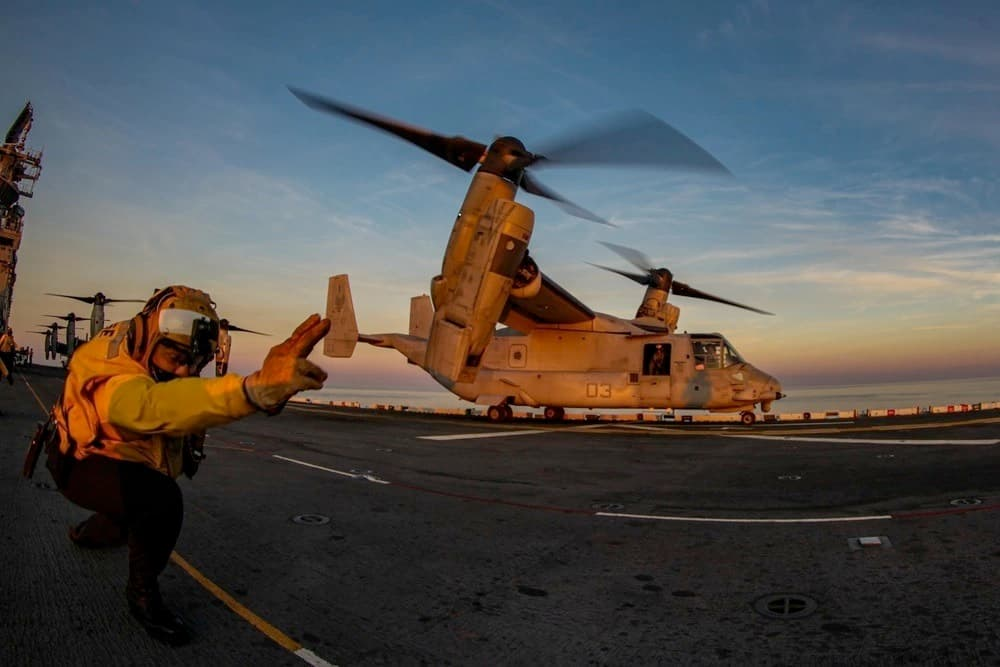 All of these events "wars and rumours of war" point to what we know is coming – WW3.
Also in the news yesterday – A senior Russian official warned that U.S. commercial satellites and those of its allies could be targets for Russian retaliatory strikes if they became involved in the Ukraine war. U.S. commercial satellites have already provided imagery of Russian troops and weapons formations and mass grave sites left behind in areas they occupied.
The stage is being set – Even with all that's occuring in Finland:
26 October – Finland's Wärtsilä suffers Financial loss due to withdrawal from Russia. The Finnish company Wärtsilä – one of the leading suppliers of equipment and technologies for the energy and shipbuilding industries – completed the process of withdrawing from the Russian market in July, suffering €200m of losses.
25 October – Finland to stop rail freight traffic to Russia by year-end. The Finnish state company VR Group will completely stop the transportation of goods to Russia by the end of the year, Elisa Markula, CEO of the company. "Freight traffic to the east will completely stop by the end of this year at the latest," she said as quoted by the Kauppalehti newspaper. By the end of September, the company had cut 65% of freight traffic to Russia.
24 October – Finland looking into need to ban real estate acquisitions by Russians – Minister of Defence Antti Kaikkonen said, "It's something we haven't looked thoroughly into previously, but the need and possibilities for it will be incorporated into the assessment as part of continuing work to develop the legislation," commented Kaikkonen. "Presently the understanding is, though, that the possible total ban would be associated with significant constitutional questions."
21 October – Ukraine War: Finland plans barbed-wire fence on Russia border to keep migrants out. More than 30 years after the fall of the Iron Curtain, Finland plans to erect a barbed-wire fence on its 1,300-km border with Russia dividing East and West, following the war in Ukraine. Finland saw an influx of Russians in September, before it clamped down and heavily restricted their entry. The Finnish border guard says it is necessary to build between 130 and 260 kilometres (80-160 miles) of barriers in areas deemed most critical, particularly in southeastern Finland where most border traffic takes place.
"It will make guarding the border easier if Russia ramps up a kind of hybrid-warfare of sending over hundreds or thousands migrants, which Russia experimented with once a few years ago already", said a reliable source.
This brings up the idea that all migrant invasions worldwide are a form of warfare, just like the the U.S,-Mexican border, and the Europe-Africa migrant explosion in recent years. All of these tactics weaken the sovereignty of nations as well as place heavy financial burdens on its citizens. And yes, it looks to be all-by-design, whether backed by Soros or other "parties".
Finland and Sweden Siding with The West is Bibical – literally.
Scandinavia, the Netherlands and the Baltic States are Israelite countries (The Abrahamic Covenant). And in the final war, all of Israel will be punished by God, using Russia and its gathered allies – East vs West. It is going to be The People Israel scattered in the four corners of the world who will be punished, for following evils, Satanic elites, instead of The Law of God. We will see the division of the two camps further develop in the coming days.
Here are four excerpts from JAH concerning the war with Russia, the hidden identity of Israel and where to seek shelter if you are willing to learn the words of and sing/live The New Song.
Ezekiel 38 (extract)
Thus says the Lord God; behold I AM against you Gog the prince of Rosh (Russia) Meshech (Moscow) and Tubal (Tobolsk) – the Western and Eastern Capitols of the U.S.S.R. (now called the C.I.S.): I will turn you back (from seeking peace) and put hooks into your jaws (hunger), and I will bring you forth, with all your armed forces and Persia, Ethiopia, Libya, Gomer, Togarmah and ALL the earth with them against My people Israel (Britain and the British Commonwealth; America; Scandinavia; the Netherlands; the Baltic States; Northern France; Northern Spain and the Jews) to the lands of unwalled villages (walls of untempered mortar) without bars or gates (no defences because of defence cuts after the "so-called" peace dividend), when they (the politicians – foolish prophets) say peace, peace and there was NO peace.
THE FOUR HORSEMEN OF THE APOCALYPSE and THE TWO WITNESSES
The Ark now has to be recovered, in accordance with God's prophecies which He gave to Nostradamus, the French Prophet, to prove to the world that The Laws of The Torah do actually exist and the British people, including the Irish; all of the Commonwealth countries; the U.S.A.; Netherlands; Scandinavia; the Baltic States and others will be shown their true identity as descendants of the ten tribed "House of Israel", which will prove that the governments of these countries were never allowed to replace The Torah with their own laws that have brought poverty to most of the world and are destroying the planet.
The Reason Why
The Twelve Tribes of Israel in the primary areas of their modern dispersion, are as follows: Reuben (lo! a son) – northern France, Canada (Quebec province), and Louisiana (U.S.A.); Simeon (one heard) – Belgium; Levi (crowned) – scattered amongst the 12 Tribes; Judah (praised): Pharez branch – Palestine, Zarah branch – Scotland, Northern Ireland (UK), northern Denmark (Jutland); Dan (judging) – Ireland (Republic) & southern Denmark, and absorbed into Joseph/Manasseh in the U.S.A.; Naphtali (contests) – South Africa & Rhodesia (now called Zimbabwe); Gad (good fortune, fortunate) – Gibraltar; Asher (happy) – Canada; Issachar (an hire) – Australia & New Zealand; Zebulun (dwelling) – Holland, New Zealand & Australia; Joseph/Manasseh (forgetting, making forget) – United States of America; Joseph/Ephraim (double or twin-land) – United Kingdom; Benjamin (son of the right hand) – Palestine, and amongst the other Tribes around the world. There are also true racial Israelites, particularly of the Tribe of Dan, in Scandinavia and the three Baltic States.
Discover The Way to Defeat the New World Order
Don't let your "Self" delude you. Crucify it DAILY and help to set up The Kingdom using God's Ways and God's NATION – (the 10-Tribed House of Israel – Britain and the Commonwealth; America; Scandinavia; the Netherlands; the Baltic States; Northern France and Celtic Spain) starting at His "place of defence", His right hand, the Fortress of Rock – Isaiah 33:16 & Isaiah 42:11 – GIBRALTAR – "Gebal Tariq" – "Tariq's Rock" – Tariq means, in Arabic, the "Night Visitant" – "I shall come as a thief in the night" – Christ. Christ's Rock of defence to gather the people together to defend them and feed them, where their waters shall be sure – Isaiah 43:6 and 33:16. Paul said, "It is NOT I That Lives"