Gonzola Lira – "In this drama we call WW3, we have the opening of potentially the second front of this war, because last night the Israelis attacked a number of Iranian locations."
DGTV – The Israeli Attack On Iran Hurt Israel
---
Armed Drones Strike Military Sites and Facilities Across Iran
In the News – Bomb-carrying drones targeted an Iranian defence factory in the central city of Isfahan overnight, authorities have said, causing damage at the plant amid heightened regional and international tensions engulfing the Islamic Republic.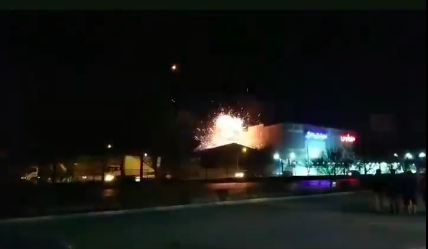 See footage on DGTV.
The Iranian defence ministry offered no information on who it suspected carried out the attack, which came as a refinery fire separately broke out in the country's north-west and a 5.9-magnitude earthquake struck nearby, killing three people.
Tehran has been targeted by suspected Israeli drone strikes amid a shadow war with its Middle Eastern rival as its nuclear deal with world powers collapsed. Meanwhile, tensions remain high with neighbouring Azerbaijan after a gunman attacked that country's embassy in Tehran, killing its security chief and wounding two others.
Details on the Isfahan attack, which happened at about 11.30pm on Saturday, remained scarce. A defence ministry statement described three drones being launched at the facility, with two of them successfully shot down. A third apparently struck the building, causing "minor damage" to its roof and wounding no one, the ministry said.
---
Israel appears to have been behind drone strike on Iran factory, U.S. official says – Israel appears to have been behind an overnight drone attack on a military factory in Iran, said an U.S. official, speaking on condition of anonymity. A spokesperson for the Israeli military declined to comment. Pentagon spokesperson Brigadier General Patrick Ryder said no U.S. military forces were involved in strikes in Iran, but declined to comment further.
---
Iranian state television's English-language arm, Press TV, aired mobile phone video apparently showing the moment the drone struck along the busy Imam Khomeini expressway that heads north-west out of Isfahan, one of several routes to the holy city of Qom and to Tehran, Iran's capital. A small crowd gathered, drawn by anti-aircraft fire, watching as an explosion and sparks struck a dark building.
"Oh my God! That was a drone, wasn't it?" the man filming shouts. "Yeah, it was a drone." The bystanders fled after the attack.
That footage of the strike, as well as footage of the aftermath analysed by the Associated Press, corresponded to a site on Minoo Street in north-western Isfahan near a shopping centre.
---
From India Today – Iran Reports Drone Attack On Defense Facility In Isfahan
---
Iranian defence and nuclear sites increasingly find themselves surrounded by commercial properties and residential neighbourhoods as the country's cities expand. Some locations remain opaque about what they produce, with only a sign bearing a defence ministry or paramilitary Revolutionary Guard logo.
The defence ministry described the site as a "workshop", without elaborating on what it made. Isfahan, 215 miles south of Tehran, is home to a large airbase built for its fleet of American-made F-14 fighter jets, and its nuclear fuel research and production centre.
The attack comes after Iran's intelligence ministry claimed in July to have broken up a plot to target sensitive sites around Isfahan. A segment aired on Iranian state TV in October included purported confessions by alleged members of Komala, a Kurdish opposition party that is exiled from Iran and is now based in Iraq, that they planned to target a military aerospace facility in Isfahan after being trained by Israel's Mossad intelligence service.
Activists say Iranian state TV has aired hundreds of coerced confessions over the last decade. Israeli officials declined to comment on the attack.
Separately, Iran's state TV said a fire broke out at an oil refinery in an industrial zone near the north-western city of Tabriz. It said the cause was not yet known. It showed footage of firefighters trying to extinguish the blaze. Tabriz is 325 miles north-west of Tehran.
State TV also said the magnitude-5.9 earthquake killed three people and injured 816 others in rural areas in West Azerbaijan province, damaging buildings in many villages.
Iran's theocratic government faces challenges at home and abroad as its nuclear programme rapidly enriches uranium closer than ever to weapons-grade levels since the collapse of its atomic accord with world powers.
Nationwide protests have shaken the country since the death in September of Mahsa Amini, a Kurdish-Iranian woman detained by the country's "morality police". Its rial currency has plummeted to new lows against the US dollar. Meanwhile, Iran continues to arm Russia with the bomb-carrying drones that Moscow has used in attacks in Ukraine.
---
Iran 'Foils Drone Attack' on Military Facility in Isfahan – Iran's foreign minister, Hossein Amir-Abdollahian, said the "cowardly" incident was an attempt to destabilise the country. It comes amid heightened tensions over Iran's nuclear programme and its supply of arms to Russia's war in Ukraine.
Another Report About Israeli and US Drills
DGTV – Israel US hold drill in show of force against Iran
---
Israel is suspected of launching a series of attacks on Iran, including an April 2021 assault on its underground Natanz nuclear facility that damaged its centrifuges. In 2020, Iran blamed Israel for a sophisticated attack that killed its top military nuclear scientist.
Israeli officials rarely acknowledge operations carried out by the country's secret military units or the Mossad. However, the Israeli prime minister, Benjamin Netanyahu, who recently regained the premiership, has long considered Iran to be the greatest threat his nation faces. The US and Israel have also just held their largest military exercise amid growing tensions with Iran.
Meanwhile, tensions remain high between Azerbaijan and Iran as Azerbaijan and Armenia have fought over the Nagorno-Karabakh region. Iran also wants to maintain its 27-mile (44km) border with landlocked Armenia, which could be threatened if Azerbaijan seizes new territory through warfare.
In October, Iran launched a military exercise near the Azerbaijan border. Azerbaijan also maintains close ties to Israel, which has infuriated Iranian hardliners, and it has bought Israeli-made drones for its military.
Anwar Gargash, a senior Emirati diplomat, said the Isfahan attack represented one more event in the "dangerous escalation the region is witnessing". The UAE was targeted in missile and drone attacks last year claimed by Yemen's Iran-backed Houthi rebels.
It "is not in the interest of the region and its future", Gargash wrote on Twitter. "Although the problems of the region are complex, there is no alternative to dialogue."
Main Source: The Truthseeker – Armed Drones Strike Military Sites and Facilities Across Iran
Bible Prophecy Unfolding – Syria, Iran, Turkey and Iraq are the Four Angels who will be loosened when the Sixth Trumpet sounds (sixth time period begins), according to Bible prophecy. All this sets the stage for Armageddon. In Hebrew, Har-Megiddo means Armageddon. Har-Megiddo is located in Northern Israel where ancient Israel fought its enemies. Four Angels of the Euphrates: Syria, Iran, Turkey and Iraq

Iran/Persia allied with Russia is prophesied in Ezekiel – THE FOUR HORSEMEN OF THE APOCALYPSE