From South Front –
Tensions continue to grow inside Israel as well as on its fronts with Syria, Lebanon and the Palestinian Gaza Strip.
The wave of violence fueled by Israel's crack down on Palestinians in the occupied West Bank has not ended yet. On August 5, a Tel Aviv municipal patrol officer was killed in a shooting attack that was carried out by a member of the Palestinian Islamic Jihad. The gunman was shot dead by another patrol officer.
On August 6, three Palestinian gunmen allegedly en route to carry out an attack were ambushed and killed by Israeli forces near the West Bank city of Jenin.
The Israel Defense Forces, Border Police, and Shin Bet security service, said in a statement the cell set out from the Jenin refugee camp before being ambushed by forces near the town of Arrabeh, south of Jenin. The cell was allegedly heading to carry out a drive-by shooting attack against Israelis in the area of the West Bank settlement of Mevo Dotan.
Despite facing internal challenges, Israel has not de-escalated with Syria. On August 7, a series of Israeli strikes hit military positions near the Syrian capital, Damascus. The Syrian Arab News Agency reported that four service members were killed and four others were wounded in the attack.
Citing a military source, the state-run agency said that Syrian air defenses managed to shoot down "some" of the Israeli missiles.
This was the first Israeli sortie over Syria since July 19, when fighter jets reportedly carried out strikes against targets in Damascus, wounding two soldiers.
Tensions moved to the front with Lebanon on August 8, with reports of the Lebanese military mobilizing its naval forces against a number of Israeli boats that violated Lebanon's waters. The naval confrontation came following a series of incidents on the separation line in south Lebanon that began a few months ago.
On August 9, Israel said that its security forces foiled an attempt to smuggle small drones into the Gaza Strip, which is ruled by the Hamas Movement.
During an inspection of a minibus that was being imported to the Gaza Strip from the West Bank, security guards at the Erez border found ten quadcopters, suspected to have been intended for reconnaissance use by Hamas and other Palestinian armed factions in the enclave. The Shin Bet security agency has reportedly launched an investigation into the incident.
Overall, it appears that the security situation in Israel is deteriorating. The Israeli crackdown on Palestinians in the occupied West Bank and its escalation against Syria and Lebanon are only leading to more tensions and violence.
Source: South Front – Tensions Grow Inside & Around Israel
Video Link: DGTV – Tensions Grow Inside & Around Israel
---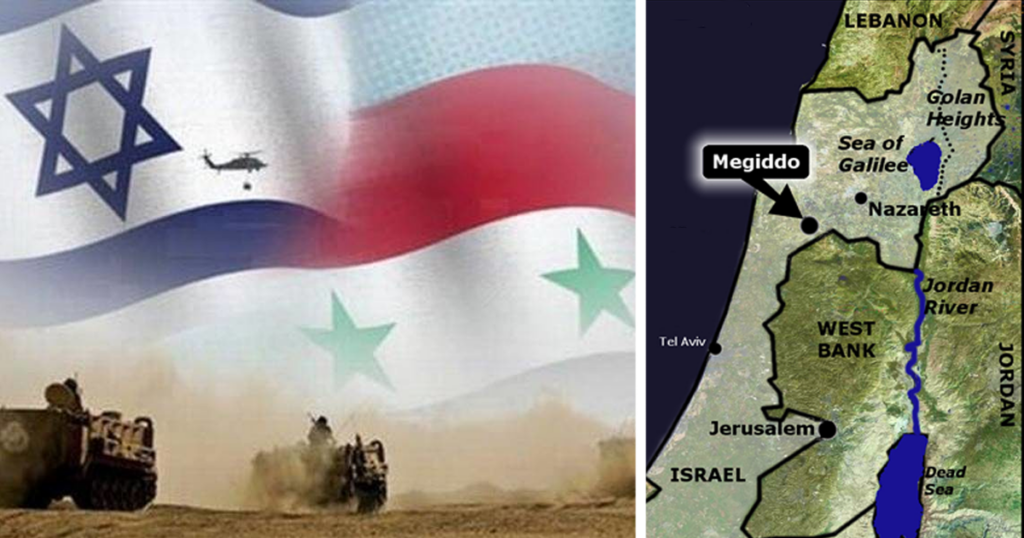 Excerpt from – A Mathematical Bible Code: Secular Proof that there is indeed an Infinitely Higher Intelligence (God) in The Universe.

'Syria' is encoded with 'world war'. It is the country that stands out, because it is not expected*. 'Russia' and 'China' and 'USA' also appear with 'world war' but they are the three superpowers most likely to be involved. Syria is the surprise.

Armageddon is a real place. It is the Greek name for an ancient city in Israel, Megiddo (not far from Endor – JAH). In Hebrew, 'Mount Megiddo' is 'Harmegiddo'.

I stopped to see the ruins of this ancient fortified city when, late one night, I was en route for Jerusalem. It seemed inconceivable that this remote place would ever really be the site of a major battle.

But near Megiddo, hidden from tourists, is one of Israel's most important Air-Force bases, Ramat David. It is in the North, facing Israel's implacable foe, Syria. It would be on the front line of any real war in the modern Middle East.
RELATED: