Show of strength is in response to the potential delivery of American battle tanks to Ukraine
by Marc Bennetts
A Russian warship armed with hypersonic Zircon missiles has tested its strike capabilities in the western part of the Atlantic Ocean, after Russia warned Nato over the supply of more weapons to Ukraine.
Zircon missiles, which President Putin has hailed as "invincible", have a range of 560 miles and can travel at nine times the speed of sound, according to the Russian military. A combination of speed, manoeuvrability and altitude makes the missiles difficult to track and intercept, experts say.
The exact location of the Admiral Gorshkov frigate, which is armed with the missiles, is unclear, but the warship is said to have recently diverted towards the coast of the United States in a provocative show of strength by Moscow's military.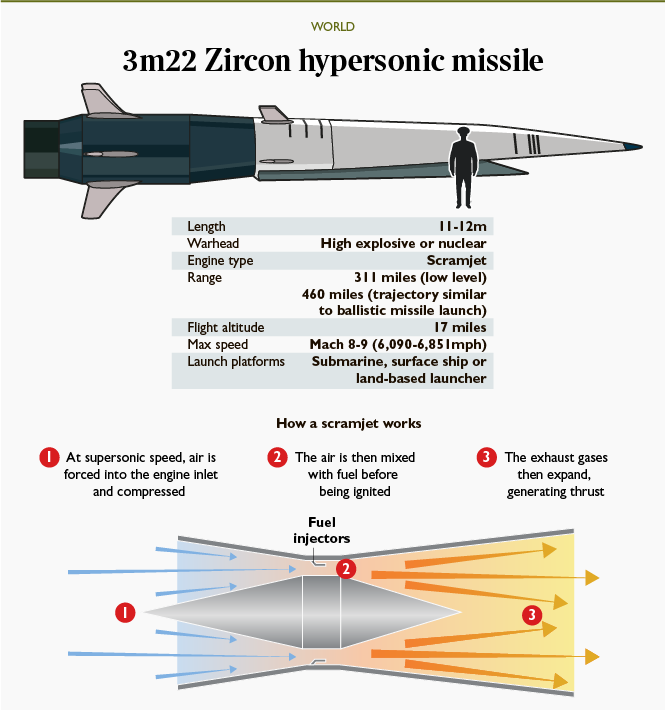 The Russian defence ministry said Zircon missiles had been tested by computer simulation and that they had "destroyed" a target over 500 miles away.
It is not thought that any missiles were launched by the Admiral Gorshkov, but videos released by Russian media showed the vessel's missile bays opening while crew members simulated a launch sequence. Russia last test-fired a Zircon missile in May in the Barents Sea.
This month the frigate was escorted through British waters by the Royal Navy, and then by French and Spanish ships through the Atlantic.
It was due to head south past South Africa to the Indian Ocean and enter the Mediterranean Sea through the Suez Canal. But monitoring sites claim it took a sudden diversion and headed west towards Bermuda. Pro-Russian telegram users have claimed this week that it had been "spotted on radar in neutral waters of the Atlantic Ocean — at an effective salvo launch distance from the US coast".
The reports were not confirmed by the Russian Defence Ministry, nor commented on by the United States. But Dmitry Medvedev, the deputy head of Russia's national security council, said this month that the Admiral Gorshkov, which is also likely armed with Kalibr cruise missiles and torpedoes, could be deployed about 100 miles off the coast of the United States.
Russia has threatened on a number of occasions that it will use its nuclear arsenal to defend occupied regions of Ukraine that it claims as its own, including Crimea, which it annexed in 2014, while accusing the West of escalation by sending weapons and supplies to the government in Kyiv.
Anatoly Antonov, the Russian ambassador to the United States, has said that the potential delivery of American battle tanks to Ukraine is a "blatant provocation".
Vyacheslav Volodin, the head of the Russian parliament and one of Putin's closest allies, previously warned that the use of western weapons to "seize our territories" could lead to "retaliatory measures using more powerful weapons".
"Washington and Brussels are leading the world to a terrible war," Volodin said on Sunday. "Given the technological superiority of Russian weapons, foreign politicians making such decisions need to understand that this could end in a global tragedy that will destroy their countries. Arguments that the nuclear powers have not previously used weapons of mass destruction in local conflicts are untenable."
Mikhail Podolyak, a Ukrainian presidential adviser, has warned of strikes on Russian cities such as Moscow, St Petersburg and Yekaterinburg. He insisted that Ukraine would not target the cities, but said that the "logic of war" meant that they were "inevitable."
Dmitry Peskov, the Kremlin spokesman, said the comments were evidence that Putin was right to launch an invasion of Ukraine in February to ensure Russian national security. He also said there was no prospect of an imminent peace deal. Moscow has alleged that Nato was planning to use Ukraine as a springboard to attack Russia last year, but has provided no evidence to back up its claims.
Kyiv is thought to have struck a number of military targets deep inside Russia since the start of the war but has not officially claimed responsibility. Russia recently installed air defence systems on several administrative and military buildings in Moscow, as well as close to Putin's residences. The governor of Belgorod region, which borders Ukraine, said yesterday that 25 residents had been killed by Ukrainian shelling since the start of the war.
Source: The Times – Russian warship with hypersonic Zircon missiles on drills in Atlantic
RELATED