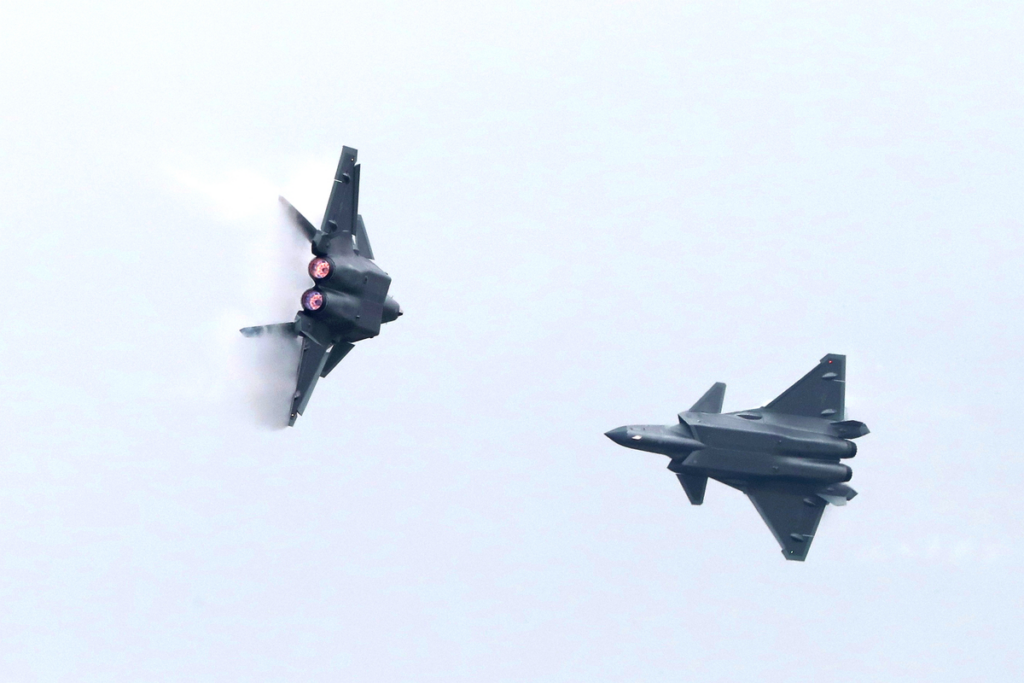 Gibraltar Messenger – God is giving China and Russia the upper hand to punish Israel. Relying on the UK or the USA in the long-term is foolish, because, for their and your defiance of God, and rejection of the Sovereignty of Christ, they are going to lose WW3, as is prophesied in Revelation 11 about the Two Witnesses – Britain and America – the TRUE Israel.
In The News – The 14th International Aviation and Aerospace Exhibition, also known as Airshow China 2022, was held 8-13 Nov in Zhuhai City, south China's Guangdong Province, with more than 740 companies from 43 countries and regions participating and over 100 aircraft on display.
Since its inception in 1996, Airshow China has become an important window for showcasing advanced aviation and aerospace technologies and equipment from home and abroad. It has also become an international platform for promoting business cooperation in aviation and aerospace technologies and equipment.
The J-20, China's most advanced stealth fighter jet, attracted lots of attention and became the cynosure on the opening day of the airshow.
Prior to the airshow, Wang Zhen, a J-20 pilot, told China Media Group (CMG) that "the J-20s will perform maneuvers in formation of four and two aircraft, and single low-altitude aerobatics."
He said the whole set of performances will fully demonstrate the J-20's excellent handling quality and maneuvering performance, as well as the PLA Air Force's ever-changing equipment level and strategic capability to safeguard national sovereignty, security and development interests.
China's best stealth fighter jet
Being China's domestically-made stealth fighter jet, the J-20 was designed and manufactured by the AVIC.
The flexibility of its full-motion vertical tail also offers it extraordinary supersonic maneuverability.
The blended wing-body design makes the transition between the fuselage and the wing smooth and reduces the angular reflection effect between the wing and the fuselage, making it difficult for the enemy radar to detect. The J-20's built-in magazine design also helps it avoid radars.
The materials used in the jet's skin also contribute to its stealth quality because they effectively absorb the electromagnetic waves emitted by the enemy radar, making it difficult to be detected.
Source: CGTN – Star of the day at Airshow China 2022: J-20 stealth fighter jet and
Ministry of National Defense of the People's Republic of China – Airshow China kicks off in port city Zhuhai
RELATED
The Gibraltar Messenger has been warning you for years: