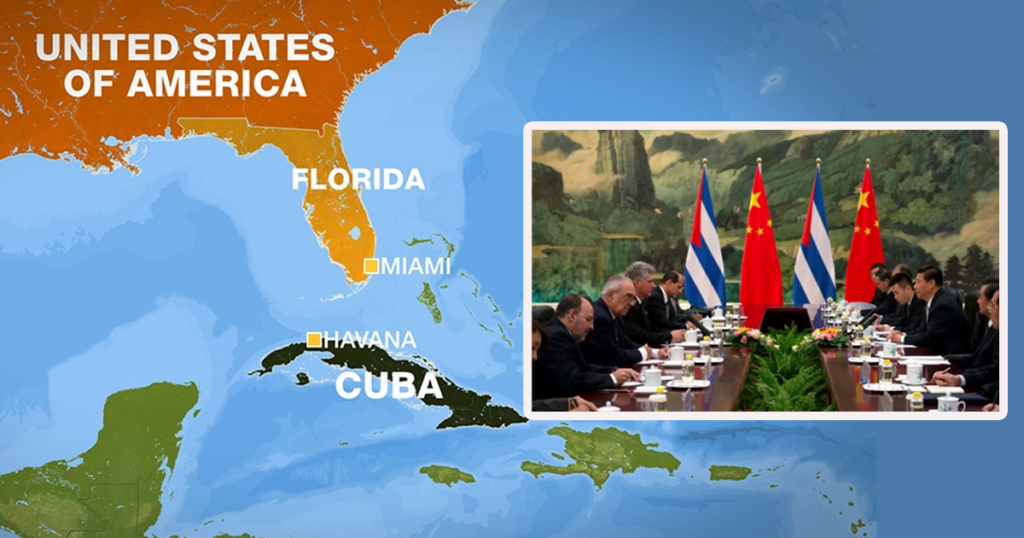 From Station Gossip –
Communist China is reportedly planning on building a military base in northern Cuba, approximately 100 miles off the coast of Florida, sending U.S. officials into a panic over how to respond.
The Wall Street Journal reported that China and Cuba are at an "advanced stage" in negotiating the new joint military facility.
U.S. officials told the Journal that the information they have about the proposed military facility is contained in "highly classified new U.S. intelligence."
The facility could enable China to permanently house troops on the island and increase its joint spying efforts with Cuba against the U.S.
The report said that the effort is part of a Chinese military plan known as "Project 141," which aims to expand China's military presence around the globe. Prior to the new development that it wants to build a base in Cuba, none of China's other efforts in Project 141 have been in the Western Hemisphere.
Some U.S. officials believe that China is ramping up activity in Cuba in response to America's support and activity in Taiwan, which is roughly 100 miles off China's coast.
Other officials downplayed the Journal's reporting, including their report from earlier this month about China's joint efforts with Cuba to build spy stations targeting the U.S.
"The intelligence community has assessed for several years that the PRC intends to expand its reach globally, and in this case, it is premature to draw firm conclusions about recent reporting," a U.S. intelligence official told the newspaper. "At this stage, it does not appear to be anything that provides much of an enhancement to the current suite of capabilities."
The Journal reported that China reached a deal with Cuba to build an electronic eavesdropping base in the country, which is reportedly worth billions, and would allow China to construct a facility that can intercept communications in the southeastern U.S., home to dozens of military bases. The Chinese spy base could also monitor U.S. ship traffic.
Source: Station Gossip – Communist China Is Planning To Build Military Base Just 100 Miles Off The Coast Of Florida: Report
RELATED: