4 August 2022
David Steel
Governor's residence
The Convent
Main Street
Gibraltar

Greetings and good wishes to you David Steel. Hopefully this finds you well, in good spirit and having a good day.

It is out of genuine love and respect for both you and the people of Gibraltar that this letter is being included for your review and for theirs.

Whether you realize it or not, you are at a crossroads, as is Gibraltar. You swore allegiance to a woman who is neither queen nor "defender of the faith", and thus has been perpetrating one of the greatest frauds in human history for the past 70 years at the expense of the British (Israelite) people throughout the world, including Gibraltar. And both of you asked for God's Help while refusing to do your utmost to maintain His Laws, as you've both promised to do.

God has already appointed a governor for Gibraltar, and that Governor is Christ, during His Second Coming, exactly as prophesied in the book of Isaiah, roughly 3000 years ago.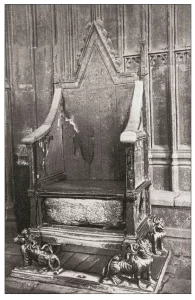 Isaiah 9:6-7
9:6 For unto us a child is born, unto us a son is given: and the government shall be upon HIS shoulder: and his name shall be called Wonderful, Counsellor, The mighty God, The everlasting Father, The Prince of Peace.
9:7 Of the increase of [HIS] government and peace [there shall be] no end, upon the throne of David, and upon his kingdom, to order it, and to establish it with Judgment and with Justice from henceforth even for ever. The zeal of the "I AM" Lord of hosts will perform this.

So not only do we know with absolute certainty that Christ will rule, but we also know that He will begin to rule from His Place of Defence at the Fortress of Rock: Gibraltar (Isaiah 33:16-17), very soon.

Simply put, this means you have two options. You can either begin helping Christ – the TRUE Successor of the British Monarchy – to reinstate God's Law at Gibraltar for everyone's benefit, in which case you will win; or you can continue in open defiance of God and His Appointed and Anointed Messenger/Christ/Law-made-flesh for a little while longer, to everyone's detriment, including your own and Elizabeth's, in which case you will lose.

Regardless of which option you choose, you are obligated by your oath of allegiance to forward this information and warning on to Elizabeth, and personally ensure that it is delivered to her, since the very future of Gibraltar rests in the balance. You also should make this information available to all of the people of Gibraltar, at your expense, since it affects them too.

Peace be upon you,

A Freeman
---
This letter is part of Tony Farrell's package – The Governor's Dossier.