by C.R.
Dear Charles Battenberg/Windsor,
I hope this finds you well and having a good day.
I write you today in support of The True British King of Israel, Christ, JAH, and His Royal Decree requesting you turn over the British Throne and Crown to Him at St. Michael's (Christ's) Cave in Gibraltar, on 22 April 2023, to lay down the crown you have stolen through fraud (Ezek. 21:25-27) and to kneel before Christ (Php. 2:8-11).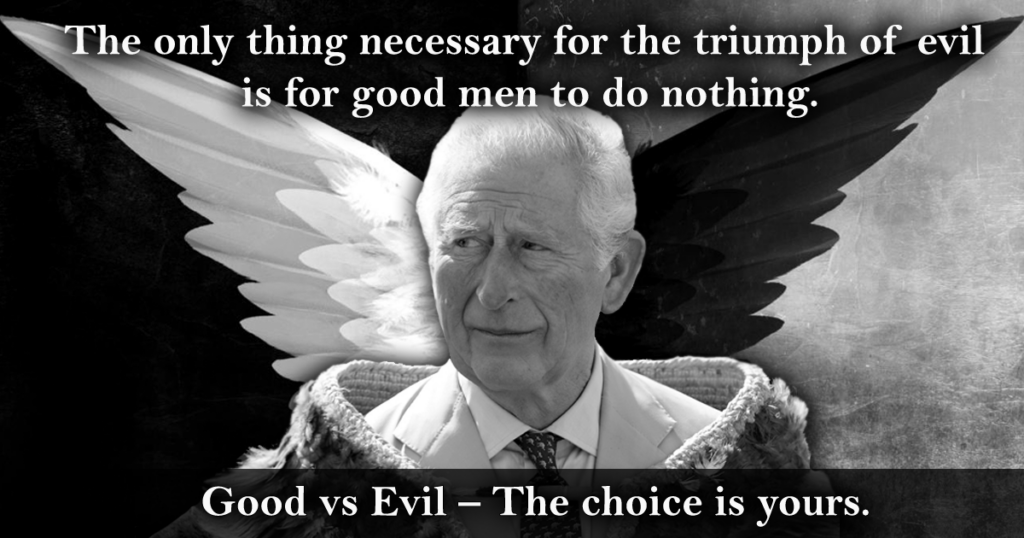 Charles: "The only thing necessary for the triumph of evil is for good men to do nothing." Edmund Burke.
Why not put the old mistakes away, and start a new life today with Christ.
Deep down inside you know who you really are and what you're suppose to be doing here. "There is no failure except failure to serve one's purpose." Christ teaches give, give, give, give of your self, laying one's life down for others, like He has done for all of mankind, there is no greater LOVE shown than this. Could you think of Christ hoarding His Treasures or giving them away to the poor, the widows, the fatherless children and the hungry? May I kindly remind you, you are here to reflect Christ's Love to all by giving (Mark 10:25).
Charles, what is more important, your free gift of immortality or your earthly treasures you can't take with you?
Christ and all of His followers are striving to help heal the whole world by writing truth-filled letters, hoping you will take them to heart. Many are beginning to see the need for Godly changes that only Christ has the Unlimited Power to perform. Perfect God and perfect man yet so Divine, Who has supernatural powers like no other. You've expressed your desire to help the British people, so perhaps deep down you know in order to truly help them, drastic changes need to happen.
Charles, it all begins with you, take courage and have no fear, by bowing to Christ, The One Whom God Himself anointed to be King, and giving Him His rightful crown like anyone should willingly do. Things will then quickly turn around for the good of everyone, including you. Regardless, it is written every knee will bow to Christ, so why not bow now taking the easy way for you and everyone else concerned? I sincerely hope you heed these proven Biblical WARNINGS! Regardless of your decision, prophecy will be fulfilled. Christ will be crowned and enforce His Father's Law doing away with ALL evil and everyone who does satan's bidding.
In closing: After all this Love, how could anyone possibly not find it in their heart to help Christ, Who freely forgives, pleads for His children, and truly Loves everyone here? Clearly you alone have been given this Golden Opportunity to either follow Christ, or continue down the same road. Christ, is knocking, He's calling, He's patiently waiting for you to open the door and invite Him in today (Rev 3:20).
Dutifully sworn to follow Christ,
C.R.
These letters have been added to Crown Prince Michael in Gibraltar.