by Peter O.
Dear Charles Philip Battenberg Windsor,
I hope this important letter finds you well, in good spirit, and having a good day.
I am a third world citizen, aka (developing country) as the world chose to term it, I write to state that, the prophetic word by Christ during His previous incarnation, has lightened upon me as recorded in Luke 17:24 – For as the lightening (Sun), that lighteneth out of the one part under heaven, shineth unto the other part under heaven; so shall also the Son of man be in his day (Malachi 4:2).
Malachi 4:2 But unto you that fear My name shall the Sun of Righteousness arise with healing in his wings; and ye shall go forth, and grow up as calves of the stall.
This light, His presence amongst us today as recorded in The Apocalypse/Revelation 10:7-10, led me to know/understand many things that I was struggling to understand including the statement below.
" … Queen Victoria, who said that if Christ came to take the Throne, she would immediately step down and give it to its rightful owner …" The TRUTH about the British Monarchy; the "Golden Jubilee" (50 year reign) of the queen who never was and The GOSPEL of The Kingdom.
It is therefore obvious you should know even more/better about the above, it is imperative to oblige to this important call by The King of kings and Lord of lords to save the entire world, if you strongly are concerned about the deplorable state of the planet earth as it appears today.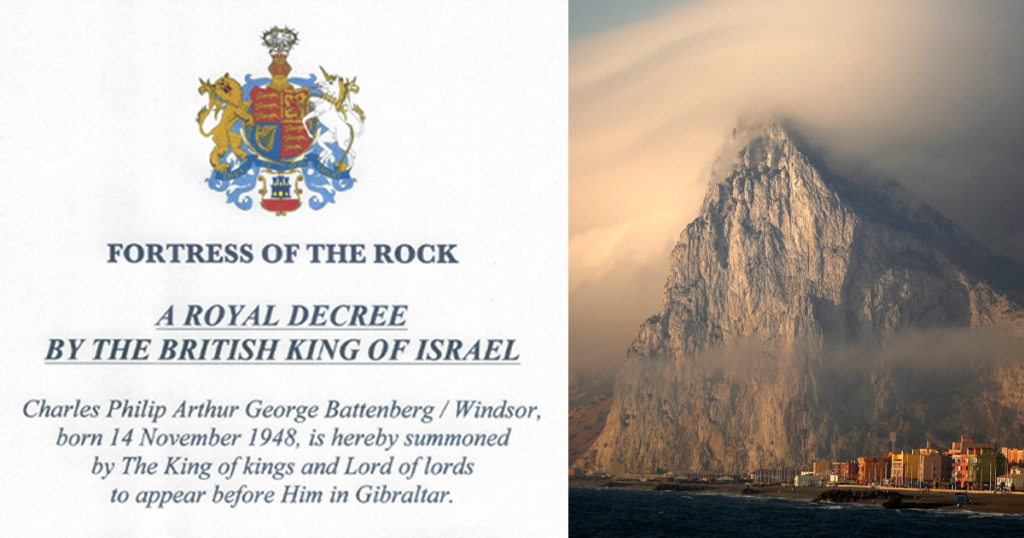 From where the summons is coming, has to be considered extremely important/serious. Scripture has made it clear about the signs, and no one can manipulate this fact. Being summonsed to "His Fortress of the Rock, Gibraltar in St. Michael's Cave" Isaiah 33:16.
And the "I AM" shall be King over all the earth: in that Day shall there be one "I AM", and His name One [not a trinity].
Please, Desire for peace, fear God, by helping put the derailed world back on its right track, by appearing in the presence of The True King of Israel Zechariah 14:9.
Let me remind you about some scriptures that apply to today's situations/conditions:
John 9:39 And Jesus said, For judgment I am come into this world, that they which see not might see; and that they which see might be made blind.
Malachi 4:1 For, behold, the day cometh, that shall burn as an oven; and all the proud, yea, and all that do wickedly, shall be stubble: and the day that cometh shall burn them up, saith the LORD of hosts, that it shall leave them neither root nor branch.
Do you live by The Bible/Truth?
Yours sincerely,
Peter O.
Peace be upon you and within you.
This letter has been added to Crown Prince Michael in Gibraltar.