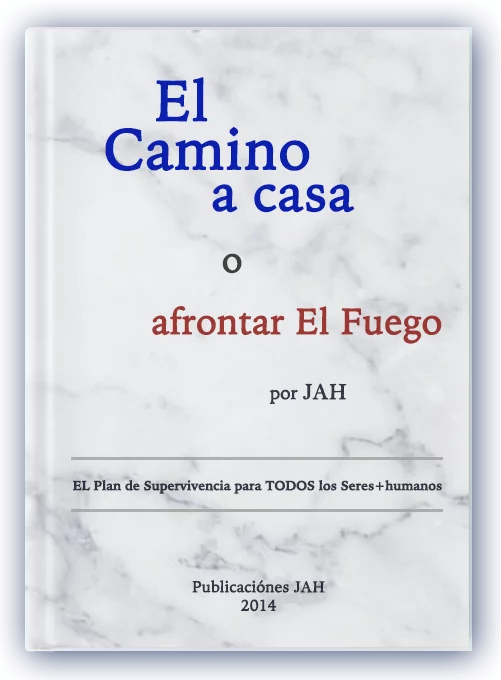 The Spanish version of The Way home or face The Fire is at last complete!

It's free gift to the world.

God created the Heaven and the Earth, ever wondered why? Ever wondered if there is a mission for each of us? Confused why there's all this evil happening on the Earth? Here you will find the answers.

God said, "let there be Light", and there was Light. And within the passages of this little book light can be found, Light to illuminate a dark world. The Truth, and as Jesus once said, "and ye shall know the truth, and the truth shall make you free" (John 8.32).

Do you feel an intrinsic desire to ask questions and to know the truth? I invite you to read the words in The Way Home or Face The Fire and break the chains of slavery which bind you under man-made legislation and organised religion and to raise your spirit.

With all the insanity, haste and day-to-day work that we all have, always busy, busy, busy, it's almost impossible to find the time to answer these vital questions; who do I serve? What am I doing here? What is the truth? This Little Book will take your hand and guide you. It's designed to be read and re-read, providing jewels all along The Way.

It can be accessed on the little book's homepage at www.thewayhomeorfacethefire.net.

You can download/read the book in PDF by clicking on this link – El Camino a casa o afrontar El Fuego.

Please help SPREAD THE WORD to the Spanish-speaking countries around the world.

This version joins the German, Italian, Portuguese and French translations – all completed by volunteers to spread the word and light around the world.

It's always good to ask ourselves, "What good have we done today?" (James 2:16-24). Helping spread the word, the good news, and setting the world free, through this Little Book, is a good start!

Matthew 5:14 Ye are the light of the world. A city that is set on an hill cannot be hid.
Matthew 5:15 Neither do men light a candle, and put it under a bushel, but on a candlestick; and it giveth light unto all that are in the house.
Matthew 5:16 Let your Light so shine before men, that they may see your good works, and glorify your Father which is in heaven.
Matthew 5:17 Think not that I am come to destroy The Law, or the Prophets: I am not come to destroy, but to fulfill.

May Peace be within you and upon you.

"Long Live the King"!

This post in Spanish – ¡Por fin ya está aqui! El Pequeño Libro está finalmente en español.