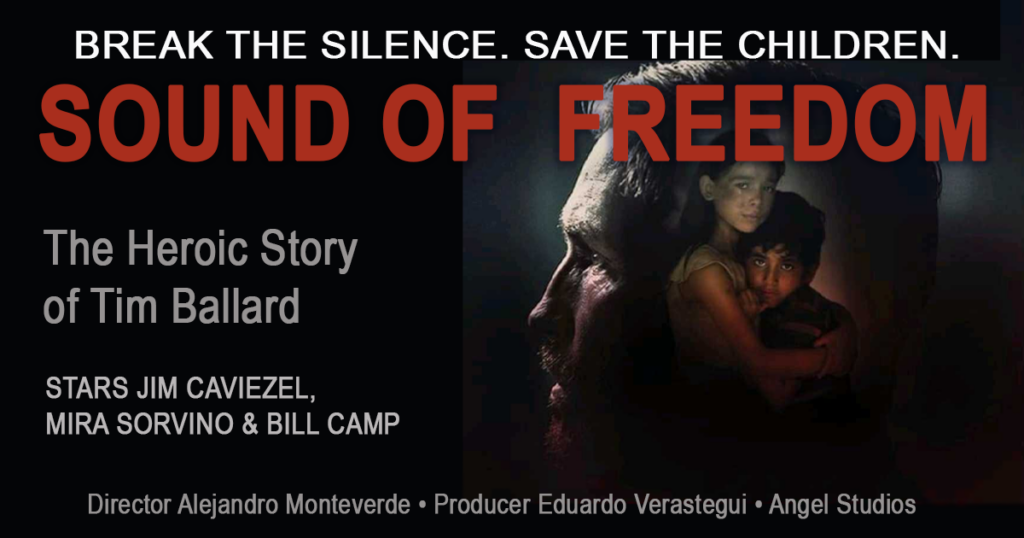 Based on a true story, SOUND OF FREEDOM shines a light on even the darkest of places.
DGTV – Sound of Freedom Trailer
After rescuing a young boy from ruthless child traffickers, a federal agent learns the boy's sister is still captive and decides to embark on a dangerous mission to save her. With time running out, he quits his job and journeys deep into the Colombian jungle, putting his life on the line to free her from a fate worse than death.
The film is based on a true story of one Tim Ballard's heroic efforts as he embarks on a dangerous mission to rescue children from human traffickers.
Ballard personally requested that Jim Caviezel portray him in the film, saying that he was affected by Caviezel's roles in The Count of Monte Cristo (2002) and The Passion of the Christ (2004).
Actor Jim Caveizel said, "This is the second most important film I've done behind Passion of The Christ."
God's Law about Human Trafficking:

Deuteronomy 24:7 If a man be found stealing any of his brethren of the children of Israel, and maketh merchandise of him, or selleth him; then that thief shall die; and thou shalt put evil away from among you.
The film directed and co-written by Alejandro Monteverde. Besides Jim Caviezel, it stars Mira Sorvino and Bill Camp. It is produced by Eduardo Verastegui, who also plays a role in the film. The film premiered at the 2022 Coronado Island Film Festival.
"'Sound of Freedom' is respectfully and stunningly filmed, based on real events of undercover heroes bringing hope to many," said Neal Harmon, CEO of Angel Studios. "This film will keep audiences on the edge of their seats with suspense and encourage all of us to take action."
Angel Studios acquired worldwide distribution rights earlier this year.
"Sound of Freedom" releases across the U.S. on July 4.
#2MILLIONFOR2MILLION
'God's children are not for sale': Jim Caviezel calls on 2M people to watch film that exposes trafficking
There is a movement to encourage people to buy advance tickets to this film, which will be shown in a limited number of theatres on 4 July. The Gibraltar Messenger supports this movement in order to get the truth out about the dark Satanic practice of human/child trafficking. Buy tickets on the Angel Studios website.
Excerpt from The Signs of The End Times:

2 Esdras 15:46. And thou, Asia, that art sharer of the hope of Babylon, and art the glory of her person:
15:47. Woe be unto thee, thou wretch, because thou hast made thyself like unto her; and hast decked thy daughters in whoredom (child prostitution, etc.), that they might please and glory in thy lovers, which have always desired to commit whoredom with thee.
15:48. Thou hast followed her (Babylon) that is hated in all her works (the market system) and inventions: therefore saith God,
16:1. Woe be unto thee, Babylon, and Asia! woe be unto thee, Egypt and Syria!
INTERVIEWS:
Actor Jim Caviezel and Tim Ballard of Operation Underground Railroad – 3 Questions with Bob Evans:
DGTV – Actor Jim Caviezel and Tim Ballard of Operation Underground Railroad – 3 Questions with Bob Evans
Steve Bannon interviews Jim Caviezel – Watch 'The Sound Of Freedom': A Spotlight on the Global Movement to End the Trafficking of Minors:
DGTV – Watch The Sound Of Freedom – A Spotlight on the Global Movement to End the Trafficking of Minors
American Hero Tim Ballard Reveals U.S. Is #1 Global Consuming Hub Of Child Pornography:
DGTV – American Hero Tim Ballard Reveals U.S. Is #1 Global Consuming Hub Of Child Pornography
TIM BALLARD (The real hero of the movie Sound Of Freedom) w/ Lewis Howes:
DGTV – TIM BALLARD (The real hero of the movie Sound Of Freedom) with Lewis Howes
RELATED: